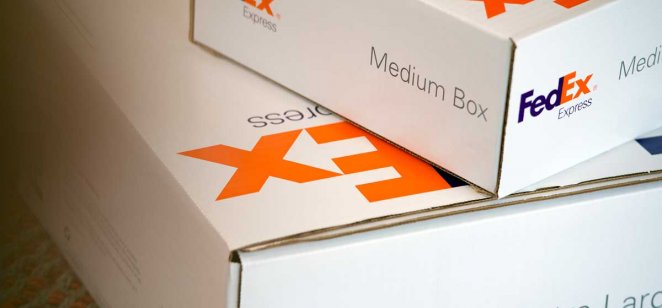 Investors will get an update on how a global logistics giant has handled challenges such as surging fuel costs when FedEx (FDX) posts fiscal fourth-quarter earnings on Thursday. Global companies have been hit with a barrage of headwinds in recent month, including geopolitical worries, supply chain issues and red-hot inflation in developed markets.
But FedEx stock has risen 13% over the past month.
FedEx (FDX) stock
Memphis, Tennessee-headquartered FedEx pioneered overnight delivery almost 50 years ago and is the world's largest express package delivery company.
FedEx
FedEx derives 50% of revenue from its Express division, 37% from Ground and 9% from its Freight shipping division. The remainder comes from other services including its document shipper FedEx Office, and supply chain solutions provider FedEx Logistics.
The company's biggest competitors include United Parcel Service (UPS) and Amazon.com (AMZN).
UPS (UPS) stock
Consensus view
Wall Street analysts expect earnings of $6.91 per share on revenue of $24.57bn (£20.03bn, €23.29) for the fiscal fourth-quarter ended 31 May.
For its prior third quarter, FedEx reported earnings of $4.59 per share on revenues of $23.64bn.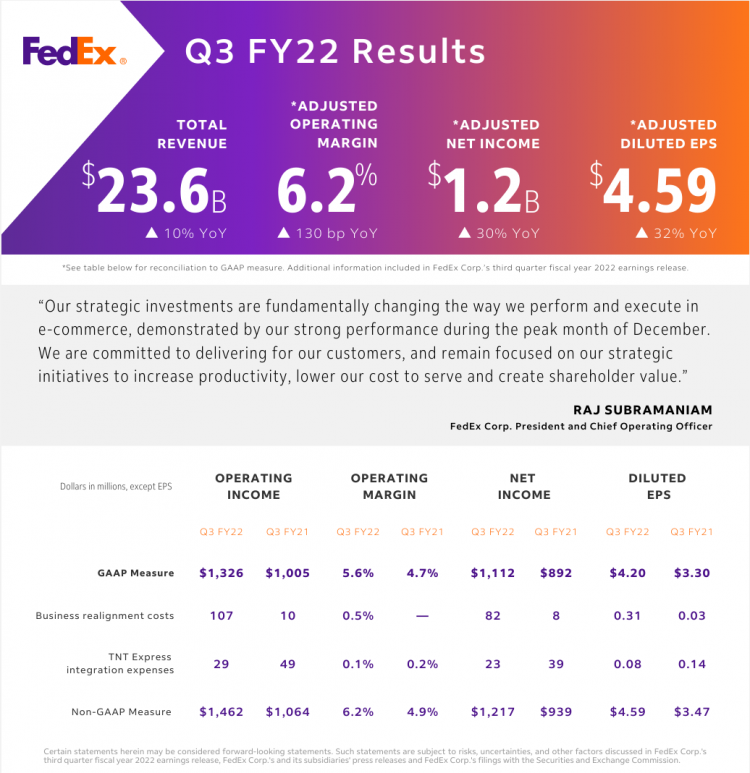 FedEx
Results were negatively impacted by high transportation and labour costs as well as adverse effects related to the omicron variant of Covid-19.
"We remain focused on revenue quality and operational efficiency initiatives to mitigate inflationary pressures and drive earnings improvement," FedEx CFO Michael C. Lenz said in a statement.
Guidance
In December FedEx issued revised earnings guidance for its 2022 fiscal year, expecting earnings in the $18.25 to $19.25 per-share range on revenue of $20.50bn to $21.50bn.
The new guidance is a slight decline from previous guidance of $18.25 to $19.50 per-share earnings on revenue higher than the previous $19.75 to $21bn range.
Recent news
Thursday's quarterly earnings will be the first for Raj Subramaniam who replaced FedEx founder Fred Smith as CEO in late March. Smith remains on the FedEx board as executive chairman.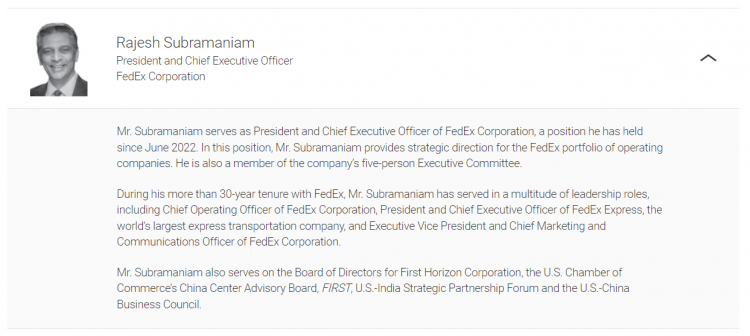 FedEx
Last week the company announced a dividend hike, added three new members to its executive board and added an extra performance measure to its executive pay scheme.
What is your sentiment on FDX?
Vote to see Traders sentiment!
"When coupled with the recent regime change we see these as positive developments for FedEx as it looks to revitalize the ground segment's profitability and overall capital returns," Morningstar analyst Matthew Young said in a recent note.
The company will share further details on its strategy and long-term objectives at its investor day later this month.
"We expect more colour at the firm's investor day slated for June 29," Young commented.
BMO Capital analyst Fadi Chamoun, writing in a note, is looking for "margin improvement opportunity, particularly in [FedEx] Express" from the forthcoming investor day.
Electric vehicles arrive
FedEx also announced that it had received its first 150 electric delivery vehicles built by General Motors (GM) subsidiary BrightDrop.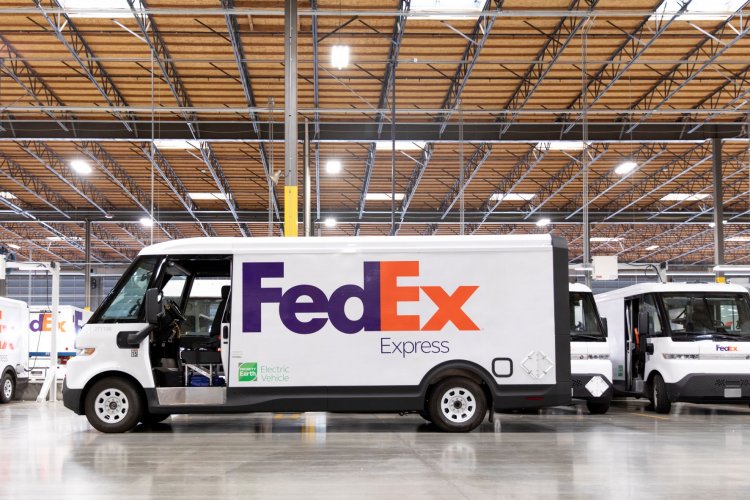 FedEx
The first 150 BrightDrop vehicles were delivered to FedEx Express across southern California, marking a critical milestone as FedEx plans to transform its entire parcel pickup and delivery fleet to electric vehicles by 2040.
Further reading...