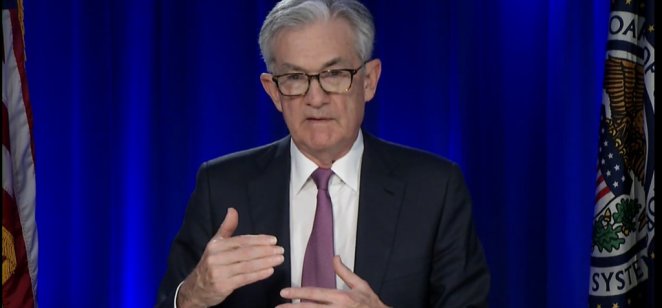 In a highly telegraphed move, the US Federal Reserve announced Wednesday that it will begin reducing its purchases of Treasury and mortgage securities that have supported the economy through the Covid-19 pandemic.
The US central bank has expanded its balance sheet since the start of the pandemic by purchasing $120bn (£88bn) of long-term securities per month in order to increase the money supply, encourage lending and investment and keep interest rates used for borrowing low.
Later this month the Fed will reduce its monthly purchases to $70bn of Treasuries and $35bn of agency mortgage-backed securities, down from $80bn and $40bn, respectively. The Fed committed to reducing the purchases by another $15bn in December and is expected to continue at that pace until the accommodation is removed entirely by the middle of next year.
However, the Fed left itself wiggle room to either slow or increase that pace of decent in 2022 should the growth of the economy differ from the central bank's projections.
"They're being data-dependent which gives them discretion," Rich Sega, global chief investment strategist at investment management company Conning, told Capital.com. "They've started the taper – and hopefully there is no tantrum – ­but in a couple of months they will take a look at it to make sure everything is going okay and they left themselves flexibility to taper even faster or slow it down."
Rates remain near zero
Unlike other central banks around the world, the Fed did not touch the federal funds rate, which will remain at a range of 0.00%–0.25%.
The Fed said it intends to maintain this target range until labour market conditions have improved to levels the central bank views as consistent with maximum employment and inflation is on track to moderately top 2% for some time.
"I don't think they will start (interest) rate hikes just because they ended the taper," Sega said. "Even when bond purchasing stops, I don't think they have to raise rates. They will look at their dual mission, which is to get employment higher and meet their inflation targets."
Still, markets are setting prices in the likelihood that rates increase by 25 basis points in late summer or early autumn next year. Analysts at Wells Fargo predict the Fed will not be that aggressive, opting instead to wait until 2023 to raise rates by 75 basis points over the course of that year, according to a report obtained by Capital.com.
Inflation on the mind
The Fed's preferred measure of inflation called the core personal consumption expenditures (PCE) index increased by 3.6% year over year in September. The gauge excludes food and energy costs.
At that rate the economy is already over the 2% inflation target the central bank is aiming for. But because inflation was persistently under that 2% range prior to the pandemic, the Fed expects to achieve inflation moderately above 2% for some time.
Chair Jerome Powell said he expects inflation to be transitory as the economy works through supply chain constraints caused by bottlenecks at ports, delays at factories and unavailability of raw materials and other components.
"Our tools cannot ease supply constraints," Powell said during his post-meeting press conference. "Like most forecasters, we continue to believe that our dynamic economy will adjust to the supply and demand imbalances, and that, as it does, inflation will decline to levels, much closer to our 2% longer run goal."
Some market participants are starting to price in long-term inflationary pressures, but Conning's Sega said he sees this patient strategy as a good hedge against possible inflation whiplash.
"It's hard to know the timing of these things but supply chain kinks will eventually get worked out, employment imbalances of missmatching skills to open jobs will eventually work out," Sega said. "It's taken us longer than most of us hoped or expected but I don't think it's a long-term inflation problem an in fact next year we could be talking about disinflation."
Central banks worldwide
Other central banks around the world are being more aggressive with their removal of pandemic-era support in order to reign in inflationary pressures.
The Bank of England could vote on Thursday to begin raising its interest rates while the European Central Bank last month slowed its own bond buying program.
The Bank of Canada just last week signalled it could raise interest rates sooner than expected and ended its bond-buying programme in a swift move that surprised investors and caused a selloff in Canadian government debt.
The Reserve Bank of Australia on Tuesday announced it would remove its policy of controlling bond yield curves to support the economy and Norway's central bank lifted interest rates in September with another rate hike expected in December.
"The Fed set out on a path that makes sense for the US," Sega said. "I don't think the Fed was looking at the pace of other central banks because other banks have different challenges."
The difference between stocks and CFDs:
The main difference between CFD trading and stock trading is that you don't own the underlying stock when you trade on an individual stock CFD.
With CFDs, you never actually buy or sell the underlying asset that you've chosen to trade. You can still benefit if the market moves in your favour, or make a loss if it moves against you. However, with traditional stock trading you enter a contract to exchange the legal ownership of the individual shares for money, and you own this equity.
CFDs are leveraged products, which means that you only need to deposit a percentage of the full value of the CFD trade in order to open a position. But with traditional stock trading, you buy the shares for the full amount. In the UK, there is no stamp duty on CFD trading, but there is when you buy stocks.
CFDs attract overnight costs to hold the trades, (unless you use 1-1 leverage) which makes them more suited to short-term trading opportunities. Stocks are more normally bought and held for longer. You might also pay a stockbroker commission or fees when buying and selling stocks.