Fall in Turkish foreign reserves suggests lira intervention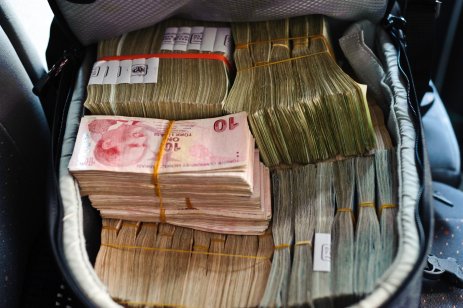 Plunging foreign currency reserves in Turkey indicate central bank interventions to prop up the lira, which surged this week, according to a new report by the Financial Times.
The lira's rise followed a deep slump off the back of several interest rate cuts, made despite rising inflation. The Turkish currency fell lower than other emerging market currencies it is often grouped with, including the Brazilian real and South African rand.
Turkey's net foreign assets dropped by $5.9bn to negative $5.1bn over the first two days of this week, according to Financial Times analysis of central bank data.
This, analysts and experts told the newspaper, suggested a "backdoor intervention" which was not officially announced.
Lira movements
Last Thursday, Turkey cut interest rates from 15% to 14%. The fourth cut in four months was intended to boost Turkish exports and investment but was criticised by many economists.
After falling to a record low of 18.4 against the dollar on Monday, the lira jumped by as much as 47% late in the day, the highest single day gain since the 1980s. Those gains were pared on Tuesday morning but left the currency at its highest level in a month.
President Recep Tayyip Erdogan announced several measures to protect the currency that day, saying the government would make up losses incurred by holders of lira deposits if their decline against hard currencies exceed bank interest rates; exporters would be given forward exchange rates directly through the central bank; and the withholding tax rate on lira bonds issued by the government would be cut from 10% to 0%.
Read more: Will the lira's rollercoaster ride continue?