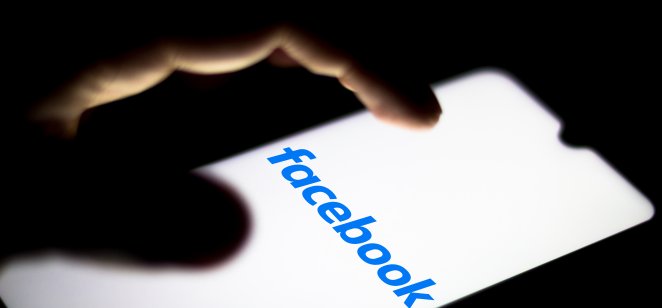 Facebook (FB) stock price has gained more than 25 per cent in the past 12 months. The share price has lagged behind all FAANG members – Apple (AAPL), Amazon (AMZN), Netflix (NFLX) and Alphabet's Google (GOOGL). It has also underperformed the overall Nasdaq 100 Index (US100), which has soared nearly 45 per cent.
The relatively weak performance has continued this year as the stock has risen by a shy 2 per cent.
Why has Facebook stock been lagging?
Before we look at the latest Facebook earnings report, let's figure out why the social media company has underperformed its peers.
First, Facebook has been under the spotlight after the company decided to block Donald Trump's account. It also banned thousands of people after the presidential election. Therefore, some analysts believe that the firm will lose more users, at least in the near term.
Second, there are concerns about more tech regulations now that Democrats control both the Legislature and the Presidency. Most politicians believe that Facebook and other social media platforms have become too big. For example, Senator Elizabeth Warren has suggested breaking the companies up. In Facebook's case, that would be separating platforms like WhatsApp and Instagram.
Third, Facebook has lagged because of Apple's forthcoming operating system update. The upcoming iOS 14 update will have a feature that will allow people to opt-in to apps collecting their data. This will hurt the company's business model, which relies on user data collection.
Finally, the forthcoming update to WhatsApp's privacy policies have pushed millions of users to alternative platforms like Signal and Discord. Still, it is highly unlikely that this transition will have an impact on WhatsApp's growth.
FB Q4 earnings report review
Facebook released robust fourth-quarter earnings on January 27. The results showed that the company's revenue rose 33 per cent year-on-year to $28.1bn. For the year, total revenue surged by 22 per cent to $86bn, despite the pandemic.
This happened as the number of people using its applications continued to rise during the quarter. Today, it has more than 2.6 billion daily active users from around the world. The performance was also because of the rising number of small and large businesses that used its platforms to reach out to more customers.
Most of this revenue was in the advertising segment that increased 31 per cent, with most of this growth coming from Europe. Meanwhile, total expenses rose by 25 per cent to $15.3bn while operating income rose to $12.8bn.
Most importantly, the company said that it would increase its share repurchases by $25bn. This will reduce the outstanding shares and help boost its earnings per share.
The latest Facebook stock analysis
Before we look at the Facebook share price forecast, let's recap the company's stock performance.
Facebook has had a strong run as a public company. The share price has jumped more than 800 per cent since 2012. This has seen its market cap soar to more than $779bn, making it the eighth biggest company in the world by market valuation.
However, it has not always been smooth sailing for Facebook. Between July and December 2018, the stock declined by about 44 per cent because of the Cambridge Analytica privacy scandal. It then fell by about 40 per cent between January and March 2020 because of the coronavirus pandemic.
Investors love Facebook for several reasons. First, its growth has been phenomenal. Precisely, its annual revenue has grown from just $3.7bn in 2011 to more than $85bn in 2020. Analysts expect this revenue to rise to more than $265bn in 2029. In the same period, its net profit has jumped from $1bn to more than $29bn.
This growth has happened because of the general increase in its daily and active members. Also, its acquisition of Instagram and the launch of Messenger has helped to accelerate this surge.
Meanwhile, more companies have shifted to online marketing to achieve this growth. In fact, Facebook surprised many when it reported strong earnings in the third quarter even after going through a boycott by some of its biggest advertisers.
Second, Facebook has a strong balance sheet with more than $61bn in cash and no debt. This is important because the company can use some of this cash to buy back its stock. Also, it can use it to fund any acquisition, as well as to fund research and development.
Third, the company has a substantial market share in its industries. For example, Facebook is the biggest social media platform with billions of users. WhatsApp is the biggest messaging platform while Instagram is the biggest player in image sharing. Therefore, this moat is extremely difficult to penetrate.
Finally, Facebook has strong margins that have a path for growth. It has a gross margin of about 81 per cent and a net profit margin of about 32 per cent. As the company grows, it will have room to expand this margin.
Facebook share analysis: where to next for the stock?
Analysts are generally optimistic about Facebook and its future. Data compiled by MarketBeat shows that most analysts have a buy or overweight position on the company. In their most recent FB stock analysis, experts at Wedbush increased their forecast from $320 to $375. This represents a 35 per cent uptick from the current level. Other analysts bullish on the stock are from BMO, Evercore ISI, KeyCorp and Raymond James.
WalletInvestor, an online forecasting service, estimates that the stock will end 2021 at $329, which is about 20 per cent above the current level.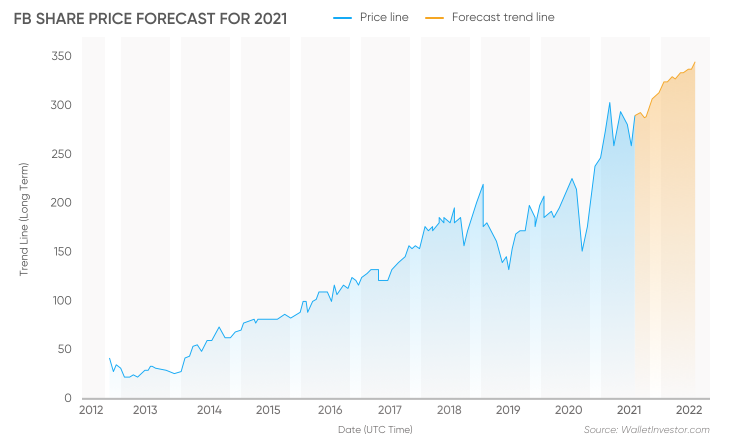 Facebook technical outlook
We have looked at some of the latest Facebook stock news and analysis. In the longer-term chart, the share price has been on a strong upward momentum. However, this trend has hit a strong resistance at around the $307 level. In the past few weeks, it has remained between $307 and $245, where it has formed a bullish flag pattern. Therefore, in the near term, the shares will likely break out higher. This prediction will be confirmed when it crosses the all-time high of $307.
Final thoughts
Facebook is an American success story that is currently facing intense pressure. Still, the company has a best-in-class management team, remarkable revenue growth, a strong moat in its industry and is aggressively buying back its stock. Therefore, the company will likely continue rising in the long-term.