Exxon (XOM) to double earnings, reduce emissions by 2027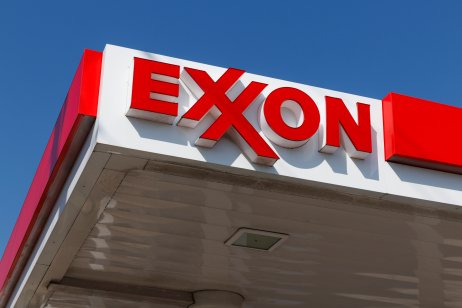 Oil and gas company Exxon Mobil outlined its corporate plan through 2027 on Wednesday calling for the company to double its earnings and cash flow potential above its 2019 levels while also accelerating the pace of its emissions reduction goals.
The direction of the company toward more environmental, social and governance (ESG) friendly goals coincides with activist investor group Engine No. 1 flipping three board seats earlier this year in one of the most closely watched corporate contests of 2021.
The new direction of the board and rising gas prices has shares trading 46% higher this year. Wednesday's new corporate plan had shares trading up as much as 3.65% over Tuesday's close to highs of $62.03 per share. By mid-day, however, the shares settled closer to $60.33 per share as the broader market sold off on news of the first Covid-19 Omicron variant case in the US.
"The plan supports our continuing focus to reduce our emissions and advance affordable, lower-emission product alternatives for our customers, while continuing to provide the essential energy people need," Exxon Mobil CEO Darren Woods said in prepared remarks.
Increasing earnings
Much of the earnings growth is expected to be driven by further investments in its core oil and gas business that will help reduce costs, drive higher cash flows and reduce debt.
The integrated oil producer plans to spend $20bn-$25bn per year on capital investments mostly concentrated in its upstream and downstream oil operations.
The capital expenditures reflect an increase over 2020 and 2021 levels that were lower as the company contended with the pandemic and plummeting oil prices, but are below the $30bn-$35bn the company forecast to spend annually before the pandemic.
"Obviously, this year our capital spending has been purposefully constrained, and we think we are going to come in ... at the lower end of the $16bn-$19bn range we have provided," Woods told investors earlier this year.
What is your sentiment on XOM?
Vote to see Traders sentiment!
Improving returns
Exxon's investments in downstream – processes that occur after the production phase at the point of sale – are expected to double its earnings potential in this area as Exxon Mobil focusses on high-return projects.
In upstream – which is the initial extraction of oil from the ground – Exxon said its investments from 2022 to 2027 will generate a 10% or better rate of return even if oil costs were to fall to around $35 per barrel.
The US oil benchmark West Texas Intermediate (WTI) closed above $84 in early November but has since dropped by around 22% as concerns over the Omicron variant's spread rocked markets. The WTI traded as low as $65.50 per barrel on Wednesday – more than 1% below Tuesday's close.
ESG initiatives
Exxon Mobil is committing $15bn (£11.3bn) toward lower-emission investments through 2027, which is just 10% to 12.5% of the company's total $120bn-$150bn of planned capital expenditure spending over that period.
The company is focussing on three areas of decarbonisation efforts: carbon capture and storage; biofuels, such as algae-based fuels, that reduce green-house gas emissions by around 50%; and hydrogen investments for use at its plants.
With these new investments, Exxon Mobil said it can reduce corporatewide greenhouse gas intensity by 20% to 30% by 2030 off of 2016 levels and reduce total corporate greenhouse gases by approximately 20% over that same period.
Compared to 2016 levels, Exxon Mobil's 2030 plans include:
• A 70% to 80% reduction in corporate-wide methane intensity
• A 60% to 70% reduction in corporate-wide flaring intensity
• A 40% to 50% reduction in upstream greenhouse gas intensity
Read more: Oil stocks to watch: Is the new Covid-19 a threat?