Exxon positioned to take lead in potential $4trn carbon capture market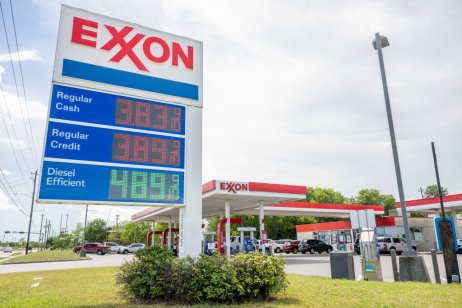 Exxon Mobil (XOM) is joining forces with CF Industries to capture and store up to 2 million metric tons of CO2 emissions per year from its manufacturing plant in Louisiana – putting it at the forefront of a market it estimates will be worth $4 trillion by 2050.
Exxon Mobil (XOM) price chart
Hydrogen and nitrogen products-maker CF Industries said it is investing $200 million to build a CO2 dehydration and compression unit at its Donaldsonville facility to enable the captured CO2 to be transported and stored.
The US oil major said it has also signed an agreement with EnLink Midstream to use EnLink's transportation network to deliver the CO2 to permanent geologic storage it owns in Vermilion Parish.
"The 2 million metric tons of emissions captured annually will be equivalent to replacing approximately 700,000 gasoline-powered cars with electric vehicles," Exxon said in a press statement.
The project, which is set to start in 2025, will likely set a precedent for other deals like it as industrial manufacturers look to reduce their carbon emissions.
Shell announced a proposal in July 2021 to build a large-scale carbon capture and storage (CCS) project at its Scotford Complex near Edmonton in Alberta. However, a final investment decision by the group is not expected until 2023.
What is your sentiment on CVX?
Vote to see Traders sentiment!
Royal Dutch Shell (RDSa) price chart
Just after Exxon's announcement, Air Liquide (Alfr), Chevron Corporation (CVX), LyondellBasell (LYB), and Uniper SE (UN01) announced their plans to collaborate on a joint study "that will evaluate and potentially advance the development of a hydrogen and ammonia production facility along the US Gulf Coast".
Air Liquide (AIfr) price chart
Chevron (CVX) price chart
"Collectively, the consortium will bring capabilities and expertise in air separation technology, hydrogen technologies, lower carbon intensity and renewable natural gas, carbon capture and storage (CCS), electrolysis-based technologies, and petrochemicals," a Chevron statement said.
LyondellBasell Industries N.V. (LYB) price chart
However, it is still a "potential" project and development is yet to proceed.
Uniper SE (UN01) price chart
CCS - for better or worse?
Carbon capture and storage (CCS) has been described by the International Energy Agency (IEA) as an important emissions reduction technology. The United Nations holds the same view and has previously highlighted how it can play a significant role in mitigating carbon emissions in the future.
Carbon emissions futures (ECFZ22) price chart
As a result, Exxon's latest investment to get a large-scale CCS commercial agreement in place puts it in a good position for other market opportunities in the sector, which subsequently could be a huge profit maker.
However, critics of the project have said that the scale of technology required to make a significant impact on global emissions is a long way off and thus see it as a smokescreen for fossil fuel producers to protect their oil and gas businesses.
Despite this, CCS is garnering political backing too.
The US government, for example, is putting billions of dollars into CCS efforts in the form of tax incentives, as set out in the Inflation Reduction Act passed in August.
Exxon stock performance and outlook
The share price for Exxon (XOM), at the time of writing on Friday, was up 0.97% to $104.92. As one retail trader pointed out to Capital.com, it is testing the $105 price – a key level of resistance. He said if it breaks resistance, there is a clear path to $110-$115.
Analysts at Jefferies took a bullish stance on the stock on Wednesday and upgraded it from "hold" to "buy" – and set a price target of $133, up from $90.
The financial group thinks that the company will keep making good free cash flow until 2027, thanks to growth in upstream volumes, high-quality chemicals, and refining margins.
It comes as Exxon shares have advanced since the start of 2022, increasing by 59% so far this year as of 17 October.
The surge has been prompted by higher oil prices following Russia's invasion of Ukraine in February.
US crude oil price chart
Jefferies noted, according to MarketWatch and CNBC, that the business "spent during the cycle while the industry held back on capital," and that this, along with higher commodity prices, helped XOM not only pay off its debt but also set itself up for growth in the upstream (Guyana and Permian) and downstream (especially in chemicals).
Brent crude oil price chart
Capital.com contacted Jefferies on Friday for further comment.
Exxon is scheduled to announce its Q3 earnings around 28 October.