Exxon and Chevron results: US oil giants post blockbuster Q3 profits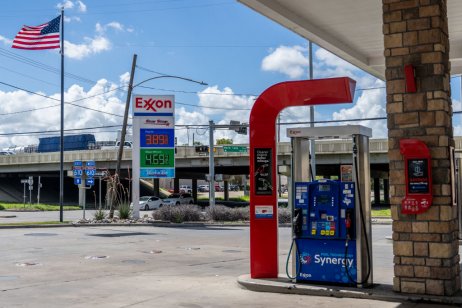 US oil majors Exxon Mobil (XOM) and Chevron (CVX) reported robust third-quarter (Q3) results on Friday on high crude oil and natural gas prices – as well as strong chemical and refining margins.
Exxon Mobil (XOM) price chart
Exxon Mobil announced a profit of $19.7bn in Q3, beating the previous quarter's $17.9bn result. It is also nearly triple the amount made in the same quarter in 2021.
"[We] grew earnings and cash flow from operating activities to $19.7bn and $24.4bn, respectively, as strong volume performance, including record refining volumes, rigorous cost control and higher natural gas realisations more than offset lower crude realisations and weaker industry refining margins," an Exxon Mobil press release said.
The company also highlighted record Permian production of nearly 560,000 oil-equivalent barrels per day "to better serve demand" and said year-on-year, total production increased by 50,000 oil-equivalent barrels per day.
What is your sentiment on Oil - Crude?
Vote to see Traders sentiment!
Chevron (CVX) price chart
Chevron posted profit of $11.2bn in Q3. The figure was down slightly on its second-quarter results but still almost double the $6.1bn it announced in the same period in 2021.
"We delivered another quarter of strong financial performance with a return on capital employed of 25 percent," Mike Wirth, Chevron's chairman and chief executive officer, said. "At the same time, we're increasing investments and growing energy supplies, with our Permian production reaching another quarterly record."
That quarterly record was 700,000 barrels a day, which Chervon said is a 12% increase on the previous year's production.
"We've also taken important steps to position both our traditional and new energy businesses to help meet the world's growing demand for our products," Wirth concluded.
US crude oil (WTI) price chart
Exxon and Chevron dividend updates
Exxon declared a fourth-quarter dividend of $0.91 per share, to be paid on 9 December, an increase of $0.03 per share; paying out $15bn in aggregate for the year.
"The increase of $0.03 per share reflects confidence in our strategy, businesses performance, and financial strength, and marks 40 consecutive years of annual dividend growth. A reliable and growing dividend shows the company's commitment to return profits to shareholders, of which approximately 40% are individual investors," Exxon said.
While Chevron said, during the quarter, the company had paid dividends of $2.7bn (6% higher per share than third quarter 2021) – and highlighted it had increased investments by over 50% from last year. It also noted it had paid down debt for the sixth consecutive quarter, and repurchased $3.75bn of shares (more than 1% of shares outstanding).
Strong profits and fresh windfall tax calls
The strong profits from both Exxon Mobil and Chevron follows similar results from European majors Shell (RDSa) and TotalEnergies (TTEF) on Thursday.
TotalEnergies SE (TTEF) price chart
Royal Dutch Shell (RDSa) price chart
The high earnings has prompted fresh calls to introduce a wider windfall tax on the energy giants to help ease soaring consumer prices.
The European Commission (EC) proposed on 14 September a temporary tax on the bloc's fossil fuel producers to help offset soaring power bills – and said it will be applied for one year after entering into force with a review by 15 October 2023.
"The levy will be collected on 2022 profits which are at least 20% above the average profits of the previous three years, charged at a rate of at least 33%, the commission said, adding the tax could bring in around €25 billion ($25.2 billion) of public revenues," S&P Global Commodity Insights said in a report to clients.
New British Prime Minister, Rishi Sunak, has also come under pressure from lobby groups to do the same – as has the US government.