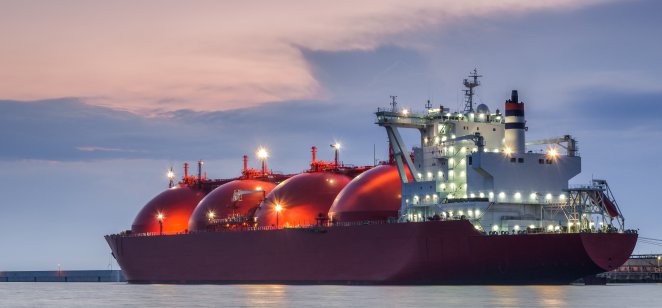 Liquefied natural gas (LNG) player Excelerate Energy filed for an initial public offering recently as LNG rapidly becomes a major source of energy across the globe.
In its US Securities and Exchange Commission (SEC) filing, The Woodlands, Texas-based company stated it currently operates 10 floating storage vessels, the world's largest portfolio of floating LNG terminals, servicing emerging markets. It has offices across the globe from Washington to Antwerp.
Excelerate Energy, controlled by billionaire George Kaiser, posted a net profit of $43m on revenue of $550m during the first three quarters of 2021. The Asia-Pacific region made up about half of its sales, while a quarter came from the Middle East and Africa, the company stated in a press release.
Details about how much money it aims to rise and an offering timeline were not included in the filing. A portion of the money raised is earmarked for terminal projects in Albania, Bangladesh, Brazil and the Philippines. Additional funds are expected to be used to purchase two tankers Excelerate is leasing.
Brazil deal
Last month, the company inked a deal to import LNG and sell regasified natural gas to Brazil's state-operated Petrobras. The deal clears the way for Excelerate Energy to start injecting natural gas into Brazil's pipeline network via the Bahia Liquified Natural Gas terminal, Petrobras said, adding Excelerate will pay $18.8m to operate the terminal until December 2023.
The deal came six months after the Brazilian government announced it disqualified a bid from Excelerate Energy to operate the same terminal for "for not complying with the rules of the tender to lease the LNG regasification terminal of Bahia".
In its SEC filing, the company stated its work is vital to improving the energy infrastructure to markets experiencing numerous development roadblocks and is crucial to the global economy's shift to lower-carbon energy production and consumption.
"Even the most aggressive scenarios that call for a larger role for renewables and new technology in decarbonisation efforts fail to achieve the Paris Agreement's goals without substantial growth in natural gas volumes, including in the form of LNG, through 2040," the company said in the filing. The Paris Agreement is an international treaty on climate change adopted in 2015.
Excelerate Energy is expected to list on the New York Stock Exchange under the symbol EE.
Global emergence
LNG has various purposes from generating power and electricity to marine and vehicle fuel. Worldwide usage of the frozen form of natural gas is up, especially in China.
On Tuesday, the Chinese government released data showing imports of LNG was at 7.63 million tonnes last month, compared to 6.9 million tonnes in November. In a year-to-year comparison, LNG imports in 2021 were up 1.6% compared with the year-earlier level even as high Asian spot prices hindered imports. The data shows the all-time monthly record high was set in January 2021 at 8.49 million tonnes, according to various press reports.
What is your sentiment on Natural Gas?
Vote to see Traders sentiment!
Imports for the whole year totalled a record 78.93 million tonnes, up 18.3% from 2020, making the country the world's largest buyer of LNG.
However, sources told Capital.com Tuesday, LNG tankers are still being redirected from Asia to Europe as a way to offset the continent's energy shortage and due to fears of a bellicose Russia. The sources said for about a month, at least 12 tankers were diverted to European ports.
A bumpy ride
"We expect LNG contracting activity to remain strong in 2022," said Valery Chow, a vice president at global research and consultancy firm Wood Mackenzie. "Chinese buyers are again expected to lead the way and account for most of the new long-term contracts signed".
However, Wood Mackenzie predicts new supply will change the landscape after 2025 and potentially weigh on prices. Additionally, long term, the industry's future will depend on whether Russia's Nord Stream 2 pipeline into Europe is approved. If it does get permission, prices could fall sharply.
"But a cold winter in Europe and Asia, alongside continued uncertainty about the commissioning of Nord Stream 2, could see prices increase further throughout 2022," Wood Mackenzie said. "Get ready for another bumpy year ahead".