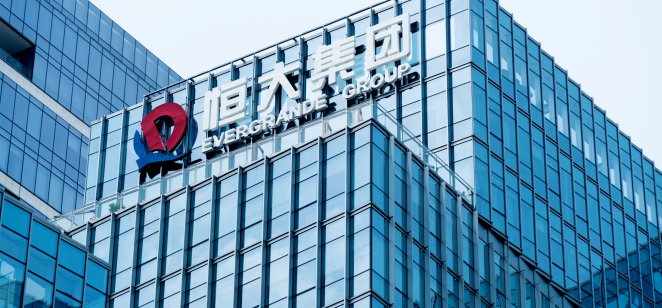 China's indebted property developer Evergrande Group once again avoided a default this week after paying overdue interest but one analyst has warned that the risk of it happening is being underestimated by many investors and observers.
It comes as the business, which was founded in Guangzhou by businessman Hui Ka Yan back in 1996, has been stumbling from deadline to deadline in recent weeks as it struggles with more than $300bn in liabilities, $19bn of which are dollar bonds.
The latest payments due were made on Wednesday, which was the end of a 30-day grace period. However, it was the third time in the past month that the company has paid the amount due very close to a deadline.
What would happen if Evergrande defaults?
A failure to pay would have resulted in a formal default by the company and triggered cross-default provisions for other Evergrande dollar bonds, which would have exacerbated a debt crisis looming over the world's second-largest economy.
Osama Rizvi, an energy and economic analyst at Primary Vision, told Capital.com on Thursday that the outcome of such a default is being underestimated by many.
"[The] real estate sector in China accounts for about 30% of its GDP. In the event of a default by Evergrande, which it just averted, the spread of systemic risk could be greater than what anyone thinks. This was also acknowledged by the recently released Financial Stability Report by [the] Fed. With Chinese real estate activity slowing down, Evergrande is not the only one but many others may follow suit," he said.
"Given the significance of the Chinese economy in the world, it contributes 20% to global GDP. Any slowdown there can easily affect markets in other countries, primarily the US, causing a domino effect," Rizvi warned.
"Many investors and observers underestimate the risk of Evergrande and the resultant shift in sentiment it may have. No one can be certain but it is always good to be extra vigilant. Covid-19 has just taught us this very lesson," he added.
Who is most exposed to an Evergrande default?
As Rizvi highlighted, a corporate collapse could pose systemic risks to China's financial system and reverberate around the world.
The markets have already been shaken by Evergrande, with many anticipating the potential for a slowdown.
It caused a significant market sell-off towards the end of October as industry observers debated the possible outcome, while major indices, including the FTSE 100 and STOXX 600, fell over default concerns.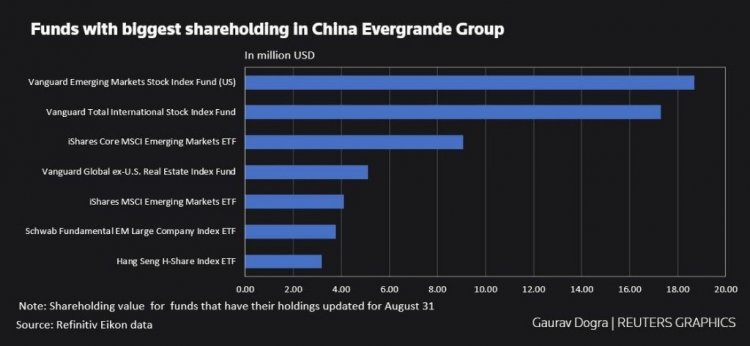 Source: Refinitiv Eikon data
"Many of the world's biggest asset managers hold Evergrande bonds, hence are exposed to it. This includes names like USB and PIMCO. Ashmore group has the largest exposure to this impending crisis. With such names exposed to the firm, one can imagine very easily that the impact on global markets can run into hundreds of billions of dollars," Rizvi also pointed out to Capital.com.
Evergrande has not yet responded to Capital.com's request for comment.
More about Evergrande
As Capital.com previously reported, Evergrande has grown rapidly over the last 25 years. As of June 2021, its land bank totalled 214 million square meters in gross floor area, according to Moody's, the ratings agency.
The business employs 200,000 people and was also heavily involved in China's housing boom, buying land and building developments in more than 280 cities.
However, the broader Evergrande Group now encompasses far more than just real estate development.
It is ranked 122nd on the Fortune Global 500 and is incorporated in the Cayman Islands, and headquartered in the Houhai Financial Center in Nanshan District, Shenzhen, Guangdong Province, in China.