EV charging stations have miles to go in US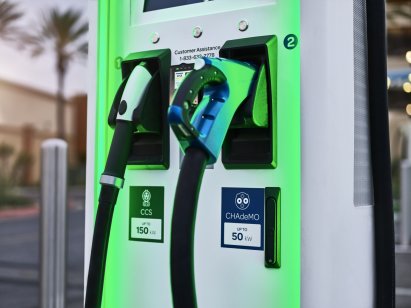 In North Platte, Nebraska, a man drives his electric vehicle (EV) into a charging plaza for a quick battery charge.
Initially, the simple task went well until the battery was about halfway charged. That's when the electron charges dropped to a trickle and all but two of the plaza's eight charging stations went offline, his app read.
On 11 November, Matt F shared his experience on Plugshare.com, a website that gives locations of charging stations. The website also provides users with a chance to comment. Matt wrote it was "going to take forever" to fill his Volvo's battery, so he drove 40 miles to another charging centre.
His post concluded, "Not perfect but 50% faster than this!"
Matt F's experience is not uncommon at the more than 4,400 public charging stations in the US, according to comments posted on Plugshare.com, where EV drivers wrote about stations refusing payments, having the wrong plug-in, charging stopping in mid-session, a lack of locations and vandalised sites.
Electrify America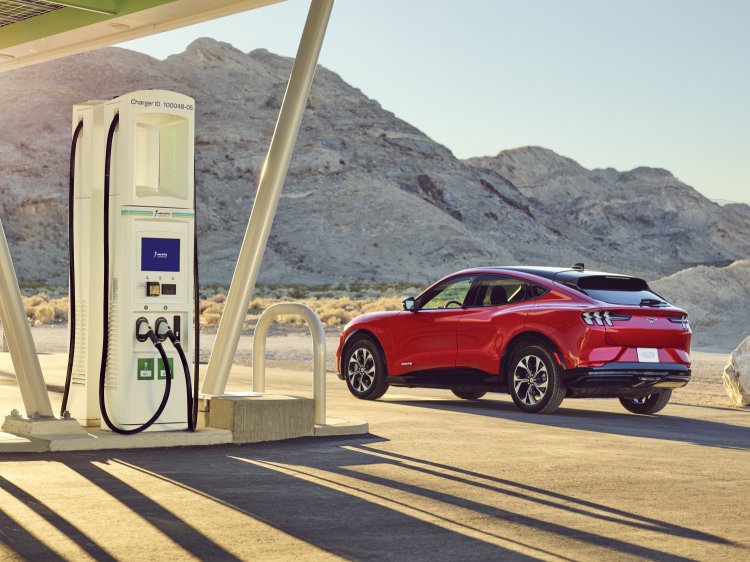 Electrify America charging station – Photo: Electrify America
"America needs thousands of ultra-fast, reliable charging stations that use universal, non-proprietary connectors. In addition to more infrastructure, innovation across vehicle/battery capacity and the charging industry will need to happen in tandem to fully realise the potential for widespread public charging," Matthew Nelson, Director of Government Affairs, Electrify America, told Capital.com.
Electrify America is a battery charging company with America's largest open ultra-fast DC (direct current) charging network. The subsidiary of Volkswagen Group of America has built more than 700 stations and over 3,000 individual ultra-fast chargers.
What is your sentiment on TSLA?
Vote to see Traders sentiment!
What's needed?
Nelson said charging companies need to add technology to improve a customer's experience. He said customers want recharging to be as quick and easy as stopping at the petrol station.
Two recent technological improvements in the battery charging industry are Plug&Charge, which Electrify America was the first public EV charging network to offer the technolgy, and the behind-the-metre battery energy storage.
Electrify America's newly implemented Plug&Charge technology saves valuable time by enabling drivers to automatically pay for charging without reaching for their wallet, smartphone or bank card by simply plugging in their Plug&Charge-capable electric vehicle (EV).
The second technology improvement is 30 megawatts installed behind-the-metre battery energy storage at over 140 DC fast charging stations around the country to minimise impact on the electrical grid and mitigate demand surges to help maintain consistent pricing.
Room for others
Other industries who will play an important role in expanding EV charging infrastructure include:
Hardware manufacturers that make the equipment work

Software developers that provide the technology to help consumers navigate the charging experience

Utilities that supply the power

Real estate partners that host the charging stations

State and local governments that offer initiatives and incentives to bring charging stations to their respective areas
Infrastructure
Part of the Biden administration's $1trn infrastructure bill provides funds for investments in ultra-fast EV charging infrastructure. The bipartisan bill passed Congress in November and signed by the president a short time later, invests $7.5bn in EV charging, primarily along highway corridors.
The still-pending Build Back Better Act proposes a long-term tax incentive for private sector investment in charging stations, leveraging a proven incentive structure associated with the growth of solar deployment in the US over the past 15 years. Federal incentives and investment will encourage the private sector investment needed to reach the President's goal of 500,000 charging stations and 50% EV sales by 2030.
"Our experience deploying the largest open ultra-fast charging network and working with commercial customers, cities, states and other municipalities on charging solutions, has led us to the view that Federal investment should be concentrated on ultra-fast, reliable and non-proprietary charging technology, which has the potential to enable the attainment of the President's EV adoption and station deployment goals," Nelson said, adding that with more ultra-fast and reliable EV charging stations available, finding one will become easier.
If more EV charging stations are available, it will build range confidence and more drivers will likely be motivated to switch to electric. More EV drivers on the road will, in turn, make transportation more sustainable in the future by transforming the US to a zero-emission vehicle system, he explained.
Petrol station versus charging stations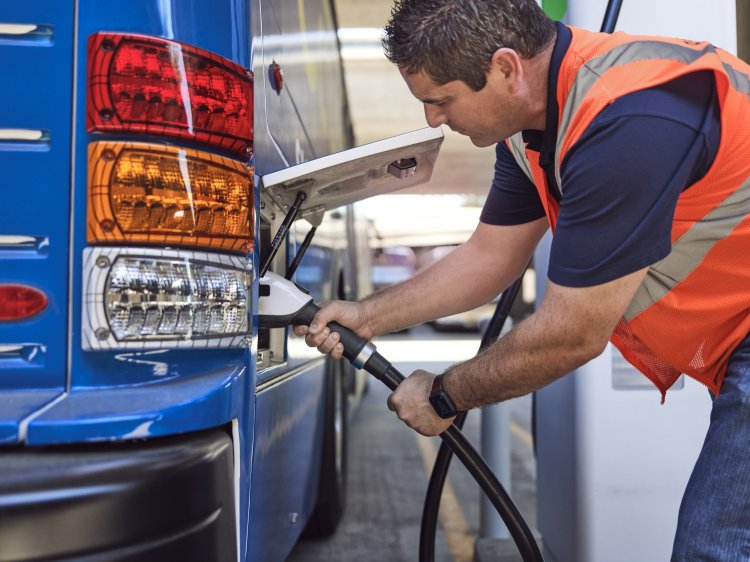 SacRT Electric Shuttle – Photo: Electrify America
EV charging is a different experience that requires charging a battery using electricity rather than filling up a tank with petrol.
"While the industry is moving quickly toward such a goal of charging speeds on par with gas stations, it is not a 100% apples-to-apples comparison, especially as many EV drivers can also charge at home (unlike gasoline-powered cars), so fuelling up all at once often is not as critical to EV drivers," Nelson said.
Petrol stations and their products don't allow much room for innovation or change, he said, whereas Electrify America is preparing for the future through higher charging speeds and, further down the road, power upgrades and sustainability benefits like solar integration and battery storage.
"That said, gas stations have set consumer expectations for refuelling speed, reliability, dispenser universality, convenience and payment methods," Nelson said. "Ultra-fast EV charging technology has come a long way and will continue to improve with the advancement of innovation and investment; ultra-fast, reliable and universal charging station technology is now able to meet and even exceed customer expectations set by the gas station industry."
Ford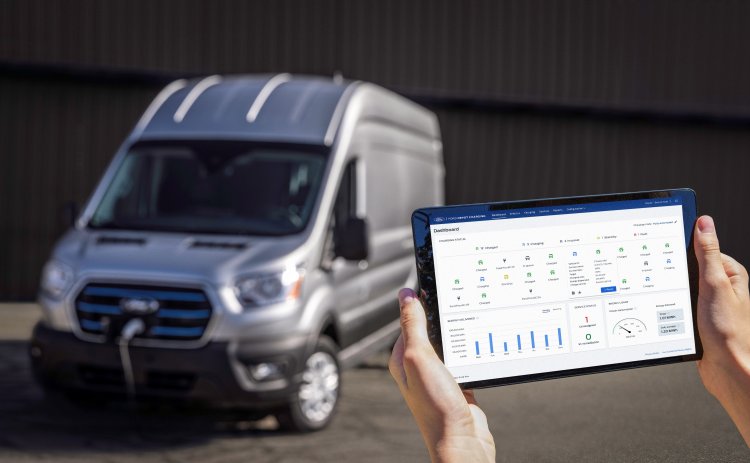 Ford Pro Charging – Photo: Ford
Ford Motor believes it may also have solved the battery charging problem.
As the second largest US automaker and its competitors switch to EVs from internal combustion engines, they are hearing from drivers about the difficulty of finding charging stations, especially quick, high-voltage outlets for its signature EV, the Mustang Mach-E.
In response, Ford is going undercover by deploying a fleet of Mach-Es to charging stations around the country. Company representatives called "Charge Angels" will investigate allegations of bad service using special testing equipment to diagnose reported issues.
The information will be shared with station owners, Ford said, and if the charging stations don't make changes, the automaker will no longer suggest drivers charge at those locations in the future.
Additionally, in late December, Ford announced the launch of Ford Pro Charging, a comprehensive solution for commercial electric vehicle charging.
Commercial customers are switching to EVs for a number of reasons – fewer maintenance costs, lower emission standards and less down time, but the transition to EV from petrol is complex. Ford promises to ease that transition with "intuitive software" and "commercial hardware infrastructure" to help charging and energy management, the company said.
Ted Cannis, CEO of Ford Pro, a separate business within Ford focused on commercial customers of all size, said Ford drivers "are depending on us to provide the electric vehicles and the integrated solutions designed for EVs that they need for charging and connectivity. Ford Pro Charging is an industry-first solution that is focused on helping our customers plan for, operate and deploy charging solutions so they can reduce operating costs and improve efficiency."
Tesla stays ahead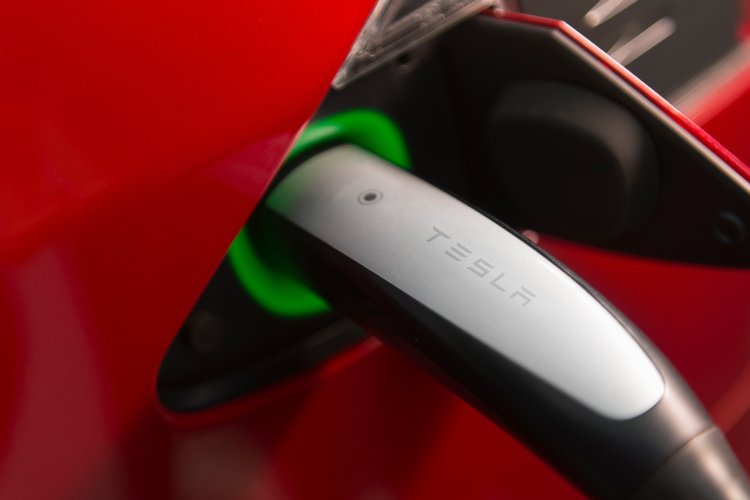 Tesla charger – Photo: Tesla
While Detroit continues to boast about its efforts in the EV markets, the grandfather of electric vehicles continues to pull ahead.
Tesla has set the standard for EVs, from models offered to battery chargers, making it difficult for other automakers to meet customers' charging desires.
Going back to 2012, when Detroit scoffed at EVs, Tesla was building its Supercharger network. Today Elon Musk's company has about 1,300 charging plazas and 12,000 fast-charging plugs across the US, used only by Tesla owners. Ford and other US automakers have zero.
Tesla reported fourth quarter combined new vehicle production totalling 305,840. Of that number, 292,731 were the less expensive Model 3/Y option, a 22% increase from the previous quarter. Deliveries for Q4 2021 topped 308,000 vehicles, with 296,850 of the total being the Model 3/Y, roughly 40,000 more than expected.
Full-year production topped 930,000 vehicles, 906,000 of which were the Model 3/Y. Deliveries for 2021 topped 936,000, nearly double Tesla's 2020 production.
Read more: EV market trends 2022