Will eurozone GDP sink or support euro uptick ahead of ECB's final meeting?
Subscribe to Weekly Highlights
The major market events for the week ahead right in your inbox.
Subscribe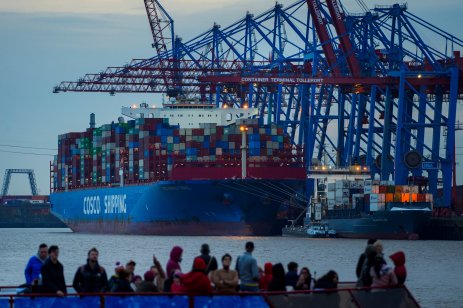 Content
Eurozone third quarter economic growth jumped to 0.3% compared to previous flash estimates of 0.2% Eurostat reported this morning. The news helped EUR/USD lift to 1.0493 earlier, not quite hitting 1.05; mid-morning the pair was trading lower at 1.0487.
Is eurozone sentiment improving? The yield spread between 10-year German and Italian bonds has narrowed which may encourage policy makers to feel braver.
For now this is the last chance for European Central Bank policy members to give a view before the quiet period kicks in: the ECB's final 2022 meeting is 15 December and a 0.5% rise is more or less locked down; any last-minute surprise words from ECB personnel won't go down well.
What is your sentiment on EUR/USD?
Vote to see Traders sentiment!
Can the eurozone bloc avoid a full-blown energy crisis this winter – and how will it hit EUR?
Recession-resistance
A large lump of German economic Lego also clicked into place earlier: October industrial production, excluding construction and energy, sank 0.4%, reported the Federal Statistical Office of Germany.
While industrial production was up 0.8%, energy-intensive production gaped 3.6% lower month-on-month; in total a 13% fall compared with October 2021.
But pull out the dimming energy intensive bricks and the German economy, says ING, looks impressively robust – for the moment.
"Today's industrial production data has two messages: German industry, excluding energy-intensive sectors, is more resilient than some pessimists had thought but at the same time, the gradual slide into recession still looks unavoidable."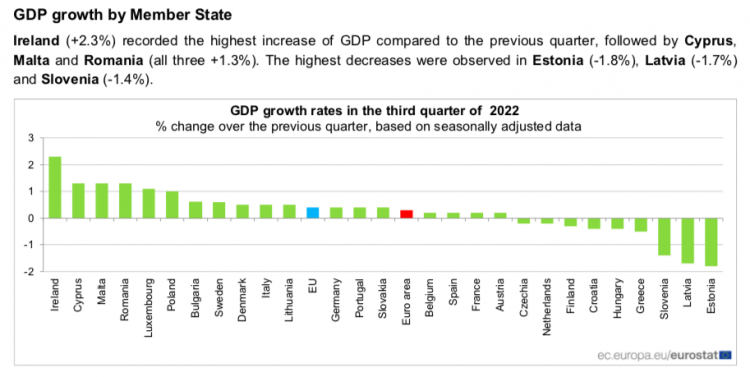 FX strategist and finance consultant at Keirstone, Francis Fabrizi
EUR/USD dropped below the 1.0500 support level yesterday. This morning price is attempting to re-test this level.
"If it is able to break and hold above this level again, it is possible we will see further bullish momentum towards 1.0600. Price seems to be stalling around 1.0500 indicating sellers are waiting to gain control again."
"Looking at the higher timeframes, I believe price is still in a bearish trend overall therefore the current bullish move is a temporary pullback before USD gains strength again."
"Price" he adds, "must stay below 1.0600 for a bearish outlook to remain valid."
Dimming lights
In November Eurozone inflation fell for the first time in 17 months. This carried fresh hope that the worst of the biggest global price surge for decades was done, easing pressure on central banks. But the lower 10% figure remains a massive multiple of the ECB 2% target and the news was much less impressive on the core inflation front, static at 5%.
Heightened inflation expectations, warns Rabobank's Jane Foley, "combined with labour market shortages, suggests the likelihood that core inflation measures will remain elevated for some time".
Foley feels, still, there's unlikely to be a Fed pivot to lower rates before 2024.
EUR/USD – gas anxiety
Europe's gas storage facilities were around 95% full going into a warm autumn says Foley "which has brought tangible signs of relief and fanned the better tone in the EUR".
However Europe is likely to find that re-stocking gas storage units in summer 2023 could be costly she warns. "In particular, if China's economy is moving towards a full re-opening next year, competition for LNG supplies will step up significantly".
"Given the huge risks around gas prices and the implications that this will have for the European economic outlook, we see risk that EUR/USD could again drop below parity next year."
Next steps?
Where does this leave Europe's biggest economy? ING analyst Carsten Brzeski says the question is whether the Germans can avoid a double skid in the winter of 2023/24.
"Currently, many official forecasts expect the German economy to return to average quarterly growth rates by mid-2023. We are more cautious and think that the series of structural changes and adjustments will keep the recovery subdued, with a high risk of a double dip."
Meanwhile the Bank of Canada meets today; opinion is divided between a 25bp hike and a 50bp move. Around 12.15am DXY was 0.09% down at 105.09 while EUR/USD was 0.28% higher at 1.0501; GBP/USD was 0.21% up at 1.2157; USD/JPY was 0.39% higher at 137.47.
Related reading