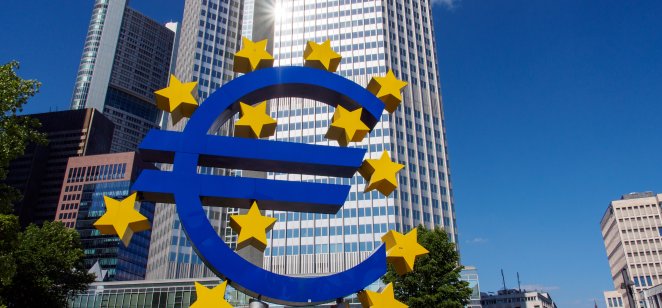 Content
The eurozone's economic crisis seemed to have gone from bad to worse. European gas prices hit record highs after Russia stopped its gas flow indefinitely at the end August.
High gas prices drove annual inflation to a new record of 9.1% in August. The European Central Bank (ECB) responded by raising its key rate by 75 basis points (bps) at a recent meeting.
While recent gross domestic production (GDP) data showed positive growth in the eurozone, the gas crisis could be far from over. Is a European recession about to happen?
In this article we look at inflation history in the EU, recent economic indicators and analysts' forecasts to draw projections on European recession.
What is the European Central Bank (ECB)?
The ECB is the central bank in charge of monetary policy for EU member countries that use the euro (EUR). The currency union, which has 19 member countries, is known as the eurozone.
The ECB, headquartered in Frankfurt, Germany, has been responsible for eurozone monetary policy since the euro's introduction on 1 January 1999.
The ECB's primary mandate is to ensure inflation does not exceed 2% in the medium term. It tries to do this by managing interest rates, raising them to discourage spending or decreasing them to encourage it.
The ECB's governing council, which includes the six members of the executive board and the governors of the eurozone's 19 member countries, makes monetary policy decisions.
The council meets at the ECB's headquarters twice a month. Every six weeks it assesses the state of the economy and the currency and makes monetary policy decisions.
The council discusses the ECB's and the eurozone's other duties and responsibilities during non-monetary policy meetings.
Other duties of the ECB include overseeing banks in the eurozone, printing euro banknotes, ensuring safe card and online payments in euros and looking into cryptocurrency assets.
What is your sentiment on EUR/USD?
Vote to see Traders sentiment!
European inflation rate history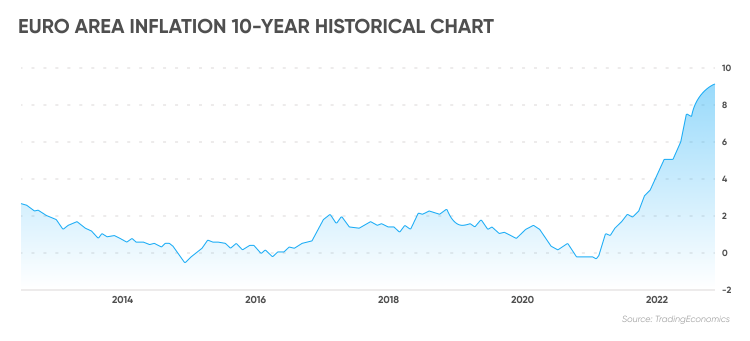 The Harmonised Indices of Consumer Prices (HICP) for the Euro Area are the ECB's designated target indicator for monetary policy decisions. The HICP measures the changes in household purchases of consumer goods and services over time.
The euro area HICP serves as ECB's official target indicator for monetary policy. ECB's HICP target to maintain price stability is an annual rate of increase in the HICP that is less than, but close to, 2% over the medium term.
According to economic data provider Trading Economy, inflation in the EU averaged 2.09% between 2000 to 2022. It reached an all-time high of 9.80 % in July 2022 and a record low of -0.60% in January 2015.
From 2009 to 2021, the euro area experienced an inflation rate below the ECB's target of 2%. Inflation averaged 1.3% from 2009 to 2019 and 1.4% from 2020 to 2021, according to the ECB's presentation on 18 August.
Weak demand, particularly from the tourism and travel-related sectors hit by the Covid-19 pandemic's restrictions, kept inflation low for much of 2020 and early 2021. A cut in energy value-added tax (VAT) in Germany also contributed to the subdued inflation rate, according to the ECB.
The euro area started to see an uptick in inflation in the middle of 2021. Annual inflation in July 2021 rose to 2.2%, from 1.9%. In the EU, annual inflation climbed to 2.5% in July, from 2.2% in June, according to data from EU statistics, Eurostat.
Over the second half of 2021, inflation continued to accelerate on rising domestic demand. By January 2022, the rate had shot up to 5.1%, from 5% in December 2021.
The ECB, however, did not adjust its policy rate, keeping main refinancing operations (MRO) at zero despite inflation exceeding its target as an economic crisis loomed
Energy prices were the main contributor for the elevated inflation rate, accounting for more than half of the headline figure in January, ECB data showed. Surging energy costs pushed prices up in other sectors. In addition, seasonal factors, including high costs for transportation and fertiliser, led to an increase in food prices.
Natural gas prices in Europe have rallied to record highs since the last quarter of 2021. This came amid Russia's reluctance to deliver gas supply to the continent as well as low inventories.
Russia supplied about 45% of Europe's natural gas imports, used for generating electricity and winter heating.
The record high gas prices gave way to the euro economic crisis as it boosted energy costs, pushing inflation to a record high of 8.9% in July. Surging inflation forced the ECB to abandon its zero interest rate policy and hike its policy rate by 50bps to 0.50% on 21 July.
Worsening gas supply woe boost inflation, hurt euro
The EU crisis worsened in the second quarter as Russia greatly reduced its gas supply to Europe amid Western sanctions imposed following the country's invasion of Ukraine on 24 February.
On 26 August, Dutch TTF – the benchmark European gas futures in the Netherlands – rose to a new high of €346.52 ($346.22) megawatt hours (MWh). This came after Russian multi-energy corporation Gazprom announced that it would shut down gas flows to Europe for three days for routine maintenance on its Nord Stream 1 pipeline.
The price has since eased to €200/MWh despite Gazprom saying on 6 September that it had kept gas supply to Europe shut indefinitely due to an oil leak in its system.
As a result of the gas crisis, millions of people were at risk from the soaring electricity costs, blackouts and recession in Europe.

The European economic crisis loomed as inflation in August was expected to hit a fresh high of 9.1%, according to a flash estimate by Eurostat in August. Energy was estimated to have the highest annual rate at 38.3%, followed by food, alcohol & tobacco at 10.6%.
On 8 September, the ECB hiked its policy rate by 75bps to 1.25% to contain stubbornly high inflation driven by soaring prices of energy and food, demand pressures from the reopening economy and supply bottlenecks.
| | |
| --- | --- |
| Long position overnight fee | -0.0033% |
| Short position overnight fee | -0.0011% |
| Overnight fee time | 21:00 (UTC) |
| Spread | 0.00040 |
| | |
| --- | --- |
| Long position overnight fee | 0.0000% |
| Short position overnight fee | -0.0000% |
| Overnight fee time | 21:00 (UTC) |
| Spread | 0.100 |
| | |
| --- | --- |
| Long position overnight fee | -0.0038% |
| Short position overnight fee | 0.0001% |
| Overnight fee time | 21:00 (UTC) |
| Spread | 0.00060 |
| | |
| --- | --- |
| Long position overnight fee | -0.0086% |
| Short position overnight fee | 0.0025% |
| Overnight fee time | 21:00 (UTC) |
| Spread | 0.00024 |
Susannah Streeter, senior investment and markets analyst at Hargreaves Lansdown said:
"Stuck between a rock and a hard place, ECB policymakers felt they had little option but to go ultra-big with the rate rise to try and cut the rope on inflation and spark a fall from its ascent. But it couldn't come at a worse time with Russia's gas taps to Europe turned off in retaliation for punitive economic sanctions."
Soaring gas prices knocks down euro
The rise in European gas prices also sparked the euro crisis.
EUR/USD exchange rate
On 22 August, the euro (EUR) fell to levels below parity (1.00) with the US dollar (USD). The widening price gap between European Dutch TTF and US natural gas Henry Hub contributed to the recent selloff in the EUR/USD exchange rate.
The difference between European and US natural gas prices increased to a record $63 per million metric British thermal unit (MMBtu) as the gas crisis in Europe worsened after Gazprom decided to temporarily halt gas supplies through Nord Stream 1.
The differential between US Henry Hub and the Dutch TTF means that the lower US gas prices trade in comparison to the European gas prices, the greater the downward pressure on the EUR/USD pair.
As of 15 September, the currency pair was quoted at 0.9997, recovering from a low of 0.986 on 6 September. This is because the gap between US and European gas prices dropped to around $50.19/MMBtu, as of 15 September, according to data from CME Group. The gap narrowed as the Europe gas prices declined from its peak.
The ECB's aggressive rate hike also helped the currency pair to recover.
However, the risks of a widening discount for US natural gas prices relative to European gas prices continued. Gazprom hasn't announced when it will resume supply, while gas demand for heating is expected to rise in coming months. If the discount widens, could it spark a euro crisis?
Streeter warned that a strengthening dollar against the euro may add inflationary pressure to the economy as the US Federal Reserve may continue its hawkish monetary tightening.
Is Europe's economy in recession?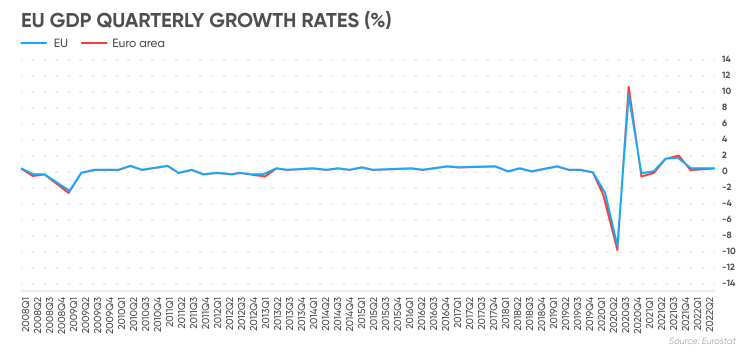 The relative competitiveness of European businesses and household spending power may suffer as a result of the high gas prices. As a result, the Europe' recession could be more severe than the one in the US.
A recent ECB staff macroeconomic projection gave a downside forecast in case of a complete cut-off of Russian gas and Russian seaborne oil flows into the euro area with little scope for alternative gas sources.
Under the downside scenario, the eurozone's economy could contract -0.9% in 2023, from estimated positive growth of 2.8% in 2022. The eurozone's economy was projected to rebound to 1.9% in 2014.
For the baseline projections, the bank forecast real GDP growth of 3.1% in 2022, slowing to 0.9% in 2023 and to rebound to 1.9% in 2024.
On the year-over-year (YOY) basis, GDP in the euro area rose by 4.1% in the second quarter of 2022, while GDP in the EU grew by 4.2%.. The euro area's GDP grew by 5.4% in the first quarter of 2022 compared to the same quarter in 2021, while the EU's GDP grew by 5.5%, according to Eurostat's estimate on 7 September
Let's take a look at the analysts' view on recession in Europe.
Oxford Economics revised its eurozone GDP growth forecast to 0% for 2023, from the previous estimate of 0.9%. Surging energy costs were expected to hit consumer spending and industrial activity. It could also prompt policy reform from the ECB.
"That said, the sharp increase in gas prices will send inflation even higher, which will impact consumer incomes and industrial activity, dragging the eurozone economy into a recession owing to the demand destruction it will cause," the firm said in the note.
Deloitte's Eurozone economic outlook in August was of the view that while it did not consider recession in Europe for the baseline projections in 2022 and 2023, a complete stop of Russian gas could change the outlook. Germany chief economist Alexander Boersch wrote:
"Perhaps the greatest risk for the baseline scenario comes from a possible cut-off of Russian gas supplies. While dependence on gas in general and Russian gas, in particular, varies widely across Europe, a total cut-off of Russian gas would severely affect several countries in Central and Eastern Europe, especially Hungary, the Czech Republic, Slovakia, Germany, and Austria."
Other risks to an EU recession outlook are a potential recession in the US, economic slowdown in China, larger-than-expected monetary tightening in the face of high inflation, or even higher energy and commodity prices, he said.
Euro and European inflation outlook for 2002
With little sign that Russia's gas supply to the EU could resume anytime soon, what is the outlook for European inflation and the euro in 2022 and beyond?
The ECB has revised up its inflation projections to 8.1% in 2022, 5.5% in 2023 and 2.3% in 2024. In June, the ECB staff projected inflation to average 6.8% in 2022, 3.5% in 2023 and 2.1% in 2024.
ABN-Amro expected inflation in Europe to peak in September to October and start gradually declining in 2023. The Dutch lender forecast in late August inflation in Europe to average 8.3% in 2022, easing to 4.4% in 2023.
Aline Schuiling, ABN-Amro's senior Eurozone economist added in a note:
"The historical pattern in energy inflation shows that changes in oil prices tend to have a relatively large and immediate impact on energy inflation, whereas changes in gas prices have a more moderate but much longer impact, which could take almost a full year to work its way through into inflation. Therefore, the impact of the recent surge in gas prices will continue to fuel inflation during the rest of this year."
ING Group projected the Eurozone's inflation to average 8.1% in 2022, declining to 3.5% in 2023 and 2.2% in 2024.
Oxford Economics' forecast saw Eurozone inflation to average 8.1% this year and 4.3% in 2023, up from its previous forecast of 7.5% and 2.1% for 2022 and 2023 respectively.
As for the euro, ABN-Amro forecast EUR/USD to average 1.00 in 2022, rising to 1.1 in 2023.
ING's EUR/USD forecast expected the currency pair to stand at 1.00 in the fourth quarter of 2022. The pair was projected to continue rising to 1.10 in the fourth quarter of 2023 and to 1.15 in the fourth quarter of 2024.
Remember that analysts' predictions on Europe inflation and the EUR/USD exchange can be wrong and have been inaccurate in the past. You should always conduct your own research before trading, looking at the latest news of Europe's economy, technical and fundamental analysis and a wide range of analyst commentary.
Note that past performance does not guarantee future returns. And never trade money that you cannot afford to lose.
FAQs
How many recessions has Europe had?

According to Macrotrends, since the EU was established in 1999, recession in Europe – marked by two or more consecutive quarters of negative growth – happened during the global financial crisis in 2008 to 2009. The eurozone economy contracted by -2.5% in 2008 and 4.99% in 2009.

The eurozone's economy contracted -7.78% in 2020 during the Covid-19 pandemic, but rebounded to more than 11% in 2021.
Can Europe avoid recession?

The European Central Bank (ECB) and analysts' projections suggested that whether Europe can avoid recession could depend on Russia's resumption of its gas flow.
What caused the recession in Europe?

Soaring inflation rates caused by high energy costs have prompted the ECB's aggressive monetary tightening, which subsequently has started to slow the block's economic growth. Analysts mentioned in this article suggested Europe could enter recession in the winter if energy costs remain elevated.
Further reading: