Europe's switch to renewables set to grow in 2022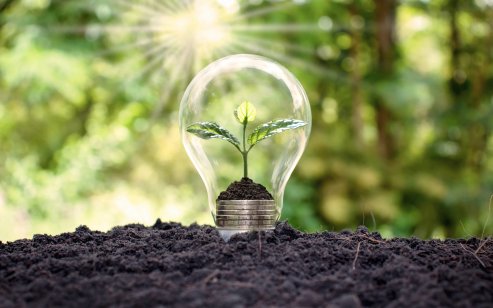 The European Union (EU) has taken the lead in the global transition from fossil fuels to renewables in recent years with a series of standard-setting measures.
Initiatives such as the EU Emissions Trading System and the European Green Deal have been the first of their kind globally.
The region's efforts in this direction are expected to accelerate in the coming years, as seen by the bloc's recent 'Fit for 55' proposal, which sets a target of 55% fewer carbon emissions by 2030 compared with 1990. There are also targeted incentives for individual industries.
These measures, combined with a greater public focus on climate change, have fuelled increased investor support for green projects, with 2021 being the first year when renewables received more investment than other energy commodities. This trend is expected to continue.
The climate-neutral continent
Presented in 2019, the European Union's green deal set out plans to make Europe the first carbon-neutral continent by 2050. In November 2021 the European parliament published a study on the decarbonisation of energy in which it outlines exactly what is required to fulfil this aim. The study stated:
"To deliver on this ambition, decarbonising the energy sector is crucial because the production and use of energy accounts for more than 75% of the EU's greenhouse gas emissions (EEA, 2021). Today, almost three-quarters of the EU energy system relies on fossil fuels. The European Green Deal can thus only be successful when the unabated combustion of oil, natural gas and coal is phased out."
Of course, the demand for energy will always remain, especially for transport, heating, cooling, lighting and manufacturing, the study said:
"For all of these energy-based services, a number of alternative, climate-friendly technology options and energy carriers are possible, ranging from electrification to synthetic methane gas and other synthetic hydrocarbons to hydrogen"
Oren Klachkin, lead US economist at Oxford Economics, said: "Europe has always been at the forefront of the global effort to tackle change, and I expect they will push ahead intensely. However, trying to achieve net-zero, or even just climate neutrality, will be a very arduous task.
Carbon-emissions trading
EU Emissions Trading System (EU ETS) launched in 2005, gives CO2 emissions a price, where companies have to pay for the emissions they create. This makes energy production from coal, oil and gas more expensive.
A company can only produce the quantity of emissions it has an allowance for, and will receive a fine of €100 per excess tonne. Companies have an incentive to reduce their emissions as they can sell allowances they don't use.
Although this system is a useful tool in encouraging firms to move to cleaner energy sources, the efforts have fallen short.
According to Klachkin: "The scheme is certainly a step in the right direction, but more needs to be done given the dire threat of climate change.
"Policymakers today are trying to balance climate and economic considerations, but the economy will suffer in the long run if climate problems are left unaddressed. It's all about weighing short-term costs versus long-term benefits."
The great transition
The transition to renewable energy has been growing for a number of years, but the past two years have shown the switch to be occurring at a much greater pace.
In 2020, the International Energy Agency (IEA) reported a record-high growth level for renewable energy capacity of 15%, while 2021 set another record growth level of 18%.
According to JP Morgan, 2021 will be the first year where renewables are going to garner more investments than oil and gas.
However, it adds a note of caution, citing an IEA report as saying that 70%-75% of global primary energy consumption may still be met by fossil fuels in 2040.
"Renewable energy is still mostly used to generate electricity, and electricity as a share of final energy consumption on a global basis is still just 18%," the report explains. "In other words, direct use of fossil fuels is still the primary mover in the modern world."
The IEA has revised its expectations since Cop26. It now expects global renewable energy capacity to increase by 60% between 2020 and 2026. Renewable energy capacity levels will then be higher than the current levels of fossil fuels and nuclear energy combined. The reports also expect China and Europe to overshoot their targets.
Continued growth
When comes to moving the ball forward, Klachkin believes that individual companies are a step ahead of policymakers. "The declarations that came out of COP26 are actually weaker than those that governments committed to previously. However, private companies are essentially pushing ahead independently of governments to tackle climate change."
This has been due to pressure from the public and cost-efficiency, so sustained growth is expected in the renewables industry.
Klachkin concludes: "What's happening today represents a structural shift in the energy sourcing that drives economic activity, which will be a boon for companies specialising in clean energy production and technologies that reduce carbon footprints."
Read more: Renewable energy sector grows to meet world net-zero target