Euromoney Institutional Investor (ERM) posts slight revenue increase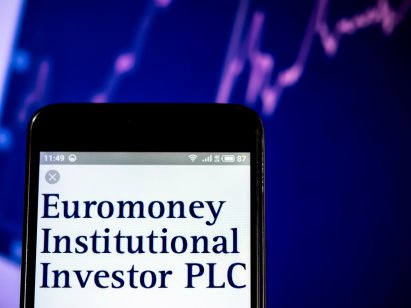 Euromoney Institutional Investor (ERM) reported a "strong performance" against the backdrop of the pandemic in its latest financial results, driven by its strengthening subscriptions revenue and business events returning.
Its balance sheet showed that revenue increased slightly, by 2%, to £336.1m ($453.7m, €398.9m) for the year to 30 September 2021, from £335.3m for the same period in 2020.
In its update published on Thursday, the group also said it had made a step change towards being a fast-growing, high-margin, 3.0 information-services subscription business.
"Euromoney is a majority-subscriptions business – 70% of group revenue during the year was generated from subscriptions, which grew by 5% underlying and 7% on a reported basis, " the company said.
"Underlying subscriptions revenue growth in Fastmarkets and FPS [faster payments service] was 13% and 5% respectively. Within Asset Management, the turnaround of BCA Research and NDR [Ned Davis Research] continues ahead of plan.
"Across the group, our subscriptions revenue continues to achieve high renewal rates," it the company said.
Revenue from events
Events revenue, which accounted for 18% of the group's revenue, declined by £20.1m, or 27% underlying, and 25% on a reported basis, reflecting the reduction in physical events compared to the prior year, the company also noted.
Commented Euromoney Institutional Investor: "During the year, we hosted a total of 432 events, of which 382 were virtual and 50 were blended (physical events with digital elements). All events in the first half of the year were virtual and we were able to start regularly hosting blended events from May 2021 onwards.
"The return of in-person events led to a significant improvement in revenue performance in H2 2021 with total events revenue of £35.1m which was an £18.3m increase on H2 2020."
Other revenue – which includes research, thought leadership and advertising – grew by 10% underlying and 6% on a reported basis, the company also reported.
The group said it benefitted during the period from the restructuring and cost-reduction programme announced in September 2020, which mainly focused on its events businesses. The programme delivered £15m of annualised savings before investment in other areas.
As a result, it said adjusted operating profit increased by 12% and adjusted pre-tax profit increased by 13%.
Moreover, it said cash generation and conversion were strong and after the completion of three acquisitions and dividend payments, net cash at 30 September 2021 was £32.5m (30 September 2020: £28.1m).
Company outlook
The group said demand for price reporting and essential market intelligence remained strong with good visibility on Fastmarkets and FPS subscriptions.
"In Asset Management, the turnaround of BCA Research and NDR is progressing ahead of plan. The Group BoB, which is a key leading indicator for our subscriptions revenue, improved to 6.6% at 30 September 2021 (30 September 2020: 0.7%). During FY 2022 we will continue to invest to drive long-term sustainable subscriptions growth," it said.
In 2022, as travel restrictions ease, the company said it is planning more and larger physical events and as a result expects a further recovery in events revenue.
"Overall, we expect FY 2022 to be another year of progress. Looking further out we are confident in the sources of future growth and are committed to delivering high margins in the medium term," the business said.
Comments from the chief executive
Andrew Rashbass, the group's chief executive, commented on the results.
"We have invested organically in each of our businesses at the same time as managing our costs carefully. We have also added scale to Fastmarkets Agriculture and People Intelligence through highly complementary acquisitions.
"The backdrop for events has been challenging but since the return of physical events in May we have seen a positive response from customers and a strong recovery in events revenue. In the year ahead we will continue to invest to drive subscriptions growth and we are confident in the sources of future growth," he said.
Read more: Metro Bank (MTRO) shares hit as Carlyle quits takeover talks