Euro climbs 0.6% on the dollar as German employment improves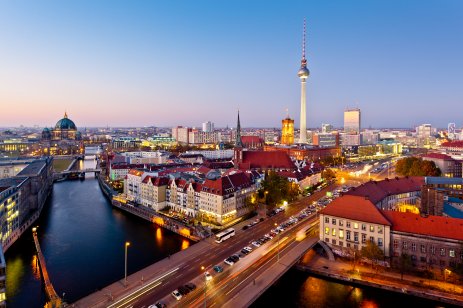 The euro climbed 0.6% on the US dollar on Tuesday morning after Germany released its latest employment data – showing it increased by 0.1% again in October compared to the previous month, as Europe's largest economy continues to show signs of recovery from the Covid-19 pandemic.
Roughly 45.2 million people resident in Germany were employed in October 2021, according to provisional calculations of the Federal Statistical Office, Destatis.
It marked an average monthly increase of 48,000 people, or 0.1%, in the period from March to September 2021, it said.
The seasonally adjusted number of people in employment rose by 34,000 (0.1%) in October 2021, compared with the previous month.
Pre-pandemic comparison
However, Destatis noted that the number of people in employment is still below the pre-crisis level.
"On a seasonally adjusted basis, the number of persons in employment in October 2021 was down by 0.8%, or 368,000, on February 2020, the month before the coronavirus crisis began in Germany. In February 2021, the difference had been twice as large, at 738,000 people," it said.
Economic outlook
Melanie Debono, a senior Europe economist at Pantheon Macroeconomics, commented on the results.
"Germany's labour market recovery continued in quarter four, consistent with the headline business survey data, and despite clear evidence that GDP (gross domestic product) growth is now slowing sharply. The fall in claims is positive, especially given softening leading IAB (German institute for employment research) labour market indicators, and meant that the unemployment rate edged down further. The smoothed trend in claims is now weakening, however, and we doubt that they will continue to fall by 35,000-40,000 per month through the rest of quarter four.
"We look for a slowdown to 15,000-20,000. Vacancies advanced, too, for the ninth month in a row, by 15,000, a tad faster than the 13,000 rise in October. Elsewhere, data – reported for October – showed that seasonally adjusted employment rose by 0.1% on the month, as it has, on average, every month since March," she said.
Full recovery
Moreover, she noted to Capital.com that this took the total level up to just 0.8% below its pre-virus level.
"The surge rise in virus cases is a threat but with supply constraints biting and backlogs of work still rising, we remain confident that employment will make a full recovery in the next three to six months.
"The three-month smoothed trend in claims is now rolling over. The IAB labour market survey points to a further fall, but that's not a huge concern. It still points to a reduction in unemployment," she added.
Read more: Omicron scare pushes global risk assets lower