EUR/USD, EUR/GBP Latest: Inflation spikes, Euro suffers.
Subscribe to Weekly Highlights
The major market events for the week ahead right in your inbox.
Subscribe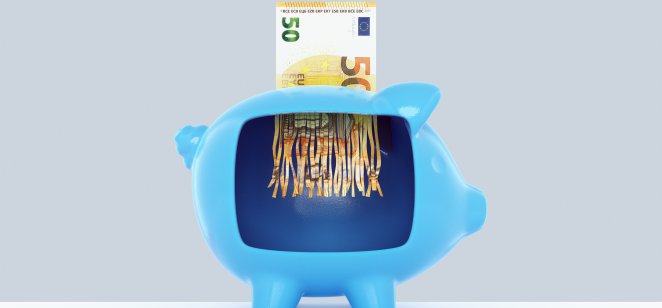 Eurozone inflation reaches double-digit in September
And so it's happened. Eurozone inflation has reached double digits in September. Consumer prices surged 10% from a year ago in September according to the latest data from Eurostat. Analysts were expecting on average the data to come in at 9.7%, still a jump from August's 9.1%.
Energy continues to be a big part of the rise in prices over the last year, up 40.8% in September versus 38.6% in August, followed by food, alcohol & tobacco, up 11.8%, compared to 10.6% in August. The harmonised index of consumer prices, which excludes volatile prices like energy and good, showed a 6.1% growth in September from a year ago, up from 5.5% in August, and thus evidencing that price pressures are stickier and more persistent than policymakers were hoping for.
But this morning's reading shouldn't be all that surprising. Yesterday we saw a similar print in Germany, the Eurozone's biggest economy. Year on year inflation also peaked at 10% in September, but what is likely more worrisome is that harmonised inflation, which makes it comparable with inflation data from other European Union countries, increased by 10.9% on the year, with monthly HICP jumping to 2.2% from 0.4% in August. This is the highest reading on record since 1996.
This in turn puts further pressure on the European Central Bank (ECB) to step up its hiking game. The bank has delivered 125bps of hikes over the last two meetings, but it is still falling behind the likes of the Fed, the the BOC, and, to some extent, the BOE which started hiking sooner rather than later, albeit at a slower pace.
There is no doubt that consumers have already started to switch their spending habits as prices have shot up over the past few months, but households are going to struggle to keep up if inflation doesn't start to come under control soon. So the ECB, not unlike every other central bank out there at the moment, is really going to have to step up its game, meaning another 75bps hike is expected at its next meeting on October 27th.
But growth is also another grave concern. In fact more and more forecasts are pointing towards a gloomy winter with a widespread economic recession looming, and so hiking interest rates is not as simple as it may have been 6 months ago, begging the question as to whether the ECB started too late.
Euro struggles as gloomy outlook deepends
The latest data has weighed on the Euro this morning, as shown by the performance of the shared currency against its major peers (USD, GBP, JPY, VHF) on the equally-weighted index below.
EUR vs USD, GBP, JPY, CHF chart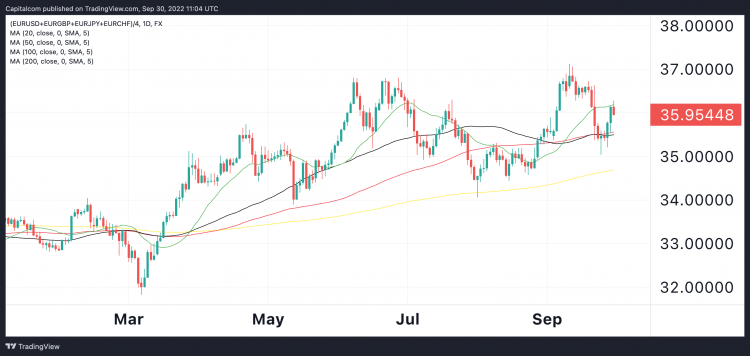 Equally-weighted index of EUR vs USD, GBP, JPY, CHF. Photo: capital.com. Source: tradingview
| | |
| --- | --- |
| Long position overnight fee | -0.0052% |
| Short position overnight fee | 0.0005% |
| Overnight fee time | 22:00 (UTC) |
| Spread | 0.00014 |
| | |
| --- | --- |
| Long position overnight fee | -0.0084% |
| Short position overnight fee | 0.0024% |
| Overnight fee time | 22:00 (UTC) |
| Spread | 0.00010 |
| | |
| --- | --- |
| Long position overnight fee | -0.0042% |
| Short position overnight fee | 0.0003% |
| Overnight fee time | 22:00 (UTC) |
| Spread | 0.00060 |
| | |
| --- | --- |
| Long position overnight fee | 0.0000% |
| Short position overnight fee | -0.0001% |
| Overnight fee time | 22:00 (UTC) |
| Spread | 0.093 |
Economic sentiment has fallen given the rise in inflation expectations, and so euro traders are feeling less than confident at the moment. That said, the recent pullback in the US dollar has allowed EUR/USD to correct some of the recent losses, setting a short-term low around 0.9535, its lowest level since June 2002.
The pair's quest below parity continues, and despite this small respite in the euro, it is likely to continue going forward. The difference between the US and the Eurozone are currently too big for it not to. In fact, I think it's risky to consider this the start of a turn in momentum in the Dollar. Yes we've seen warning signs from US GDP data over the last few quarters, but as Janet Yellen said a a few months ago, a true recession is a broad-based weakening of the economy, and I don't think we are there just yet. The labour market remains robust, at least until we get the September data next Friday, and, pending confirmation from this afternoon's updated data, personal spending remains strong despite having fallen from its peak earlier this year.
EUR/USD Daily chart: USD weakness allows small rebound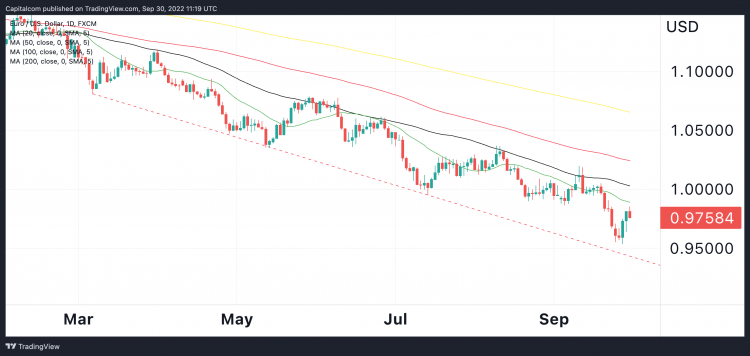 EUR/USD daily chart. Photo: capital.com. Source: tradingview
So for now, this broad weakness in the Dollar is likely the effect of some profit taking after a very strong performance over the last few months, which means EUR/USD will end top reverting to its longer-term bearish trend. When looking for support, the descending trend line from the March lows is likely a good area to focus on, currently coming in around 0.9410.
For EUR/GBP the picture is a little different. The euro has been taking advantage of the weakness in the Pound, meaning the pair has advanced 5.5% since its August lows, with the move being over 11% if measured at the peak seen on Monday this week when the volatility in the UK bond market send the Pound on a selling frenzy.
EUR/GBP Daily chart: wave pattern unfolding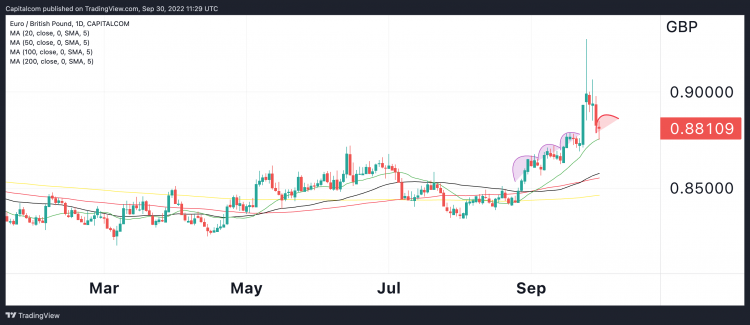 Wave pattern on EUR/GBP. Photo: capital.com. Source: tradingview
The technical picture remains pretty bullish in the short-term despite having seen some weakness in the last few sessions. It's pretty normal that Monday's move would be reversed as it happened slightly out of impulse, but the pattern leading up to last Friday, when the mini budget was revealed, does leave an interesting picture.
Starting from the end of August, EUR/GBP has seen a wave pattern unfold; few days of strong gains followed by a smaller correction. Leaving the moves from the last week aside, we could consider this pattern to be continuing from present levels, potentially pushing up to 0.8850 before correcting back towards 0.8750 and so on. This pattern makes the moves in the pair more sustainable, meaning the bullish bias can remain by inching the gains out slowly.