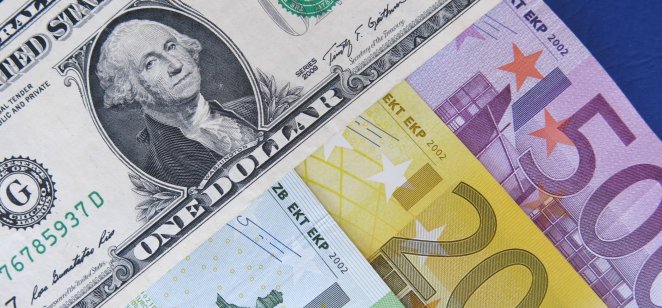 The euro to US dollar (EUR/USD) rate has fallen over 9% from its February high of 1.1495 to just over 1.05 at the time of writing on 29 June, despite the European Central Bank (ECB) finally moving to hike interest rates.
A deteriorating economic outlook in the eurozone amid the ongoing Russian invasion of Ukraine, concerns over another debt crisis, and a more hawkish US Federal Reserve (Fed) are hurting demand for the EUR/USD.
Here we look at the factors driving the pair and the EUR/USD forecast for 2022 and beyond. Could EUR/USD fall to parity?
How has EUR/USD traded across 2022 so far?
After falling from 1.2275 at the start of 2021, EUR/USD started 2022 at 1.1375. The price rose to a high of 1.1495 in early February before steadily dropping to a low of 1.0380 on May 13, a level which was last seen in January 2017.
From that low point, the share price rose towards 1.0790 at the start of June before taking another leg lower to 1.04.
What has been driving the euro?
Weak GDP outlook
The Russian invasion of Ukraine hurt demand for the euro. The start of the war in eastern Europe has hit the eurozone economy hard and dampened the economic outlook significantly.
Europe relies heavily on Russian oil and gas and food from Ukraine. The war, along with Western sanctions on Moscow, has sent energy and food prices spiralling. Exports have been blocked, and the West is attempting to reduce its reliance on Russian oil and gas, with the EU approving a phased-in ban of Russian oil products over the coming six months.
The result has been inflation rising in the region to record levels while simultaneously hurting the growth outlook.
Eurozone consumer prices jumped to 8.1% in May year-over-year (YoY), a record high, up from 7.4% in April. Unsurprisingly the main contributors to record price rises have been energy costs, which rose to 39.2%, and food inflation which rose 7.5% in May. Core inflation, which removes the more volatile items such as food and fuel, rose to 3.8%.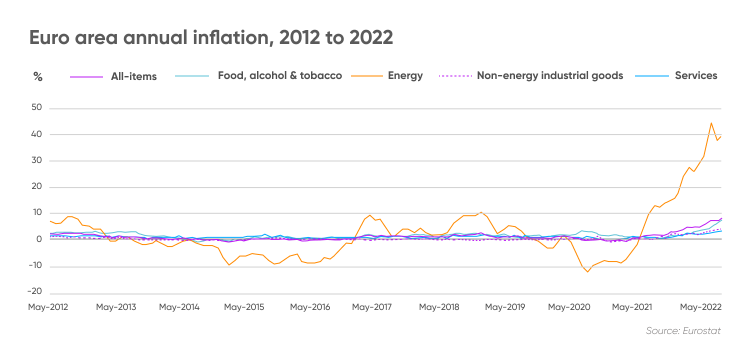 The European Central Bank
Rising inflation has pushed the ECB to adopt a more hawkish stance. In the latest ECB meeting in June, the central bank announced net asset purchases would finish on 1 July. The bank also made the unusual step of pre-committing to interest rate hikes in July and September.
A growing number of policymakers on the governing council are increasingly supportive of an outsized rate hike of 50 basis points in the September meeting.
However, the EUR remains under pressure following the meeting, mainly because of the deteriorating outlook for the eurozone economy. The ECB slashed the gross domestic product (GDP) forecast for the region to 2.8%, down from 3.5%. The central bank also hiked the inflation outlook from 5.4% to 6.8%.
Debt crisis
Fears of another sovereign debt crisis in the region prompted the ECB to call an unscheduled meeting. The peripheral countries saw investors sell out of their government debt, increasing yields and raising fears of sustainable debt repayments. The ECB said it would devise a tool to address what it calls fragmentations, but the lack of detail has weighed on the euro.
What has been driving the USD?
Safe haven
The US dollar has been steadily strengthening across the board. The US dollar index (DXY), which measures the USD versus a basket of currencies, has rallied almost 10% so far this year. The USD has benefitted from its safe-haven status as demand for the greenback rose after the Russian war started.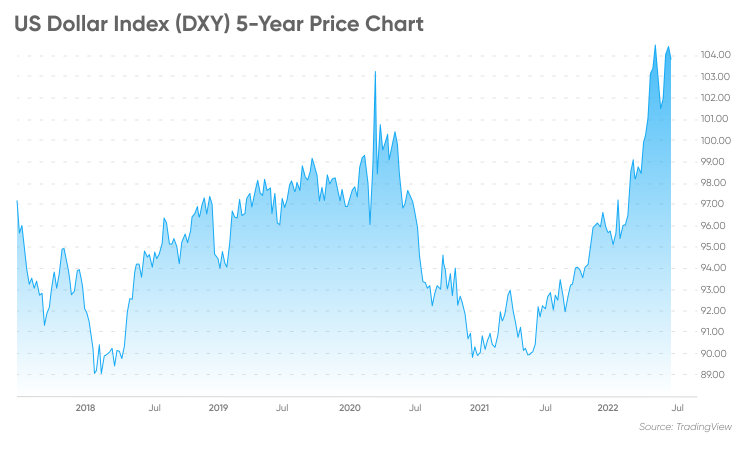 Since then, safe-haven flows have continued as fears of slowing global growth and stagflation have ramped up. The US stock market fell into bear market territory, and the bond market saw the two and 10-year bond yield invert, often recognised as a recession warning.
While Europe could be more likely to experience a recession than the US, given its proximity to the Russian war and its dependence on Russian gas, there is also a rising possibility of a US recession.
The US Federal Reserve
The USD has also benefited from the increasingly hawkish Fed, particularly in comparison to the ECB. As inflation in the US rose to a 40-year high, the Fed quickly ended its bond-buying programme and started a rate hiking cycle. In the March Federal Open Market Committee (FOMC) meeting, the Fed raised interest rates by 25 basis points; this was then followed by a 50-point hike in May and a 75 basis point hike in June.
The Fed signalled it would continue to hike rates in order to tame inflation, which rose to 8.6% YoY in May. This was in stark comparison to the ECB, which hadn't started hiking rates despite inflation rising to a record high of 8.1%
What is your sentiment on EUR/USD?
Vote to see Traders sentiment!
Looking ahead, the USD could start to ease lower once peak inflation has passed in the US. However, CPI still rising could still be some time away.
EUR/USD forecast 2022 and beyond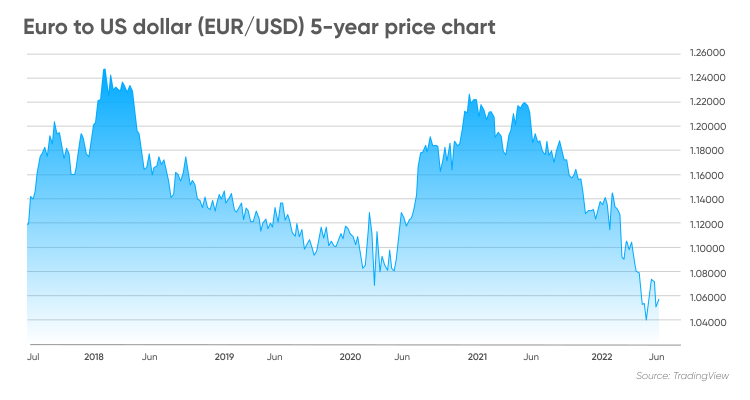 As inflation and recession fears escalate and with central bank action very much in focus, let's look at where analysts' EUR/USD predictions are. Is there any sign of a turnaround, or will the euro soon be worth the same as a US dollar?
In their Euro to Dollar forecast from 23 June, Chris Turner and Francesco Pesole of ING Group's research arm THINK believed the EUR/USD pair could edge higher by the end of 2022.
Turner and Pesole forecast the Fed to slow hiking interest rates in the US, nevertheless reaching 3.25%, with the ECB delivering a 100-basis-point rise by mid-2023. The analysts' baseline scenario also forecast "no peace in Ukraine this year" and predicted Russia and EU relations to improve in 2023. According to Turner and Pesole, lockdowns could keep Chinese growth depressed in 2022, with a rebound seen in 2023.
These potential factors contributed to a USD/EUR forecast of 1.08 by the end of 2022, 1.10 by the second quarter of 2023, and 1.15 by the end of next year.
The analysts also described potential extreme scenarios for the currency pair:
"Briefly discussing extremes, the most bullish EUR/USD story (1.30) is one of global growth recovering (somehow) in 2023 at a time when the Fed feels it can cut rates back to more neutral levels near 2.00%. The most bearish EUR/USD scenario is an early 1980s-style stagflation, where the Fed needs to continue hiking aggressively even as the global economy enters a recession. This reopens friction within the eurozone."
Analysts at Citibank, in their latest EUR/USD forecast, considered that:
"ECB's "emergency" meeting in June sends a clearer signal of its commitment to stem antifragmentation risks which may restrain investor positioning for further aggressive periphery spread widening and material EURUSD depreciation. As a result, downside risks for EURUSD may be more limited.
EUR sentiment is also weighed by China's Covid-related slowdown but an expected H2 recovery there may see these risks recede to provide better support to EUR vs. a likely weaker DXY in H2...If EURUSD can close above 1.0627, it may test resistance between 1.0787-1.0806 (May 2022 high & Mar 2022 low respectively)."
Citibank's 6-12 month EUR/USD forecast is 1.05 (up from 1.02), rising to 1.10 over the long term.
Meanwhile, Fiona Cincotta, senior market analyst at City Index, was bearish in her EUR/USD prediction, commenting to Capital.com:
"EUR/USD represents a risk-off trade, and with recession fears building both in the US and Europe, the risk-off trade has further to run. While parity looks unlikely for now, a fall to 1.02 seems very possible."
In his latest video on the currency pair, Capital.com's Chief Market Strategist David Jones outlined the following support and resistance levels for EUR/USD:
Resistance
1.1185 (31 March High)
1.0940 (21 April High)
1.0790 (30 May High)

Support

1.0440 (17 June Low)
1.0350 (13 May Low)
1.0340 (2016 Low)
Algorithm-based website Wallet Investor's EUR/USD forecast predicted the pair holding steady in the near term. As of 29 June, the service projected EUR/USD could end 2022 at 1.061, approximately the same level it was trading at the time of writing. The service's EUR/USD forecast for 2025 was for the pair to rise to 1.070 by the end of the year.
It is worth remembering that analysts and online forecasting sites can and do get their predictions wrong. It is always best to carry out your research and weigh the latest market trends and news, technical and fundamental analysis, and expert opinion before making any investment decisions. And never invest money you cannot afford to lose.
FAQs
Why is EUR/USD dropping?

The EUR/USD has been falling as the economic growth outlook for the eurozone continues to deteriorate, while inflation rises, and the European Central Bank is slow off the mark to raise rates. Meanwhile, the US Federal Reserve is raising interest rates harder and faster.
Will EUR/USD go up or down?

The direction of the euro could depend on whether the gap between economic growth and interest rates in the US and Europe continues to widen.
When is the best time to trade EUR/USD?

The best time to trade a currency pair is when the local markets for the two currencies overlap. For the euro against the dollar, this would be between 13:00 and 16:00 GMT. This is also usually when US economic data is released.
Is EUR/USD a buy or sell?

A growing number of analysts consider the euro to dollar forecast could fall further as the economic growth divergence between the US and Europe widens. However, whether EUR/USD is a good investment for you or not will depend on your portfolio composition, investment goals and risk profile, among other factors.

Different trading strategies will suit different investment goals with short or long-term focus. You should do your own research and never invest money you cannot afford to lose.