Equinix (EQIX) stock forecast: Backbone of the digital revolution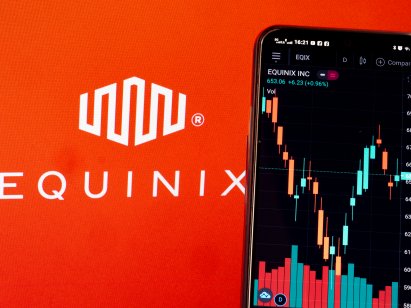 The Equinix price has been on a downtrend since September. Bulls failed to sustain a break above the $840 level multiple times, even though the company has continued to deliver outstanding top and bottom-line results both in the past year and so far in 2021.
Equinix appears well-positioned to benefit from accelerating digital adoption. The company owns and operates more than 220 data centres that support the operations of 260+ Fortune 500 companies, including digital leaders Google, Microsoft, Oracle, Zoom, Amazon, Netflix and Cisco.
What does the future hold for this tech-focused real estate investment trust as we head towards 2022?
Join us in this Equinix share price forecast as we take a closer look at the latest developments shaping the valuation of this Real Estate Investment Trust (REIT) to draft plausible scenarios for both the short-term and long-term.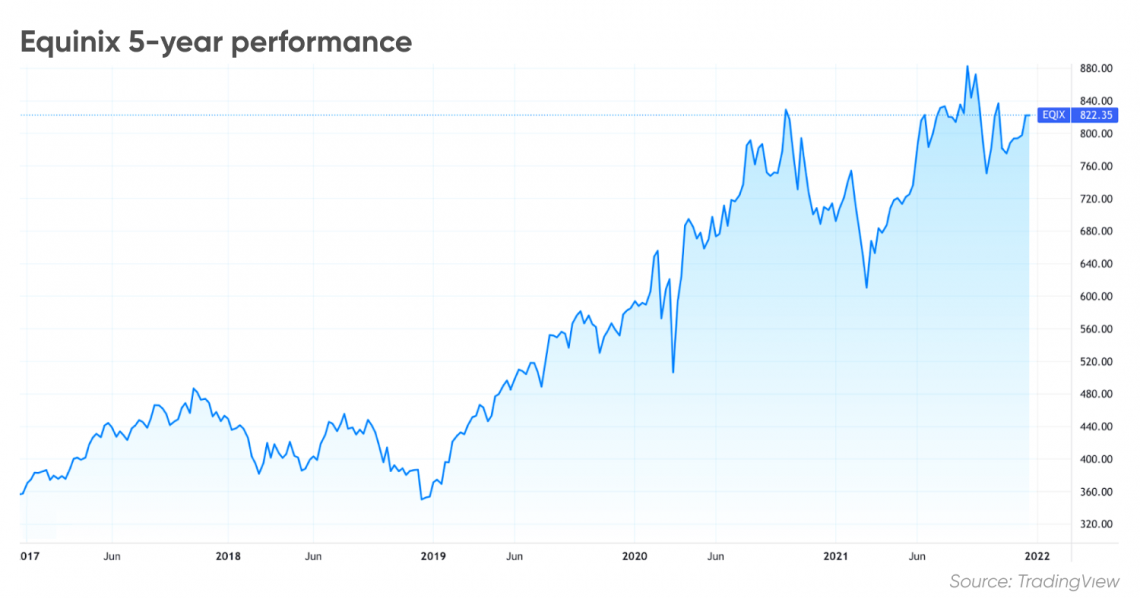 Equinix stock news
Equinix made two relevant announcements this month. The first is the acquisition of MainOne, an African company that provides data center and connectivity solutions, with a presence in Nigeria, Ghana and Côte d'Ivoire.
The enterprise value of MainOne is estimated at $320m. It's expected to contribute positively to Equinix's adjusted funds from operations (AFFO) once the transaction is settled.
This acquisition is part of the company's plan to expand its operations to Africa. The deal is expected to be closed by the end of the first quarter of 2022 once all regulatory approvals have been secured.
According to Equinix, MainOne's facilities currently generate $60m in revenue a year.
In regards to Equinix's acquisition of MainOne, Chief Analyst and Research Director for Synergy Research, John Dinsdale, stated:
"Africa has been the missing piece in the Equinix jigsaw, and this acquisition of MainOne will be a great first step onto the continent. The demand for data center services in Africa is strong, with Nigeria at the epicenter of exponential economic growth in West Africa."
In other news, Equinix announced on 15 December that it had signed a multi-year partnership with Nasdaq Inc. (NDAQ) to "scale the Equinix NY11 data center" in New Jersey as part of an effort to improve the company's cloud infrastructure.
"We are committed to Nasdaq, as it leverages our robust financial ecosystem to transform its industry over the next decade and beyond", said Jon Lin, President of Equinix for the Americas.
Equinix stock analysis: Technical view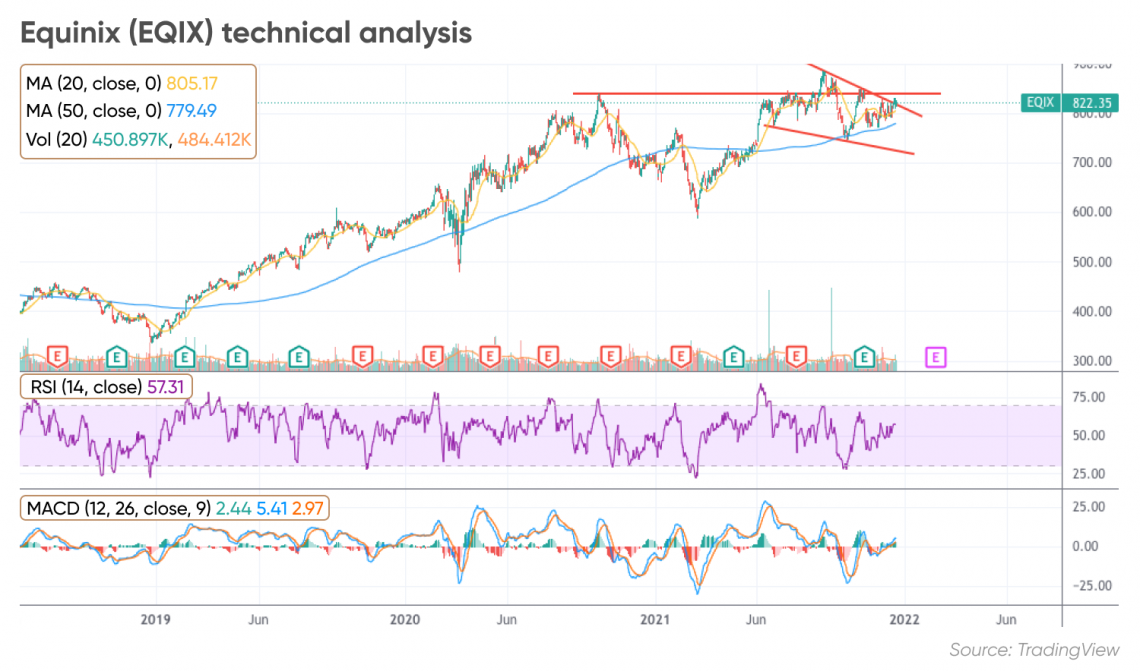 Equinix stock has been on a downtrend since September this year. The price action has made multiple lower highs since then after various failed attempts to remain above the $840 resistance, as highlighted in the Equinix stock chart.
Despite this weakness, Equinix stock value remains above its 200-day simple moving average.
Momentum indicators have been recovering lately, with the relative strength index (RSI) standing at 57, while the moving average convergence divergence (MACD) has entered into positive territory, pointing to a bullish outlook.
The $840 level remains a relevant resistance to keep an eye on. If the price breaks above this level again, the latest downtrend could be reversed.
Equinix fundamental analysis
On 3 November, Equinix reported its financial results covering the third quarter of its 2021 fiscal year.
Revenues increased to $1.675bn – 10% higher than the same quarter last year. This marked the company's 75th consecutive quarter of revenue growth.
Operating income was $282m, a 1% increase over the previous quarter, with an operating margin of 17%. Adjusted EBITDA accounted for $786m – a 47% adjusted EBITDA margin. Adjusted funds from operations (AFFO) was $628m – a 1% decrease from the previous quarter.
Equinix reported a total debt principal outstanding of $13.88bn in Q3 2021, compared to $12.55bn by the end of Q3 2020. Total assets stood at $27.77bn, including $1.38bn in cash and equivalents.
During the first nine months of the year, the company reported total revenues of $4.93bn – an 11.2% jump compared to the same period a year ago. GAAP income from operations and net income landed at $858.44m and $376.58m, respectively.
For the entire 2021 fiscal year, Equinix expects to report AFFOs a share between $27.03 and $27.25. Based on the 20 December closing price of $822.35 a share, that could result in a forward price-to-AFFO ratio of 30x.
Meanwhile, the company plans to distribute $11.48 a share in dividends, resulting in a payout ratio of almost 42%, based on the upper bound of the company's estimated AFFOs for this year.
Commenting on the full-year guidance, the company said: "For the full year of 2021, total revenues are expected to range between $6.614 and $6.634bn, a 10 - 11% increase over the previous year, or a normalised and constant currency increase of approximately 8%. This updated full year guidance includes an incremental $5m from the GPX India acquisition, offset by a negative foreign currency impact of $20m when compared to the prior guidance rates."
Equinix (EQIX) stock forecast
The technical setup of Equinix stock, as of 21 December, was not pointing to a bullish or bearish outlook, as multiple resistance and support levels should have been broken first to draft a directional Equinix stock price prediction.
These were some relevant levels that investors should keep an eye on, based on an assessment of Equinix historical prices.

According to data compiled by MarketBeat, a total of 14 analysts were bullish on Equinix, five kept a neutral 'hold' rating, while none of the 19 analysts covering the stock held a 'sell' rating, as of 21 December 2021.
The average Equinix stock price target was $886.12 a share for the next 12 months, an upside potential of 7.75% from the last closing price of $822.35. The highest target was set at $950 a share, while the lowest at $732.
Commenting on the Equinix stock forecast, Capital.com Chief Market Strategist David Jones said: "The price of Equinix has been a great performer over the last three years with the stock up by more than 130%. So the trend is definitely up and even the sharp fall earlier this year did not change that.
"All-time highs were hit in September and since then the stock has been somewhat sideways but once again that longer term trend stays in place. For now, investors might be targeting a run back to those all-time highs up at $885. On the downside the longer term trend is coming in at $680 so even if the stock were to drop 20% from current levels it would not change the bigger picture for now."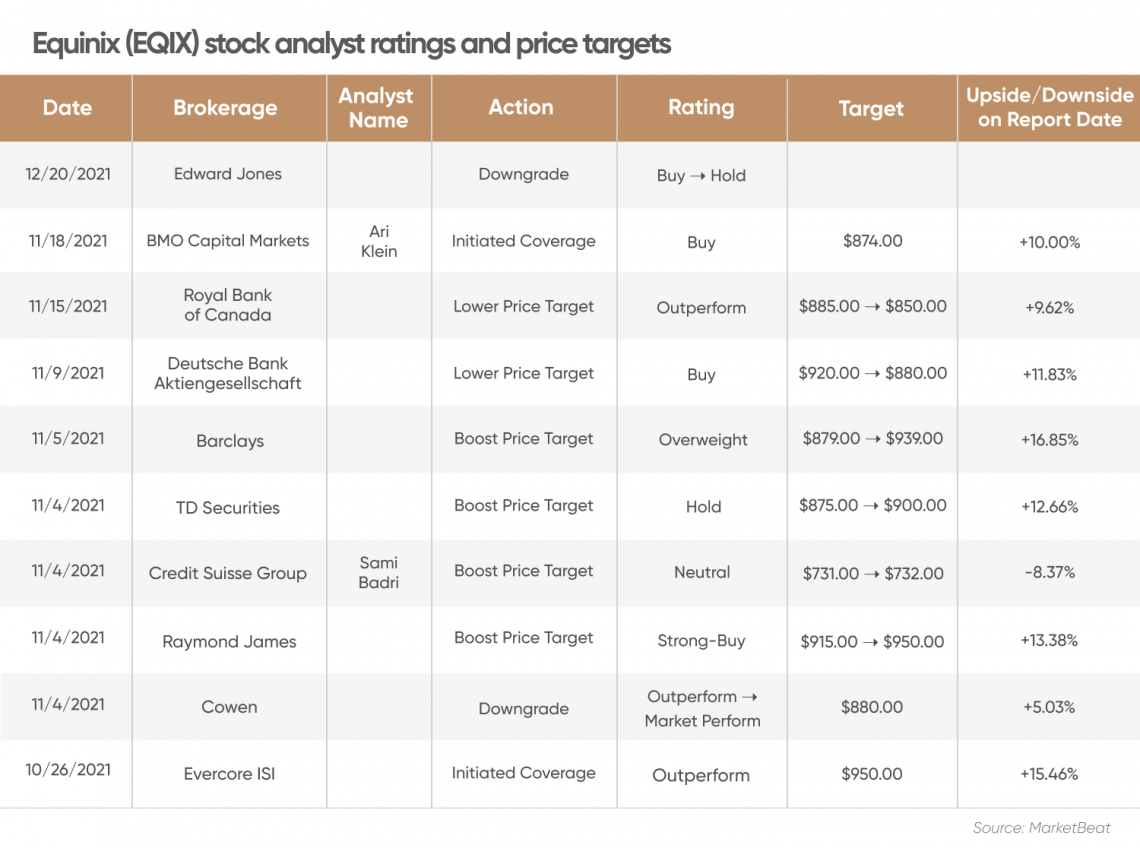 Positive sentiment is backed by the company's outlook.
Charles Meyers, Equinix President and Chief Executive Officer, said during the Q3 earnings call: "Our business continues to perform exceptionally well, delivering strong and consistent results throughout these changing times. The pandemic has been a driving force for digital transformation. And as businesses seek to respond to this imperative, the infrastructure underpinning these services must keep pace. We continue to prosecute multiple compelling growth factors: expanding our platform geographically, scaling our go-to-market engine to capture new customers and bringing new services to bear that will expand our addressable market."
Courtney Munroe, Research Vice President of Worldwide Telecom Research for IDC, recently stated: "Equinix has developed a reputation for delivering enhanced performance and connectivity with the most comprehensive and seamless global portfolio of digital infrastructure and interconnection services."
She added: "Platform Equinix provides customers a robust and dynamic roadmap with sustainable investment and expansion."
Algorithm-based forecasting services also shared some bullish Equinix stock forecasts, as of 21 December.
Wallet Investor predicted the price to end 2021 at $830.488 a share – relatively close to the 20 December closing price of $822.35. For December 2022, the service expected the price to hit 964.828, and reach an average of $1,388.310 in December 2025.
GovCapital said the price could remain relatively unchanged for the rest of the year. However, the service expected it to rise to an average of $1,408.971 by the end of 2022, hit $2,111.380 by the end of 2023, $3,006.607 by the end of 2024 and $3,842.195 in December 2025
When looking for Equinix price predictions, it's important to bear in mind that analysts' forecasts can be wrong. Projections are based on making fundamental and technical studies of the EQIX stock's performance. Past performance is no guarantee of future results.
It is important to do your own research and always remember your decision to trade depends on your attitude to risk, your expertise in the market, the spread of your investment portfolio and how comfortable you feel about losing money. You should never invest money that you cannot afford to lose.
FAQ
Is Equinix a good stock to buy?

Equinix is a real estate investment trust (REIT). These vehicles provide both variable and fixed income via price appreciation and dividends. Investors should study the company and its fundamentals to understand if it can keep paying and growing its dividends over time in case they are looking for an instrument that generates a stable stream of fixed income.

Meanwhile, for those who are seeking to generate capital gains, Equinix's revenue and earnings generation capacity must be studied to determine if the company can continue to grow its top and bottom-line results in the same way as it had in the past.
Will Equinix stock go up or down?

According to independent forecasting services and Wall Street analysts, the outlook for Equinix stock was bullish, as of 21 December 2021. However, investors should perform their due diligence on this REIT before deciding whether to invest in EQIX.
Why has Equinix stock been dropping?

Equinix stock dropped 4% in early November following the release of its Q3 2021 earnings report.