Energy crisis explained: where next amid surging power prices?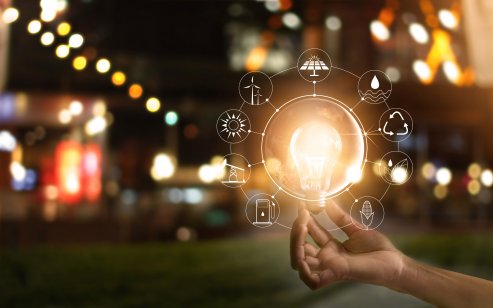 Europe is in the grip of an energy crisis, with power prices surging as winter approaches.
UK energy market news made the headlines this week as energy providers collapsed, industries shut down and food supplies faltered.
The crisis is driven by surging gas prices. A difficult winter lies ahead for those economies reliant on gas-fired power. Even once the colder months have passed, the energy crisis could spell long-term changes for energy markets and government policy.
What is causing the price surge?
High gas prices are at the heart of the current energy crisis. These have soared in the UK, reaching 186p per therm, an increase of 250% since January this year.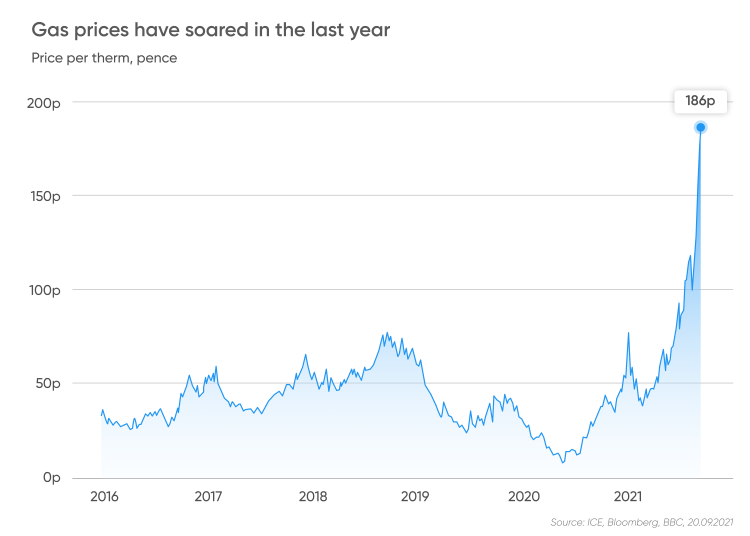 On the demand side, last year's cold winter increased demand for central heating, just as the economic recovery drove higher demand for power. The market has been constrained by low supply from Russian pipelines and maintenance work on North Sea gas sites.
In addition to the turmoil in natural gas markets, there's been disruption in other energy sources, too. Nuclear energy generation has fallen as plants have been forced to undertake unplanned outages for maintenance, and a fire at a National Grid pipeline in Kent prevented electricity imports from France.
This summer has also seen stiller weather, meaning that turbines have slowed - big trouble for a country like the UK, where wind farms deliver over 20% of electricity.
Alternative energy
Green policies have also contributed to the problem. Rising carbon permit prices in Europe have disincentivized suppliers who might have switched back to coal fired power. In the UK, green levies to fund renewable energy schemes make up a quarter of energy bills.
Saxo Bank's Head of Commodity Strategy, Ole Hansen, warned that "the prospect for another cold winter will send shivers down the spine of everyone", with blackouts a concern as "green transformation initiatives making it harder to maintain the needed level of baseload in the electricity grid".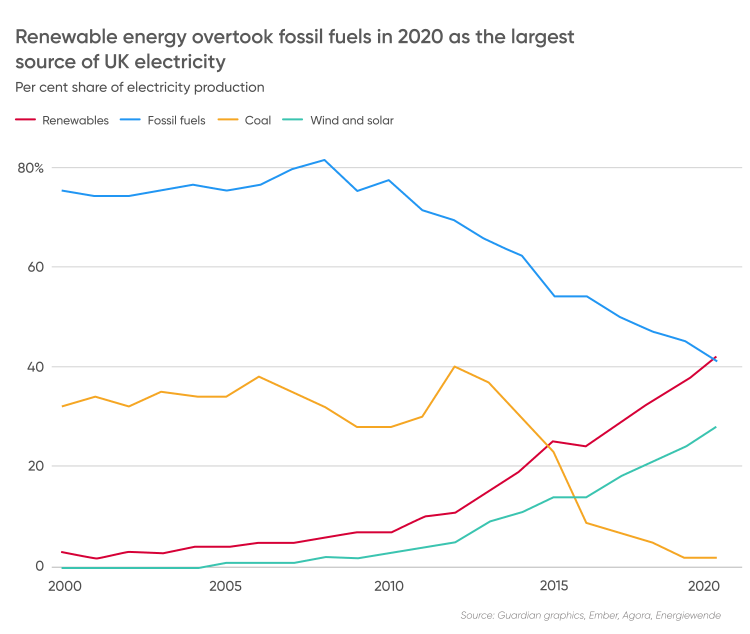 What are the impacts of the energy crisis?
Governments across Europe are worried about the impact on consumers of higher energy bills. Energy prices are a political hot potato, and the British government already imposes a price cap on consumer energy costs in the UK.
As well as condemning households to a difficult winter, high energy prices could be bad for the economy if higher bills suppress consumer spending.
Manufacturing also faces disruption, with energy-intensive industries suffering a blow. British Steel said that they were now facing energy costs of up to £2,500/MWh (up from £50/MWh in April), leading it to suspend production at times of peak energy prices.
Meanwhile, CF Industries halted UK fertiliser production because of high energy prices, leading to shortages of ammonium nitrate fertiliser and carbon dioxide, its useful by-product.
The spill-over effects of the energy crisis are significant - carbon dioxide is used for food packaging and animal slaughter in the UK, as well as in dry ice for transporting frozen food.
Difficult winter ahead
In the short-term, markets will probably remain nervous about the energy sector in the UK, and this anxiety could well extend to food and beverage companies, and even agricultural producers if supply chain problems persist.
It's likely that surging gas prices will also prompt policy changes in the short-term, with Spain, the UK and Italy already looking to protect consumers from higher energy prices.
It's less clear how producers hit by higher gas prices will fare.The British government said it will not "reward failure" and bail out smaller energy firms, yet it has offered a bailout to CF Industries to prop up carbon dioxide production over the coming weeks.
Energy crisis: long-term outlook
There is also no doubt that higher energy prices will push up European inflation rates. Though policymakers will be keen to look at core inflation, where energy and food prices are stripped out, it's possible that soaring levels could lead to higher interest rates later in the year.
It looks as though one of the most enduring impacts of the energy crisis will be on the future of renewable energies. Despite calls to remove costly green levies in the UK, the government is currently standing firm, arguing that the energy crisis in the UK "underscores the importance of our plan to build a strong, homegrown renewable energy sector".
In the EU, green deal critics have also been emboldened. For now, the bloc is standing firm, and this summer increased its target to produce 40% of energy from renewable sources by 2030.
European governments are walking a tightrope, balancing the desire to deliver lower energy prices as the economy recovers this winter with a need to develop sustainable and domestic energy sources as a longer-term energy crisis solution.
Edited by Jekaterina Drozdovica
FAQ:
What is the current energy crisis?

UK energy market news has made the front pages. Gas prices have surged to record-high levels, leading to the collapse of five energy providers.

Energy intensive manufacturers like the steel industry have had to halt production during periods of peak power demand due to high costs, and some fertiliser manufacturers have shut down altogether.

Carbon dioxide (a by-product of fertiliser production) is now in short supply, and this is having knock-on effects on food production, leading to fears of shortages in the UK.
As gas prices have risen globally, concerns about energy prices are reverberating throughout Europe. But Britain's energy crisis is fuelled by the fact that it still relies on natural gas for over a third of its energy, and weather conditions have meant that wind power, its back-up renewable energy source, has also fallen short.
What causes an energy crisis?

There are several reasons for the current energy crisis, but rising gas prices lie at its heart. Problems with North Sea sites and constrained supply from Russia mean that supply has shrunk just as economies are re-opening and demanding more power.

Many economies get some of their energy from gas, using coal, nuclear and renewables as back-up sources. The problem is that many of these alternatives are also facing disruption at the same time.
The UK, for example, gets almost 20% of its electricity from wind farms. This summer saw some of the least windy weather for half a century, meaning that turbines have slowed, which explains the energy crisis there.
How an energy crisis affects the economy

The first problem caused by the energy crisis is soaring power prices. High energy rates in the UK have hit companies' costs, and even led to shutdowns in energy-intensive industries as production became unprofitable.

Higher energy prices also hit households. It's possible that higher bills could reduce consumer spending, disrupting post-pandemic recoveries. Higher energy prices also contribute to higher inflation figures, leaving policymakers grappling with whether to raise interest rates.

This crisis may well have longer term impacts, leading to increased scrutiny on policies on renewables. Will soaring gas prices pressure governments into reviving coal fired power and reducing green taxes? Or will they encourage faster roll out and better storage of renewable energy?