What is an Endowment Fund?
Endowment funds are defined as investment funds established for the purpose of supporting a charitable foundation or non-profit organisation. Typically funded through donations, they are normally structured in a way that ensures the fund's initial capital remains intact, meaning only an endowment fund's income can be withdrawn to fund organisation or charity operations.
Where have you heard of endowment funds?
Investors familiar with the work of charities or non-profit organisations are likely to be familiar with the way endowment funds work. In addition to charities, endowment funds are typically used by churches, hospitals and universities to fund operations.
Some of the world's largest endowment funds belong to the so-called "Ivy League" universities in the US. For example, in 2020, Harvard University had one of the world's largest endowment funds valued at approximately $42bn.
What do you need to know about endowment funds?
Endowment funds play a critical role in the continued operations of key organisations. They are typically governed by three core principles, designed to ensure the future of the fund.
Investment policy. Fund managers responsible for managing endowments must adhere to a set of investment guidelines. These guidelines outline the type of investment the manager is permitted to make and the level of acceptable risk. The investment policy will likely contain a provision stating what percentage of the fund (or funds) must be held as cash, ready for withdrawal should the organisation quickly need access to it.

Withdrawal policy. Endowment funds will usually have limits imposed onto how much can be withdrawn within a certain time period. This can differ depending on the needs of the organisation, but most endowments set their withdrawal limit as a set percentage of the total value of the fund. Endowment funds are designed to last indefinitely, and establishing annual spending limits lessens the risks to the overall fund.

Usage Policy. A usage policy dictates what the fund's money can be spent on, such as research, scholarships and charitable events. Usage policies are designed to ensure that the fund's money is used effectively and appropriately.
There are a few different types of endowment funds that investors should be aware of:
Term endowments. A type of fund which stipulates a certain period of time must pass before funds can be withdrawn. The length of time is determined in the fund's policy prior to donations being made, and is set by the donors.

True or permanent endowments. Funds received by donors with instructions that the initial capital be held in perpetuity, with the income used to support the organisation's operations.

Quasi endowments. Also known as board-designated endowments, a quasi endowment is established by the institution itself, rather than at the behest of a specific donor. Funds, both the initial capital and any income, can be used at the discretion of the board of directors to support organisational requirements.
Endowments can also be restricted and unrestricted. The table below outlines their differences.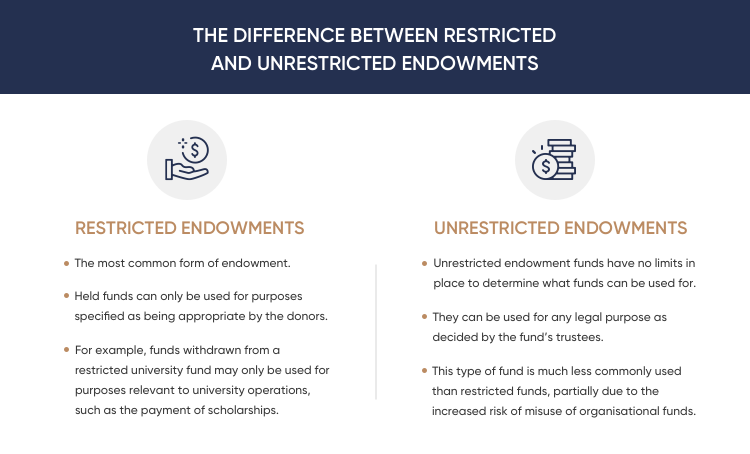 Related Terms