Employee screener HireRight files to go public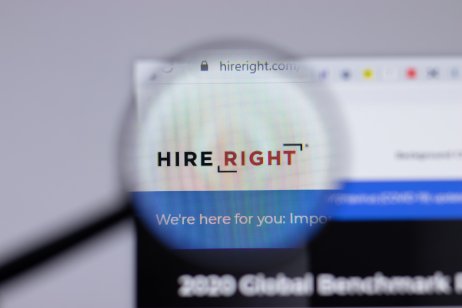 HireRight Holdings, a purveyor of tech-enabled identity verification and background screening, filed for its IPO with the SEC on Wednesday. The value of the IPO and projected share price were not listed in the filing.
With significant backing from private equity firms General Atlantic and Stone Point Capital, HireRight's filing reported revenue of $326.5m (£240.3m) while operating at a loss of $15.6m (£11.4m) for the six-month period that ended 30 June 2021. Those figures represented increased revenue and decreased losses, narrowed by 66%, over the same period of 2020. Its underwriters include Goldman Sachs and Credit Suisse.
The US-based, international provider of risk management and compliance solutions for employers said it developed the first internet-based solution background, health and identity screening process in 1997. It has since adapted and refined its model, in part through partnerships with third-party personnel management services like SAP and Oracle.
Today HireRight serves over 40,000 clients, including more than one-third of the Fortune 500 in over 200 countries and territories. In 2018, it merged with General Information Services, and has since acquired multiple competitors.
Purpose of the IPO
In its S1 filing, HireRight specified that the funds raised would go toward the repayment of debts, specifically the removal of two liens. The remaining funds would be allocated for general purposes, such as working capital, investment in technology and the implementation of growth strategies.
The company, which had been active on the acquisitions side scooping up companies like Australia's People Check and Japan's J-Screen, said it has no specific plans for acquisitions or mergers presently.
HireRight states its purpose is to screen, partner, integrate and empower companies through its global platform. Its goal is to help companies pair the right candidates with the right opportunities, while improving regulatory compliance across a vast array of municipalities, counties, states and nations.
Data moving industry forward
In addition to its paid services, HireRight has taken a lead in surveying its industry and generating resources that serve the company, its clients and perhaps even its competitors with broad views of the industry and specific looks at topics within it.
Each year it publishes its Global Benchmark Report, which integrates insights from more than 3,000 human resource and risk assessment professionals around the world. With logistical dynamics and office culture shifting rapidly during the pandemic, their 2021 report was touted by HireRight as its most comprehensive to date.
The company also organises webinars, which tackle specific trends and developments within the industry. They include topics pertinent to compliance and regulations, as well as how socio-legal changes, such as the decriminalisation of marijuana, impact employee background and medical screening.