EM Asia FX continue losing ground versus the US dollar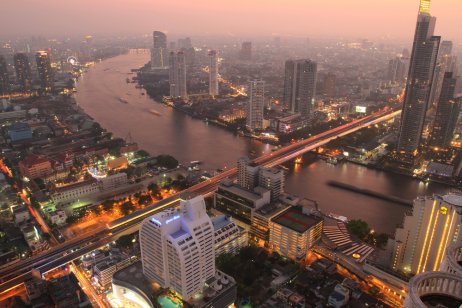 More than a week has passed since the US Federal Reserve's Federal Open Market Committee raised interest rates, but currencies of Asian emerging markets have continued to slip against the US dollar.
While the Malaysian ringgit (MYR) and Indonesian rupiah (IDR) stemmed losses seen over the past 10 days, the Thai baht (THB) and the Philippine peso (PHP) continued to lose value on Wednesday (23 March). The USD/THB edged 0.13% higher to 33.61 and the USD/PHP gained 0.11% to 52.39, while the USD/IDR was flat at 14,367.05 after going as low as 14,276 earlier this month, while the USD/MYR stayed flat at 4.22, up from 4.17 seen just a few days ago.
Not only has the US Fed's decision to raise interest rates stacked the odds in the US dollar's favour, but uncertainties surrounding inflationary pressures due to the war in Ukraine have added to the Asian currencies' woes. Domestic data and central banks' rate hike cycle is not expected anytime soon.
Focus on central banks
"Emerging Asian currencies did not like the combination of higher oil prices, weaker equities and a stronger USD," Philip Wee, senior FX strategist at Singapore's DBS Bank, said in a note.
Speaking specifically on Thailand, Wee added: "​​Although Thailand's headline inflation hit a 13-year high of 5.3% year-on-year in February, core inflation was still within the 1% to 3% target, allowing the Bank of Thailand policy to ensure that the recovery is not disrupted. However, core inflation did jump to 1.8% in February from 0.5% in a single month. The Bank of Thailand will have much to think about at its next meeting on 30 March."
It is a similar story in Indonesia with the central bank saying last week that it has room to be patient when it comes to raising interest rates. Without Bank Indonesia, the central bank, raising rates, the rupiah is expected to remain under pressure.
Inflationary pressures to rise
"The Indonesian rupiah (IDR) will likely face some depreciation pressure in the coming months given the possible financial market outflow related to the Fed rate hike cycle. However, unlike past episodes, we have noted a relatively more resilient currency with IDR benefitting from positive export dynamics as higher global commodity prices translate to higher export earnings. Thus, we are likely to see only a mild depreciation episode for IDR in 2022, especially if Bank Indonesia pushes ahead with a modest tightening cycle of its own," said Nicholas Mapa, senior economist at ING, in a note.
Further pressure on the currencies in the region can come from a prolonged war in Ukraine leading to a slowdown of the European economy. According to researchers at DBS Bank, such a situation will adversely affect the region's exports while at the same time the countries end up spending more in case crude oil prices rise.
"All ASEAN-6 (Indonesia, Malaysia, Philippines, Singapore, Thailand, Vietnam) countries import oil, with Thailand in the forefront as the largest net oil importer (as % of GDP). Singapore and Malaysia are also sizeable importers, but are offset by significant exports, which help narrow the trade shortfall (Malaysia runs a net surplus). The remaining three, Indonesia, Philippines, and Vietnam are middle of the pack being net oil importers to the tune of -1% to -2% of GDP," DBS Bank said in a note.

"Inflation is at most risk in the Philippines, Singapore, and Thailand, whilst countries like Indonesia and Malaysia have kept prices of commonly used variants of pump fuel unchanged since the start of the pandemic. Non-subsidised prices are being incrementally raised. With the fiscal strain likely to rise on such price intervention and subsidies, we expect persistently high oil prices to convince policymakers to pass on part of the increase on to the private sector. Besides cost-push pressures from oil, supply shortages and high food costs from cooking oil to wheat has also begun to lift inflation in the region," the note added.