Musk unveils prototype Tesla android at AI event
Subscribe to Weekly Highlights
The major market events for the week ahead right in your inbox.
Subscribe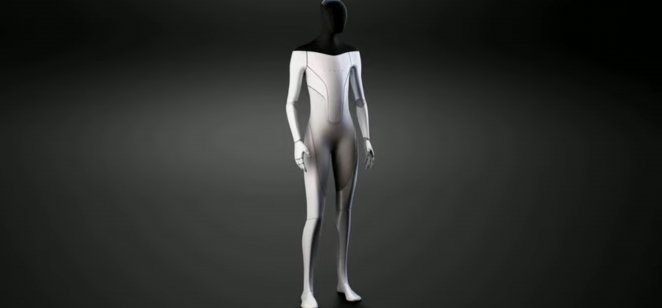 Content
Tesla plans to roll out human-like robots that can perform simple tasks.
The Tesla Bot will contain the electric-car maker's full self-driving (FSD) and autopilot features, said company founder Elon Musk.
Tesla unveiled images of the humanoid robot, and a human dressed like the machine performed a brief dance routine, during the Tesla AI Day event on Thursday night (19 August) in Freemont, California.
The company intends to roll out a prototype "some time next year" Musk said during the live-streamed event that included other Tesla personnel and an audience of potential engineering recruits.
Robot intended to eliminate dangerous tasks
"It's intended to be friendly, of course, and navigate through a world built for humans and eliminate dangerous and repetitive, boring tasks," said Musk.
He warned that the prototype would probably not function properly until later versions improve on it. But he said the Tesla Bot would have profound implications for the global economy, because labour is at the foundation of it.
"Essentially, in the future, physical work will be a choice," said Musk. "If you want to do it, you can. But you won't need to do it."
What is your sentiment on TSLA?
Vote to see Traders sentiment!
Humanoid will contain eight cameras
Eight in-head cameras will help the Tesla Bot see the same way humans do. The five-foot eight-inch, 125-pound robot will be able to do things such as buy groceries or attach a bolt to a car using a wrench, without having to be specifically trained, said Musk.
He wondered aloud how the global economy would benefit, suggesting that Tesla's androids would drive labour costs down.
The project was not prompted by the company's manufacturing needs, said Musk. "We're just, obviously, making the pieces that are useful for a humanoid robot. So I guess we probably should make it – and if we don't, someone else would."
Tesla faces federal scrutiny
The robot roll-out comes as Tesla faces increased US federal scrutiny into its vehicles' 'Autopilot' and full self-driving functions (FSD), the same technologies involved in the robot project.
Senators Richard Blumenthal of Connecticut and Ed Markey of Massachusetts asked new Federal Trade Commission (FTC) chair Lina Khan in a letter on Wednesday 18 August to investigate Tesla for "potentially deceptive and unfair practices" related to its marketing of the partial self-driving features.
Despite their Autopilot and FSD labels, the functions are not fully automatic and Tesla vehicles are required by law to be operated by humans.
"Tesla's marketing has repeatedly overstated the capabilities of its vehicles, and these statements increasingly pose a threat to motorists and other users of the road," wrote Blumenthal and Markey, both Democrats.
They also want the FTC to take appropriate enforcement action against Tesla "to ensure the safety of all drivers on the road".
| | |
| --- | --- |
| Long position overnight fee | -0.0308% |
| Short position overnight fee | -0.0137% |
| Overnight fee time | 22:00 (UTC) |
| Spread | 0.16 |
| | |
| --- | --- |
| Long position overnight fee | -0.0308% |
| Short position overnight fee | -0.0137% |
| Overnight fee time | 22:00 (UTC) |
| Spread | 0.23 |
| | |
| --- | --- |
| Long position overnight fee | -0.0308% |
| Short position overnight fee | -0.0137% |
| Overnight fee time | 22:00 (UTC) |
| Spread | 0.19 |
| | |
| --- | --- |
| Long position overnight fee | -0.0064% |
| Short position overnight fee | -0.0059% |
| Overnight fee time | 22:00 (UTC) |
| Spread | 0.06 |
New investigation of collisions
The letter came two days after the US National Highway Transportation Administration (NHTSA) announced that it has begun an evaluation of 11 Tesla collisions with parked emergency vehicles between January 2018 and July 2021.
In a statement provided to Capital.com, an NHTSA spokesperson said the authority has launched a fact-finding mission that could lead to more data being collected on Tesla's 'Autopilot' software.
The senators noted this is not the first time the NHTSA has launched a probe into Tesla. The senators also noted the NHTSA did not identify any defects with Autopilot in an investigation into a fatal crash that closed in 2017. But Blumenthal and Markey contended the NHTSA relates to a "new defect investigation" into Autopilot.
Tesla has not responded publicly to the senators' letter or the NHTSA investigation. The company no longer provides media relations services.
Also unveiled: a Tesla microchip
The federal scrutiny did not come up during the three-hour AI Day event, which started about 45 minutes late for unexplained reasons.
Tesla has said on Twitter that its Autopilot software experienced 0.2 accidents per million miles driven, and the US average was nine times higher.
At the event, Tesla also unveiled a new computer chip produced by the company to improve the training of its artificial-intelligence networks.
Tesla hopes the in-house chip will also help reduce supply-chain bottlenecks resulting from global microchip shortages that have prompted several auto-plant shutdowns and slowdowns.
The D1 chip will be part of the company's highly touted Dojo supercomputer system.
"We should have Dojo operational next year," said Musk.
Musk also revealed that the company intends to offer licensed use of its self-driving software to other auto-makers.
"This is not intended to be limited to just Tesla cars," said Musk.
Tesla shares were up by $3.60 or 0.53% in Nasdaq pre-market trading on Friday.
Trade Tesla Inc – TSLA CFD