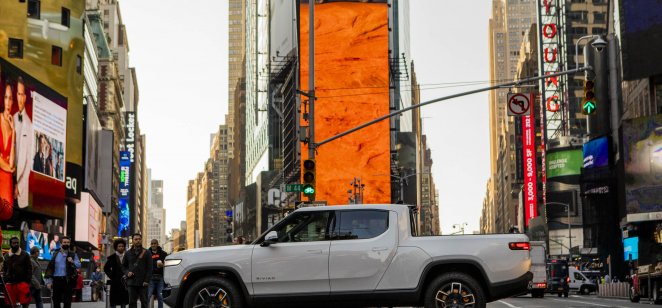 Tesla CEO Elon Musk said in a tweet that rival electric vehicle company Rivian's biggest test in the coming years will be to achieve high production at breakeven cash flows after going public this week in the year's largest initial public offering.
Rivian made a splash in its Nasdaq debut this week valuing the company at more than $100bn (£74.5bn) to make it the second-most-valuable US automaker after Tesla ($1.03trn) and ahead of General Motors ($91.3bn) and Ford Motor ($77.8bn).
That quick ascent drew comparisons on Twitter to Tesla's relatively slow and at times tortured growth trajectory since it was founded in 2003. In that nearly two decade span, Musk noted that Tesla is the only US carmaker to reach high volume production and positive cash flow in the past 100 years, rivalling the only two remaining legacy US-based automakers GM and Ford.
Can Rivian become the second automaker to reach those heights this century? Here is where Rivian stands today compared with Tesla's early days.
Initial public offerings
Tesla went public in 2010 at a valuation of around $1.7bn. The electric car company sold 13.3 million shares of common stock at a price of $17 per share.
The shares fell below $5 per share at one point in 2012 but a year later started to take off and never looked back hitting new all-time highs of $1,243 per share earlier this month and becoming one of just a handful of companies with a $1trn valuation.
Rivian sold 153 million shares at $78 per share valuing the company initially at $66.5bn. Upon its debut this week shares shot to highs of $135 per share valuing the company at more than $100bn – which is a valuation and per share price Tesla only just hit last year.
First production cars
Tesla launched its first vehicle called Roadster in 2008 as a high-end sports car with a sticker price of over $100,000.
The price put it out of reach of the average consumer but set a new standard as the first highway legal all-electric lithium-ion battery-powered vehicle in the US. Tesla sold 2,450 Roadsters in 30 countries before ending its production at the end of 2012.
In the summer of 2012 Tesla released its flagship vehicle the Model S followed by three other models at different configurations and price points to where the company sold half a million units in 2020 and has already surpassed that in 2021 selling 625,000 units through the first nine months.
Rivian, by comparison, just started production of its base-cost $61,500 R1T all-electric pickup truck in September, 12 years after its founding in 2009 as Mainstream Motors.
It is not known how many vehicles the company has made to this point but as of 30 September Rivian had approximately 48,390 preorders of its flagship truck and forthcoming R1S SUV in the United States and Canada.
Financial assistance
Tesla was able to raise millions through traditional funding rounds, but famously the company received $465m in a loan from the US Department of Energy in 2009 at a critical time for Tesla as part of a program to improve fuel efficiency standards and spur investment in the wake of the financial crisis.
Still, Tesla didn't record a profitable quarter until the fourth quarter of 2019 as all the funds it received went to new factories and developing new avenues for growth. In its first quarterly report following the 2010 IPO, Tesla reported positive operating cash flow of $22.48m generated sales of $39m and lost $59.9m in the quarter.
Rivian has yet to report any revenues as its R1T truck starts to come off the production line this quarter. Net losses totaled $426m in 2019 and more than doubled in 2020 to $1bn. Rivian also has $3m of total debt to pay off but reported $3.658bn of cash and cash equivalents as of 30 June.
The electric truck maker also raised $11.9bn through this week's IPO and has significant investments from Amazon and Ford.
Production facilities
Rivian is working with just one factory in Illinois that has the capacity to produce 150,000 vehicles annually. The company said it intends to increase production capacity to 200,000 yearly by 2023 via a second US-based plant at a yet unnamed location.
Ahead of its initial public offering Rivian CEO R.J. Scaringe said he expect the company to have an annual production capacity of 1 million vehicles before 2030. In order to meet that goal Scaringe said he envisions four assembly plants around the world within the decade.
Tesla's flagship factory is in Fremont, California and the company has since opened its so-called Gigafactory outside of Reno, Nevada and Gigafactory 2 in Buffalo, New York and plans to open a fourth US-based plant in Austin, Texas, where Musk intends to relocate the company headquarters. New facilities are also operational in Shanghai and are under construction in Berlin.