Elon Musk tells fans first Berlin Tesla EVs could come next month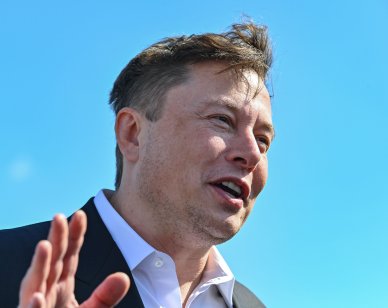 The first electric cars made at Berlin's new Tesla (TSLA.O) factory could roll off the assembly line in that country by end of the month, although it will take much longer for a full rollout of the vehicles to get then in the hands of buyers, CEO Elon Musk said Saturday.
The Tesla CEO toured the site of the gigafactory in the town of Gruenheide and told cheering fans that production of significant volumes will take longer to achieve. Musk was visiting the town to host a country fair.
Volume is the biggest challenge
"Starting production is nice, but volume production is the hard part," Musk said during his site tour, which was livestreamed by many jubilant followers on social media. "It will take longer to reach volume production than it took to build the factory."
Musk said he anticipates that once the German Environment Ministry approves the project, the factory will produce 5,000 to 10,000 vehicles and battery cells a day.
Not a done deal
But the deal isn't done yet. The latest consultation about public concerns about the factory site closes on Oct. 14, after which the Environment Ministry will decide whether to approve the project. Local environmental groups and residents have complained that Musk's business approach is not respectful of German culture, nor is it environmentally sustainable.
Musk countered his critics by saying the factory uses "relatively little water" and that the battery cell production is environmentally safe.