Elon Musk sells $1bn in Tesla (TSLA) stock, thinks of quitting jobs
Elon Musk sold nearly $1bn (£757m) of his Tesla shares on Friday, a day after tweeting that he was thinking about quitting his jobs to become a full-time influencer.
A filing with the US Securities and Exchange Commission shows Musk sold another 934,091 Tesla shares, worth about $963.2m, while also exercising options to buy 2.17 million shares at $6.24.
In total, Musk has exercised options to purchase around 12.3 million Tesla shares, adding to his overall stake of the company.
Since 8 November, Musk has sold nearly 11.03 million of his shares totalling $11.82bn.
Musk accommodated a 6 November Twitter poll where users declared he sell 10% of his company stock, although some of the sales were already in play.
Musk's 10% equals nearly 17 million shares. Following his recent offload, Musk is left with around 5.97 million shares.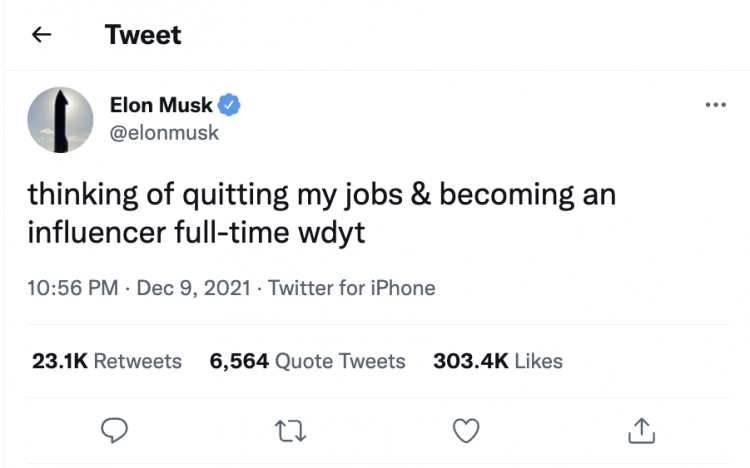 Elon Musk tweets about thinking of quitting his jobs
Elon's quitting his jobs? Tesla shares lower
In a tweet on Thursday, the Tesla CEO said he was "thinking of quitting my jobs & becoming an influencer full-time wdyt,"
Musk did not elaborate on the statement.
He followed with another tweet that said: "If you like the chorus, you'll love the drop."
Musk is also the CEO of SpaceX, an American aerospace manufacturer based in California.
While SpaceX is a private company, shares for Tesla are down near 0.43% in early trading.
Over the last month, Tesla shares are off by 6% but remain up 42% year to date, and up 60% over the past 12 months.
A report in the Guardian this week said Musk told reporters a big reason he broke up with his musician girlfriend Grimes was due to his work at SpaceX and Tesla.
Read more: Elon Musk sells Read more: Elon Musk sells $1.1bn in Tesla (TSLA) shares following Twitter poll.1bn in Tesla (TSLA) shares following Twitter poll