Elon Musk offers to sell more Tesla (TSLA) stake on Twitter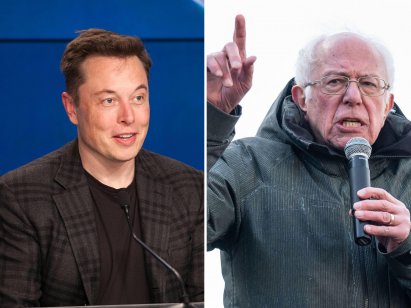 Electric carmaker Tesla's billionaire chief executive Elon Musk offered to sell more stake in the company after engaging in a war of words with US Senator Bernie Sanders.
Sanders demanded that the extremely wealthy pay their "fair share" in a tweet on Sunday. Musk's initial response was: "I keep forgetting that you're still alive." Later, he added: "Want me to sell more stock, Bernie? Just say the word."
Just last week Tesla stock spiralled lower after Musk said he will abide by the verdict of a poll on his Twitter page that voted in favour of him selling a 10% stake. In several transactions last week Musk sold 6.36 million stocks for a combined sum of $6.9bn. To meet his vow on Twitter, he will need to sell a further 10 million stocks.
Tesla tokens trade higher
Unlike last week's tweet which cause the Tesla stock price to slide, it appears Musk's tweet on Sunday has had the opposite effect. In midday Asian trading hours, Tesla tokens on the FTX Exchange were trading at $1,039, nearly 6% higher than Tesla's last closing price on Nasdaq.
Sanders' tweet comes in the backdrop of a US Senate Democrats' proposal to tax billionaires' stocks and other tradeable assets to help fund social sector projects.
The meteoric rise of Tesla's stock price has led to Musk becoming the world's richest man. He is also known to own cryptocurrency assets.
Read more: Tesla tokens fall after Musk's Twitter Tesla sale poll