Elon Musk may share blame for Tesla sexual harassment lawsuits: Lawyer
Subscribe to Weekly Highlights
The major market events for the week ahead right in your inbox.
Subscribe
Content
Tesla's recent sexual harassment lawsuits may stem, in part, from how some people perceive chief executive Elon Musk's attitude toward women, says the lawyer helming the lawsuits against the electric vehicle maker and a leading gender-equity advocate.
Six current and former female Tesla employees filed complaints against the company in California's Alameda County Superior Court, alleging they were subjected to constant sexual harassment from their colleagues and supervisors.
The allegations have yet to be tested in court.
Five of the employees work or worked at Tesla's Fremont, California factory and one was employed in service centres throughout Southern California. Two still work for Tesla, according to attorney David Lowe, a partner at Rudy Exelrod Zieff & Lowe in San Francisco, who represents the women.
Musk under fire
"It's difficult to separate the pervasive harassment on the factory floor from the example set by the CEO Elon Musk," Lowe said. "Musk is widely viewed as embodying the culture at Tesla. When Musk tweets a lewd comment about women's bodies or disparages whistleblowers, it sets the tone."
Workplace gender bias consultant Amy Diehl said: "The lawsuits should be a crisis for Tesla, but I worry that they won't immediately lead to change due to (founder and CEO Elon) Musk's sexist attitudes."
Diehl has served as an expert witness for gender-discrimination and retaliation lawsuits. She is the chief information officer at Wilson College in Chambersburg, Pennsylvania.
"To avoid serious damage, Tesla's board should start following their own ethos of high standards," she said. "Their leader should immediately stop publicly disparaging women and apologise for his previous sexist remarks, and failing that, the board should consider replacing him."
What is your sentiment on TSLA?
Vote to see Traders sentiment!
Sexist tweets
Diehl, who holds a PhD in Administration & Leadership and an MBA, claims Musk has a "misogynistic reputation" demonstrated by public rhetoric that includes sexist tweets.
One of the lawsuits alleges that factory technicians and managers would read Musk's tweets, laugh at them, and make up their own jokes, riffing on sexual themes.
"This type of environment should not exist in a modern workplace, especially in a company that has such vast resources and prides itself on being a cutting-edge technology company," Lowe said.
Capital.com was not able to reach a Tesla representative for comment. The company no longer has a media relations department, and the company's investor relations department did not respond to a request for comment sent by email.
"Musk is widely viewed as embodying the culture at Tesla."
by
Attorney David Lowe of Rudy Exelrod Zieff & Lowe
Lower percentage of female employees
Diehl noted Musk's companies have "low percentages" of female employees, with just one in five of Tesla's 70,000 workers being women.
"It's a company that (the plaintiffs) wanted to work for because of the type of product that it makes," Lowe told Capital.com.
Diehl observed the lawsuits could potentially damage Tesla beyond any possible any court-ordered sanctions. Work-environment and gender-discrimination lawsuits can be "very detrimental" from a business perspective, she opined.
"I think any woman considering working at Tesla would think twice before entering an environment in which she is likely to be objectified or harassed and given little-to-no support when it happens," Diehl said. "In today's tight labour market, many of these women have other choices for employment."
Impact on auto sales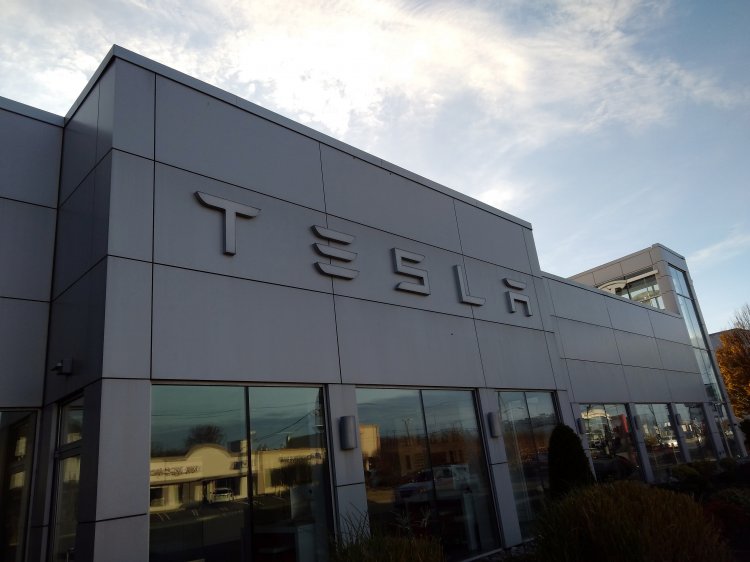 Tesla dealership in Cherry Hill, NJ – Photo: Capital.com
The impact may ripple even further to the showroom floor. Jessica Caldwell, executive-director of insights for automotive data provider Edmunds, declined to comment on how the lawsuits could affect Tesla sales among women. But she said Tesla vehicles are becoming more attractive to women.
"Individuals vary but, on the aggregate, women tend to be more pragmatic car buyers who are a bit more price conscious than men," Caldwell told Capital.com. "In that vein, Tesla has been able to grow its appeal to women with the introduction of the Model 3 and Model Y which serve more of a mass market than their predecessors, S and X."
She indicated that Tesla vehicles' growing appeal to women is part of a wider trend concerning female EV buyers.
A 'very personal' injury
The six lawsuits come after a woman employed at the Fremont factory filed a lawsuit against the company in state court in Oakland, California, alleging that the EV maker's female employees face "rampant sexual harassment." Lowe is also representing the plaintiff in that case.
He said the litigation's goals aim to hold Tesla accountable for allegedly failing in its obligation to prevent and remedy the sexual harassment; to compensate the women who were severely harmed – financially and psychologically – by rampant, pervasive harassment; and to "put a stop" to harassment that has been harming Tesla's employees.
The goals are in line with other sexual harassment cases. Attorney Ilan Scharf of Pachulski, Stang, Ziehl and Jones in New York said sexual harassment is a "very personal injury." Scharf said victims want an apology, an assurance that the practice will never happen again and that someone would be held accountable. Scharf spoke earlier this month at an American Bankruptcy Institute conference in California.
Lowe called the litigation a "last resort" after the plaintiffs tried to deal with the behaviour directly, including by complaining to supervisors and Tesla's human resources department, but the company "utterly failed to end the harassment or ensure a safe environment."
Scharf said that's often the case. "Unfortunately, in our system, a lot of that accountability has come through litigation."
Tesla is not alone
Tesla is not the only technology company facing sexual harassment.
Diehl cited gaming company Activision Blizzard, running shoe and sports apparel manufacturer Nike.
AB's share price fell 34.65% between 1 July and 17 December as the company faces allegations of discrimination and sexual harassment from employees at its subsidiary Blizzard.
AB has taken several steps to improve its culture. The company has introduced a zero-tolerance policy on wrongful condition and new CEO Bobby Kotick has taken a pay cut to the minimum allowed under California law. But he has still faced pressure to resign.
In 2018, a group of female former Nike employees sued the company in US District Court in Portland, Oregon over allegations that it systematically discriminated against women and fostered a hostile work environment.
Read more: Activision Blizzard (ATVI) stock sinks with CEO under pressure