eBay stock forecast: Will e-commerce keep roaring?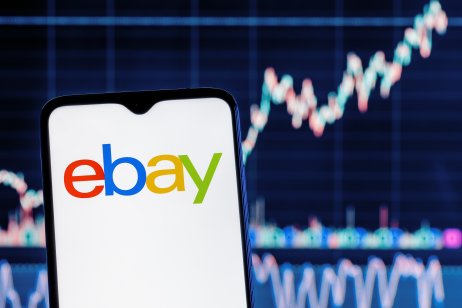 November was not a kind month for tech stocks, including eBay. The valuation of companies within this space depressed after the run they experienced during the pandemic amid fears of the new Covid-19 variant.
Meanwhile, concerns about what impact higher inflation also weighed on their valuation.
However, Daniel Ives, of New York-based Wedbush Securities, said major selloffs support his company's bullish analysis of tech stocks.
"Over the past 18 months, our bullish tech playbook has been unchanged, and any time we have 10-year (bond) yield spikes (or) variant fears (or) second wave (of Covid-19) worries, we view this as an opportunity to own tech secular winners," Ives said in a research note that he provided to Capital.com.
What could be a plausible scenario for the eBay stock value? As of 8 December, the price was nearing a crucial threshold.
As we get closer to the beginning of 2022, the following article discusses the stock's price action and fundamentals to outline multiple eBay stock predictions for the end of 2021, 2022 and 2025.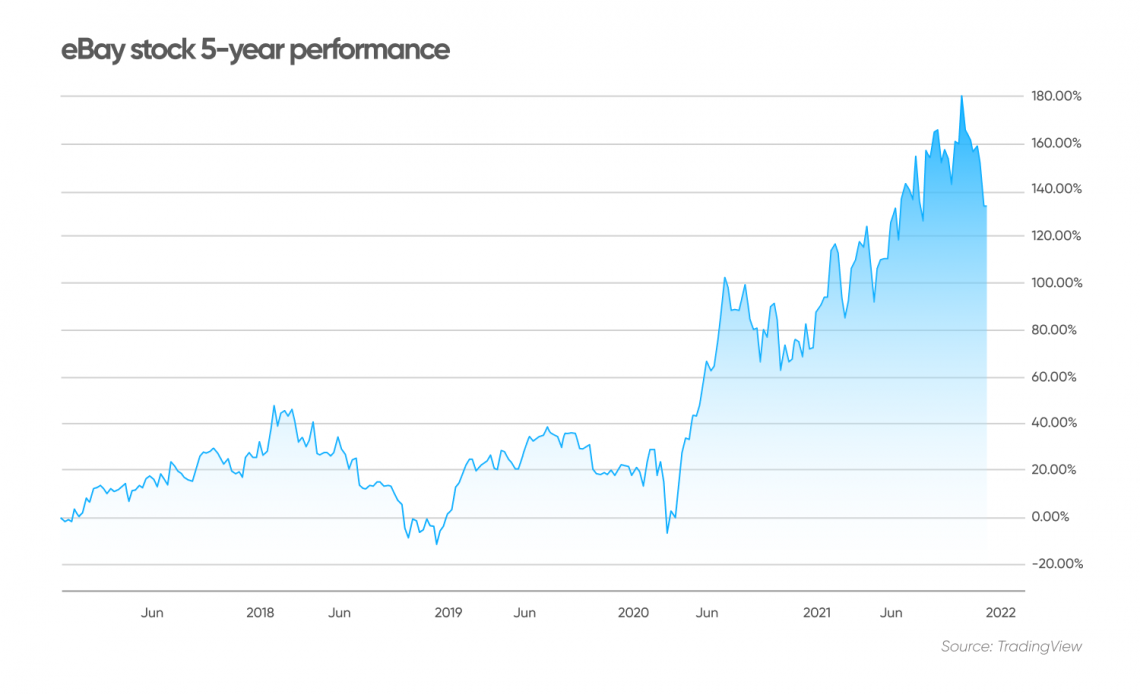 eBay stock news
On November 14, eBay announced that it had completed the transfer of 80% of its Korean business unit to Emart for $3bn in gross cash proceeds as part of an effort to focus on growing the core US market.
On 29 November, eBay reported that it acquired Sneaker Con, a company that authenticates sneakers. It has operations in the United States, United Kingdom, Canada, Australia and Germany.
Sneakers are a top-selling item on eBay. The company's ability to authenticate these shoes has helped it in increasing selling volumes for this category.
"The response to our authentication offering has been overwhelming, and this acquisition allows us to continue to transform eBay and bring a higher level of trust and confidence to every transaction," stated eBay's North America SVP and General Manager, Jordan Sweetnam in a press release.
eBay stock analysis: technical view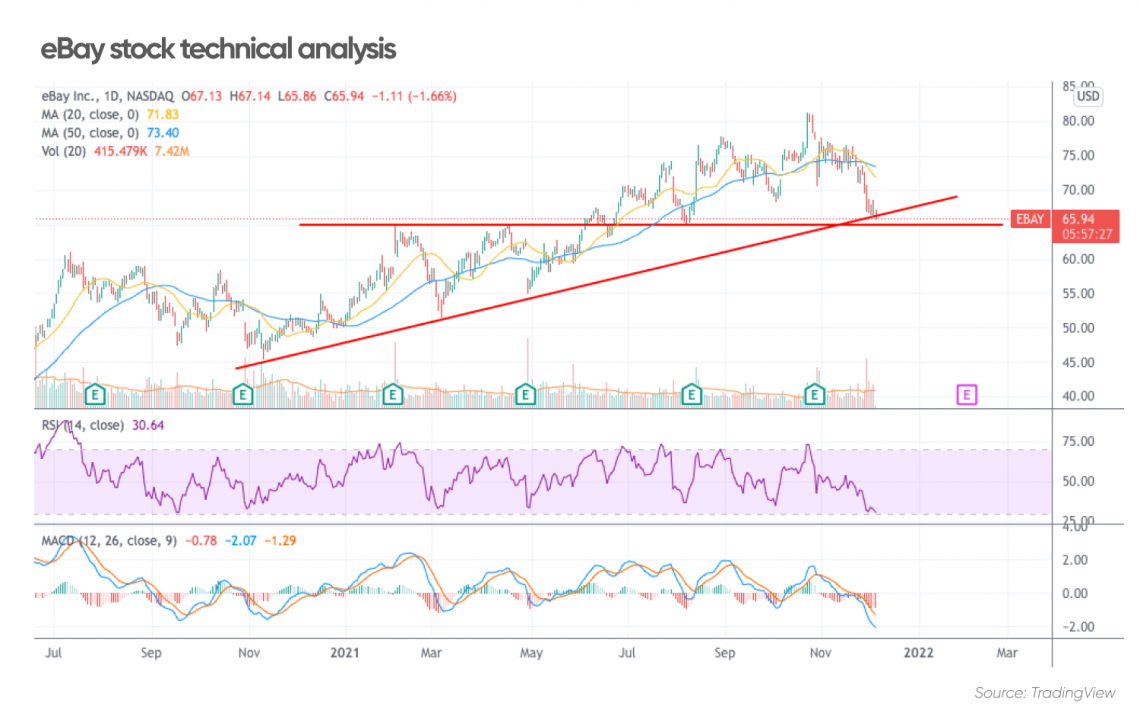 The decline that began in October after the company published its Q3 2021 earnings report has pushed the price to a relevant support area.
As the chart from above shows, the price is tagging and nearly breaking below a trend line support, while there is another horizontal support right around the corner that could cushion the downtrend.
Thus far, the stock has broken below its short-term and long-term moving averages. A death cross has occured between the 20-day and 50-day simple moving averages. This event is typically considered a bearish signal.
Meanwhile, momentum oscillators have drifted to their lowest levels in months. The relative strength index (RSI) currently (8 December) stands at 30, its lowest reading since September 2020. This is a bearish signal. The moving average convergence divergence (MACD) is deep in negative territory.
All things considered, the technical setup for eBay stock (as of 8 December 2021) is bearish. Both the trend line support and the $65 horizontal support remain the two most relevant levels to watch to help form some plausible short-term eBay stock projections.
eBay fundamental analysis
On 27 October, eBay reported its financial results covering the third quarter of 2021. Total revenues for the period landed at $2.5bn, resulting in an 11% jump on a year ago. Earnings per share landed at $0.9, resulting in an 8 cents increase compared to Q3 2020.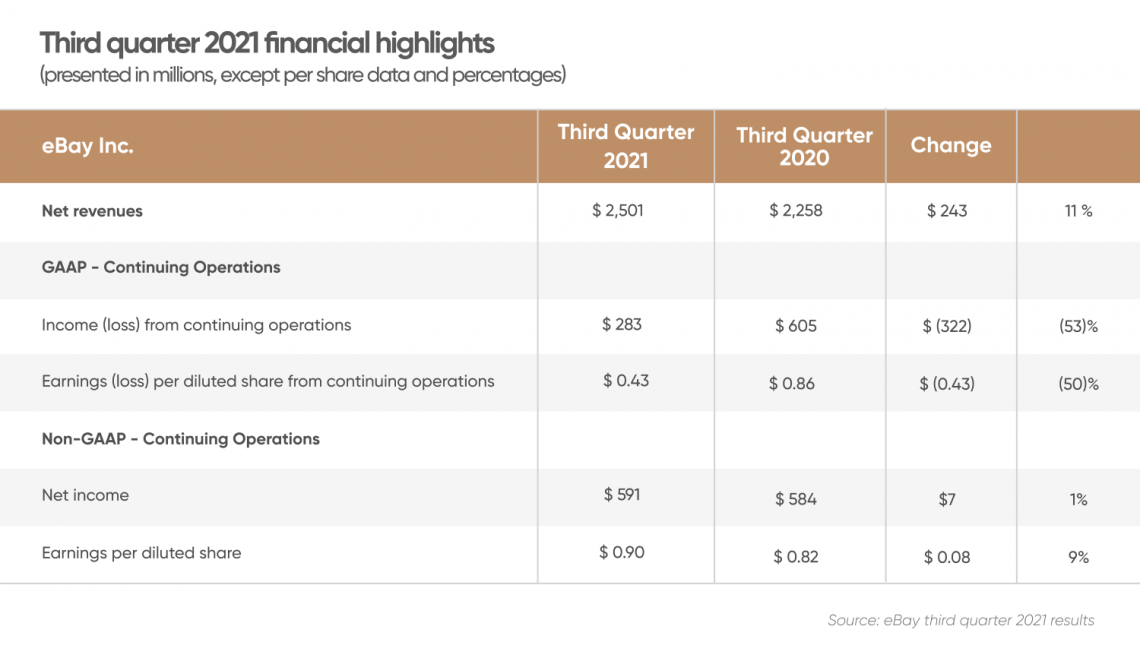 For the nine months ended on 30 September, eBay reported total revenues of $7.8bn – a 21.5% increase on the first nine months of 2020. Gross profit margins deteriorated by around 550 basis points to 75%. This resulted in lower operating margins of 28.6% compared to the 30.8% reported by the company during the same period a year ago.
Benefits from discontinued operations pushed the company's bottom-line performance higher from $6.65 a share reported during the first nine months of 2020 to $17.16 reported during the same period in 2021, on a fully diluted basis.
During the third quarter, the number of active buyers – a relevant operating metric for eBay – declined 5% compared to Q3 2020 following a 2% fall in the previous quarter.
Meanwhile, gross merchandise volumes (GMVs) declined 12%, primarily as a result of a 15% drop in the company's international operations and an 8% drop in the US market. Moreover, the total number of sold items decreased 21% compared to Q3 2020.
Please redesign the image with the title:
eBay gross merchandise volume (GMV) in $ millions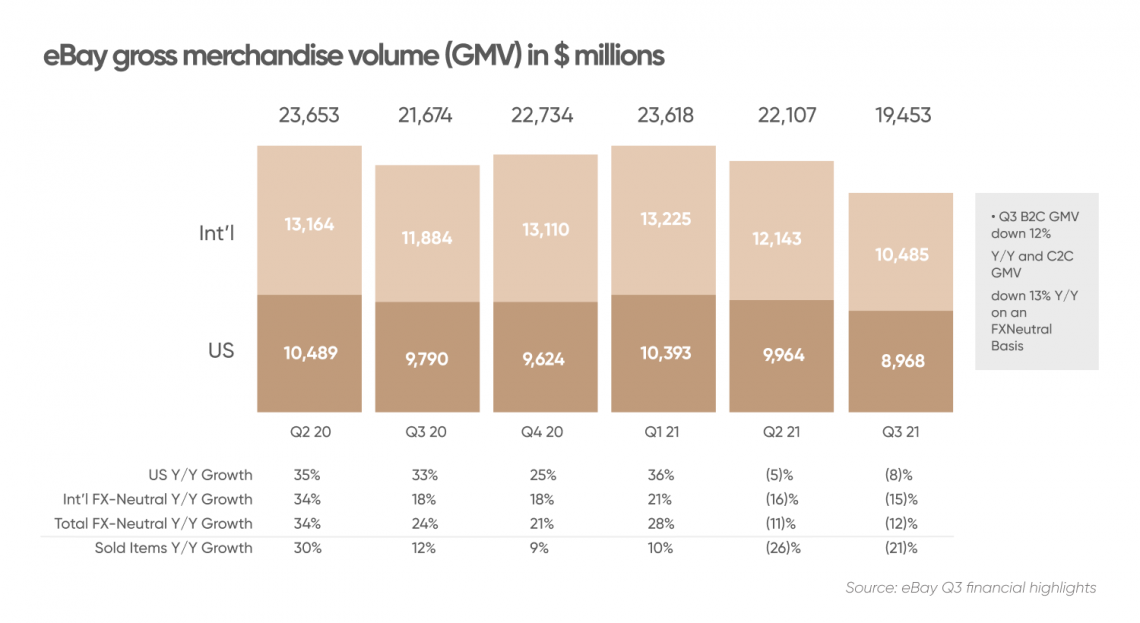 By the end of the third quarter of 2021, eBay had long-term debt of $7.73bn on assets of $29.26bn including $5.27bn in cash and short-term investments along with a $9.28bn equity stake in Adevinta, an online classifieds business.
Giving the company's guidance for fourth-quarter results, Steve Priest, eBay's Chief Financial Officer, said during the third-quarter earnings call:

"For the fourth quarter, we are projecting revenue between $2.57bn and $2.62bn, representing growth of 3% to 5% on an FX-neutral basis and approximately 4% to 6% on a spot basis…We are raising our 2021 full year outlook for payments revenue from $1.8bn to $2bn."

eBay stock forecast: Analyst sentiment and price targets
Commenting on the eBay future value, David Jones, Capital.com's Chief Market Strategist, said: "Despite setting all-time highs in October, the stock price of eBay has been hit hard since then, dropping back 20% since then, which is a sizeable move in a major tech stock.
"But despite this, the 12-month trend is still up and August of this year saw good support come in around $65. Bargain hunters may well be tempted down at these levels, taking the view that the sell-off is just a correction in that overall trend and a buying opportunity. It will be interesting to see if $65 holds again – if the stock slips below here it looks like that one-year trend is in trouble."
As of 8 December, Seeking Alpha indicated that the consensus recommendation for eBay stock stood at 'buy', with a total of 10 out of 30 analysts bullish on the stock, while the remaining 20 rated the stock a 'hold'.
The consensus eBay stock price target stood at $78.07 a share, resulting in a 16.1% upside potential based on the price of $67.23 a share. The highest price target stood at $91 and the lowest at $65.
According to Marketbeat, Ross Sandler from Barclays boosted his price target to $91 from $79 and kept an 'overweight' rating following the third-quarter report on 28 October.
Meanwhile, Cowen analyst John Blackledge lowered his price target from $69 to $68, while maintaining a 'market perform' rating.
Algorithm-based forecasting services shared bullish eBay share price forecasts as of 8 December.
Wallet Investor indicated that the price could start 2022 at an average price of $67.48 a share and end it at $81.20. Its eBay stock price prediction expected the price to hit $95.028 by the end of 2023 and $122.877 by the end of 2025. Based on that estimate, eBay stock could double in the next four years.
GovCapital expected the price of eBay to hit $110.596 a share by the end of 2022, rise to $165.583 by the end of December 2023 and to $297.253 by the end of 2025.
When looking for eBay stock predictions, it's important to bear in mind that analysts' forecasts and price targets can be wrong. Analysts' projections are based on making fundamental and technical studies of the stock's performance. Past performance is no guarantee of future results.
It's important to do your own research. Always remember that your decision to trade depends on your attitude to risk, your expertise in the market, the spread of your investment portfolio and how comfortable you feel about losing money. And you should never invest more than you can afford to lose.
FAQ
Is eBay a good stock to buy?

According to data from third-party forecasting services and analysts' ratings outlined above, eBay appears to have upside potential. However, investors should not rely on these estimates to make an investment decision as many variables could affect the performance of the stock.
Will eBay stock go up or down?

A number of factors dictate whether stock prices rise or fall, including the company's fundamentals and broader macro-economic factors. There are no guarantees. Markets are volatile. You should conduct your own eBay stock analysis, taking in such things as the environment in which it trades and your risk tolerance. And never invest money that you cannot afford to lose.
Read more: Facebook stock forecast: Can FB recover its record highs?