eBay shares fall on underwhelming outlook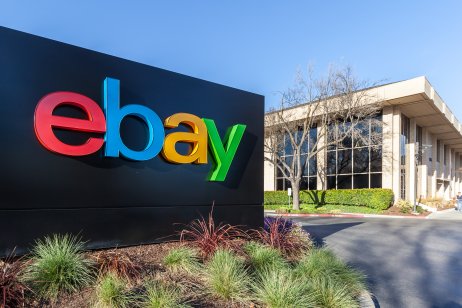 Shares of eBay were down more than 6% during after-hours trading on Wednesday after the company reported its Q3 earnings.
Despite the sell-off, company shares are up nearly 9% over the last month and up 24.6% over the last six months.
Earnings details
According to the San Jose, California-based company's earnings statement, eBay brought in revenue of $2.5bn, an increase of 11% compared to last year.
The company said it was able to expand its advertising portfolio and the number of promoted listings it published in Q3, which led to the year-over-year growth in revenue. In all, the promoted listings brought in $207m (£150.63) in Q3, a 12% increase from Q3 2020.
eBay ended the quarter with a net profit of $283m, or 43 cents per diluted share.
It also generated $661m of operating cash flow and $502m of free cash flow from continuing operations in Q3.
What is your sentiment on EBAY?
Vote to see Traders sentiment!
$2.3bn in stock buybacks
Shareholders received more than $2.4bn in Q3, the company said. That includes $2.3bn of share repurchases and $116m paid in stock dividends.
Jamie Iannone, the company's CEO, said eBay's quarterly performance "(surpassed) our expectations for all key business metrics."
"Our Q3 results, driven by the near completion of our managed payments migration, expansion of our advertising portfolio, and volume growth in our focus categories, demonstrate that our strategic playbook continues to work," Iannone said in a press release.
Core business growth
eBay was also able to grow parts of its core business in key markets. For example, the company expanded its Authenticity Guarantee program in Germany and added more than 30 brands to its sneaker brand catalogue.
The company also launched a pricing guide for trading card collectors. To date, eBay said more than four million cards have been bought and sold on its platform.
eBay also announced it plans to cut its greenhouse gas emissions by 90% by 2030. The company said this goal is "the most ambitious designation available" through the Science Based Targets initiative, a group that helps private companies meet their sustainability goals.
Q4 outlook
Looking ahead to Q4, eBay is anticipating a modest increase of revenue. The company said it will bring in between $2.57bn and $2.62bn in revenue and return EPS of 72 cents to 76 cents to shareholders next quarter.
This outlook is below the expectations of five Wall Street analysts at MarketBeat, who say the company will bring in revenue of $2.65bn and return EPS of 81 cents.
Read more: Online giant eBay sells South Korea holding for bn