(Press Association) EasyJet shares rose after the discount airline clinched a deal to buy up part of Air Berlin's operations for €40m (£35m).
Its shares increased 2.4% or 30p in morning trading to 1,303p, as markets had their first chance to react to an agreement that the airline says will help it become the leading airline in the German capital.
The deal will see easyJet lease up to 25 A320 aircraft and take over other assets from the failed German airline, including landing slots at Berlin Tegel Airport.
Berlin expansion
The move extends its footprint in Berlin where it has a base at the smaller Schonefeld airport.
EasyJet said the €40m figure did not account for potential start-up and transitional operating costs, but investors did not seem deterred
The share price rise made it one of the best-performing stocks on the FTSE 100.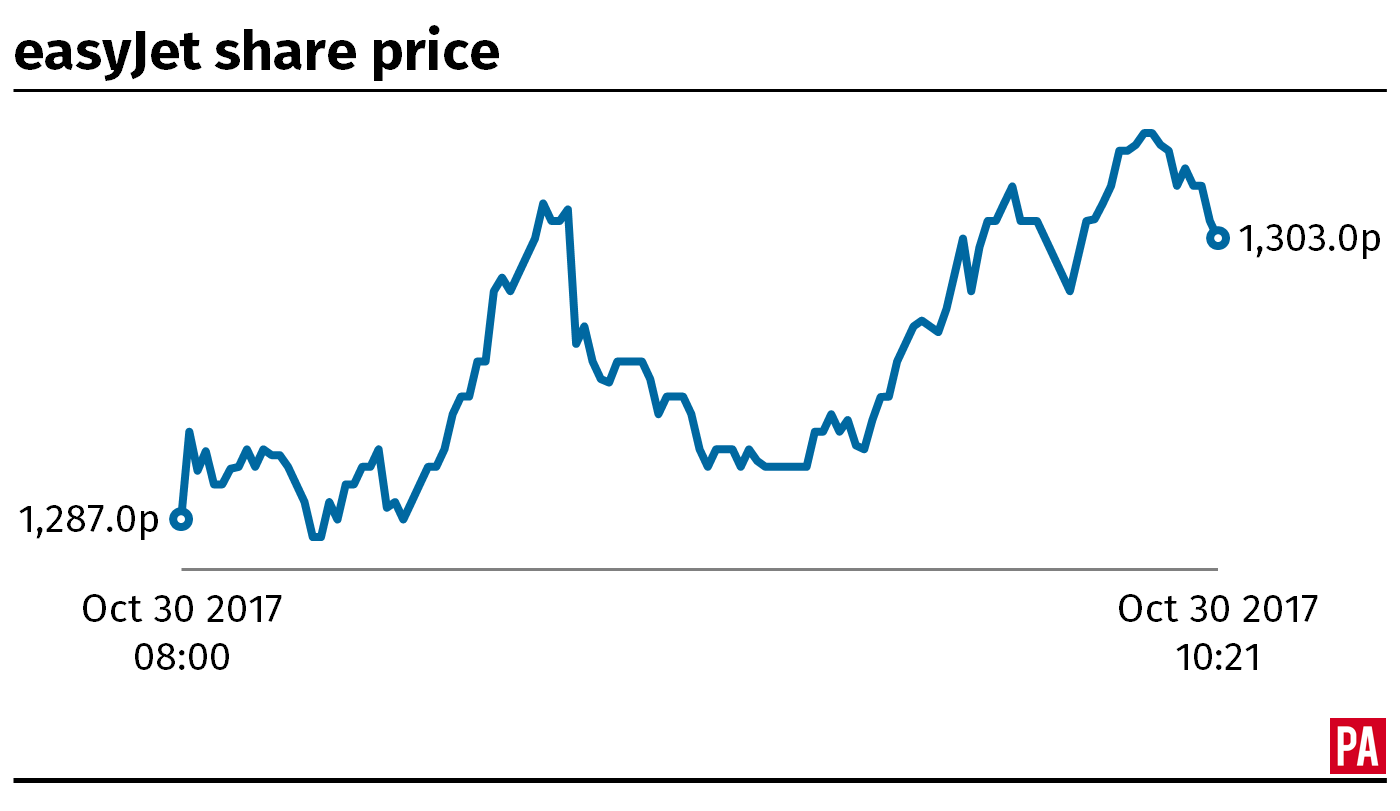 EasyJet shares were among the best performers on the FTSE 100 in morning trading (PA)
Neil Wilson, a senior market analyst at ETX Capital, said: "Opportunistic growth is not without risks but this looks a smart move for the company as it builds out its presence in Berlin and Germany.
"With Monarch also being carved up, there will be more scraps to fight over for the stronger carriers to cement their position."
Air Berlin, which was Germany's second-biggest airline and has some 8,000 employees, operated its last flight after 38 years on Friday, leaving its staff facing an uncertain future.
Taking on 1,000 Air Berlin staff
But easyJet has said it would be looking to employ 1,000 of Air Berlin's pilots and cabin crew as part of the deal.
The airline also said it would announce its routes to and from Tegel in due course, and that it would run a reduced timetable at the airport during the winter before aiming for a complete summer schedule in 2018.
Lufthansa plans to take over more than half of the Air Berlin fleet, and take on 3,000 staff, but the deal has yet to win competition clearance.
EasyJet said it expects to complete the acquisition – which is subject to regulatory approvals – in December.
Capital Com is an execution-only service provider. The material provided on this website is for information purposes only and should not be understood as an investment advice. Any opinion that may be provided on this page does not constitute a recommendation by Capital Com or its agents. We do not make any representations or warranty on the accuracy or completeness of the information that is provided on this page. If you rely on the information on this page then you do so entirely on your own risk.