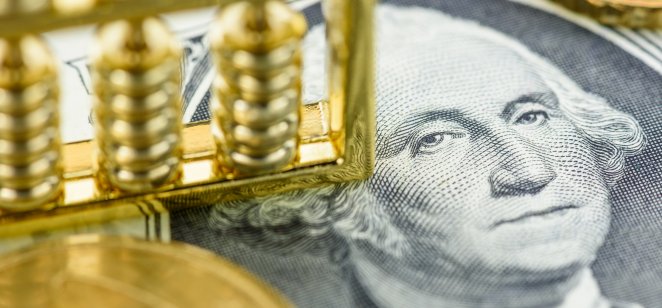 Content
The US dollar (USD) has emerged as the go-to safe-haven asset in 2022, supported by an aggressive monetary tightening policy by the US Federal Reserve (Fed). As a result, the US dollar index (DXY index), which tracks the performance of USD against a basket of currencies, has surged to a near 20-year high.
With inflation close to four-decade highs in the US and the Fed having made clear its inflation-taming priorities, the market is well aware of the difficult road ahead.
Investors are concerned about inflation data surprising on the upside, which could result in sharper-than-expected rate hikes and a prolonged tightening cycle. Nevertheless, such aggressive hikes will support the DXY index to remain at elevated levels.
With the DXY forecast in mind, let's look at what analysts expect from the US dollar and the DXY index amid a global monetary tightening cycle.
What is the US dollar index?
The US dollar index (DXY), the so-called 'Dixie', is a benchmark for the international value of USD and is the world's most recognised currency index. It was originally developed by the Fed in 1973. Today, it is maintained by the Intercontinental Exchange (ICE).
The DXY's value is calculated by comparing USD to six component currencies: the euro (EUR), Japanese yen (JPY), British pound (GBP), Canadian dollar (CAD), Swedish krona (SEK) and Swiss franc (CHF).
Not all the component currencies have the same weight. The euro has the highest weight on the index at 57.6%. The Japanese yen and British pound follow at 13.6% and 11.9%, respectively. This means that changes in the USD/EUR rate will have more influence on the DXY's value compared to changes in USD/JPY rates.
Weightage of Canadian dollar, Swedish krona and Swiss Franc on the index come in at 9.1%, 4.2% and 3.6%, respectively.

According to the ICE, there are no regular scheduled adjustments for rebalancing the DXY. It was adjusted in 1999 when the euro was introduced as the common currency of the EU. Data from ICE showed that the DXY index hit an all-time high of 164.72 in February 1985. Its all-time low stands at 70.698, reached in March 2008.
According to the ICE, the index is affected by several macroeconomic factors, including inflation and deflation in USD and component currencies, as well as recessions and economic growth in the countries of the component currencies.
Futures and options contracts based on the DXY index were introduced after 1985 allowing investors and hedge funds to make bets on their DXY predictions.
What is your sentiment on DXY?
Vote to see Traders sentiment!
DXY index performance: Fed rate hike cycle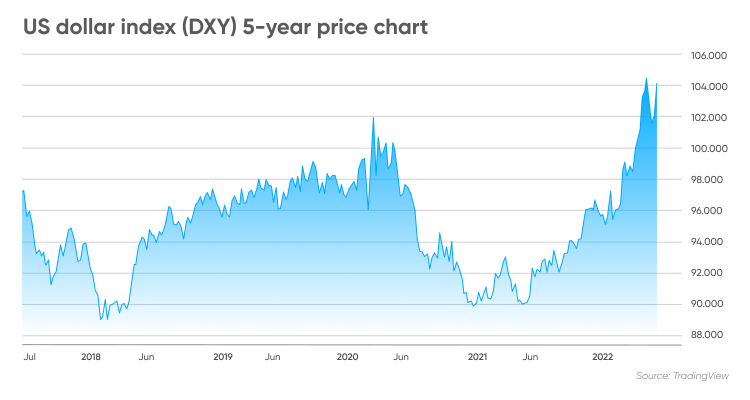 As of 16 June, historical charts show DXY rising from the start of 2021 aided by recovery in the US economy following the pandemic-induced slump.
As rising inflation captured headlines by the start of 2022, the DXY index would soon surge to its highest level in nearly 20-years by mid-June, supported by aggressive tightening policy in the US and relatively dovish strategies undertaken by its international peers..
Between January 2021 to mid-June 2022, the DXY gained over 17% to hit 105.788 points, its highest level since December 2002.
A bulk of the gains came in March and April 2022 as the index posted monthly rises of 1.6% and 4.7%, respectively, as the Fed hiked interest rates by 25 basis points (bps) in mid-March and by 50 bps in early May.
The higher-than-expected monthly inflation data for May showed US consumer prices accelerated at their fastest pace since 1981, setting the stage for a 75 bps hike not seen in nearly 20 years.
As the Fed hiked rates by an expected 75 bps, the DXY index snapped five consecutive days of gains to fall by about 0.7% to 104.8 on 15 June in what analysts said was a 'sell-the-fact' reaction.
| | |
| --- | --- |
| Long position overnight fee | -0.0138% |
| Short position overnight fee | 0.0041% |
| Overnight fee time | 21:00 (UTC) |
| Spread | 1.5 |
| | |
| --- | --- |
| Long position overnight fee | -0.0137% |
| Short position overnight fee | 0.0040% |
| Overnight fee time | 21:00 (UTC) |
| Spread | 2 |
| | |
| --- | --- |
| Long position overnight fee | -0.0043% |
| Short position overnight fee | -0.0035% |
| Overnight fee time | 21:00 (UTC) |
| Spread | 5.0 |
| | |
| --- | --- |
| Long position overnight fee | -0.0062% |
| Short position overnight fee | -0.0017% |
| Overnight fee time | 21:00 (UTC) |
| Spread | 1.0 |
"DXY's overnight reversal along with rates after the FOMC lifted rates 75bp speaks to elevated short term expectations more than anything else. DXY could ease back to the low-104s near term, before the uptrend resumes," said Westpac Strategy Group in its daily note.
DXY forecast for 2022 and beyond
The DXY performance for 2022 and beyond could hinge on the extent to which the Fed tightens its monetary policy and how international peers react, especially the European Central Bank (ECB) and the Bank of Japan (BoJ).
According to the Fed's economic projections published on 15 June, the central bank is now expecting rates at 3.4% by year-end compared to March projections of 1.9%. This comes as expectations of personal consumption expenditure (PCE) inflation for 2022 rose from 4.3% in March to 5.2%, as of 15 June.
The economic projection also suggested that the Fed could start cutting rates by 2024 after seeing rates peak at about 3.8% in 2023.
"The Fed's new forecasts sees them signal that the pace of policy tightening will remain intense over the next few months," said James Knightley, chief international economist at ING.
Knightley added that the Fed's projections imply around 175 bps of rate hike till the end of 2022 in the form of three 50 bp hikes and a 25 bp hike in the remaining four Federal Open Market Committee meetings.
"To get inflation lower quickly we ideally need the supply side capacity of the economy to better balance with strong demand. However, the geopolitical backdrop, Covid containment measures in Asia and the lack of worker supply in the US suggests this isn't going to happen soon. Consequently, inflation is likely to be slow and sticky on its descent, thereby putting the onus on the Fed to weaken demand via higher interest rates," said Knightley.
Knightley added that the ING expected the Fed to follow up with another 75 bp hike in July, a possibility that Fed Chair Jerome Powell has not dismissed.
"We then expect 50bp moves in September and November with a 25bp hike in December. This is close to where the market is pricing, which would be the most aggressive Fed tightening path since 1988," said Knightley.
Across the Atlantic, the Fed's 75 bps rate hike prompted a host of central banks to keep up. The Bank of England (BoE) refrained from an aggressive response and opted for a fourth consecutive 25 bps hike on 16 June to take bank rates up to 1.25%.
Meanwhile, the Swiss franc gained nearly 2% against the US dollar on 16 June as the Swiss National Bank (SNB) delivered its first rate hike in 15 years.
The SNB surprised markets with a 50 bps hike in bid to stay ahead of the ECB. In early June, the ECB announced that it would start its rate hike cycle with a 25 bps hike in July, followed by a 25 bps or 50 bps hike in September.
"Today's SNB statement marks a sea-change for the Swiss franc. For over a decade, the SNB had been battling deflation and battling Swiss franc strength," said ING in a note.
In Asia, the BoJ is under increasing pressure to join its international peers to pivot from its dovish policy. The Japanese government has urged the BoJ to take "necessary measures appropriately" having seen the yen fall to a 24-year low of over 135 against the USD.
In a note BofA Securities said:
"If the BoJ maintains its dovish stance, we think the risk of USD/JPY rising to 140 this summer increases… we think it is too early to build a long-term long JPY position and instead expect USD/JPY to peak in the fall given our outlook for the US rates and economic cycle."
With regards to DXY forecasts for 2022, Australian bank Westpac said:
"Chair Powell outlined a resolute path for taking Fed Funds to just shy of 4% by 2023, surely keeping risky assets unsettled for an extended period, and a feat the ECB will not come close to matching."
"DXY can make a run at 107 in Q3," added Damien McColough, Imre Speizer, Richard Franulovich and Robert Rennie of Westpac in the note.
Although Westpac did not share DXY forecasts for 2025 or 2030, senior economist Elliot Clarke looked forward and said in a separate note:
"Turning to markets, term interest rates are likely to peak ahead of the last Fed funds rate hike. Specifically, we forecast the 10-year to fall from 3.50% in September to 2.30% end-2023 and 2.00% end-2024."
"The consequence for the US dollar is that we continue to see it as being near its peak for this cycle" said Clarke while adding that the DXY index was forecast to decline to around 100 points by December 2022 and trend towards an additional 5% decline by the end of 2023.
"The first stage of this downtrend will be driven by a growing awareness that US growth prospects and risks are now similar to those of Europe and the UK. The latter leg will then occur as risks abate and confidence in the outlook for the global economy grows," explained Clarke.
Elsewhere, the Economy Forecast Agency's long-term DXY forecast for 2025 expects the DXY index to close at about 114 in 2025.
When looking at DXY forecasts for 2022 and beyond, it's important to keep in mind that analysts' predictions can be wrong. Economic DXY predictions shouldn't be used as substitutes for your own research. Always conduct your own due diligence before trading. Never invest or trade money you cannot afford to lose.
FAQs
Is DXY a good investment?

Whether the DXY index is a good investment for you or not will depend on your portfolio composition, investment goals and risk profile, among other factors. Different trading strategies will suit different investment goals with short or long-term focus. You should do your own research. And never invest what you cannot afford to lose.
Will DXY go up?

In its daily note dated 16 June, Westpac Strategy Group commented that the "DXY's overnight reversal along with rates after the FOMC lifted rates 75bp speaks to elevated short-term expectations more than anything else. DXY could ease back to the low-104s near term, before the uptrend resumes".

However, analysts' DXY predictions can be wrong and have been inaccurate in the past. Always do your own research before investing. Remember to never invest more money than you can afford to lose.
Should I invest in DXY?

Only you can decide whether the DXY is a suitable investment for you. It is important to always conduct your own due diligence before investing. Remember to never invest or trade money you cannot afford to lose.