Drillship owner Seadrill cleared to steer out of bankruptcy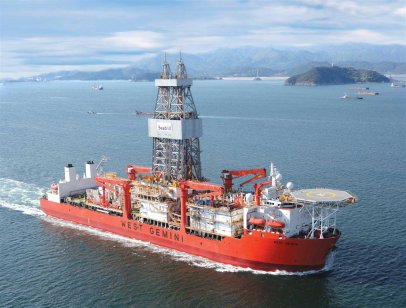 Offshore drilling contractor Seadrill Limited aims to leave US Chapter 11 bankruptcy protection within 60 days.
A US Bankruptcy Court confirmed Tuesday a reorganisation plan that transfers majority ownership of the Bermuda-based company to lenders, raises $350m of new finances and lowers debt by more than $4.9bn.
According to the disclosure statement that explains the plan to lenders and other stakeholders, senior lenders will exchange $5.6bn of debt for a new $750m debt takeback facility and 83% of the equity in the new company. An additional 16.75% of equity will be available to certain lenders who participate in a rights offering.
Existing shareholders will see their holding in the post emergence entity decrease to 0.25%.
Seadrill Limited filed for bankruptcy on 7 February 2021 in Houston, Texas.
The company is the parent of Seadrill, which emerged from bankruptcy itself in 2018. At that time, the oil and natural gas markets were in a sustained downturn which was further exacerbated by the Covid-19 pandemic and OPEC-Russia price war.
Financials
Seadrill Limited is one of the world's largest offshore drilling contractors and owns and/or operates 39 rigs, which includes drillships, jack-ups and semi-submersibles.
The company reported operating revenue of $452m for the first six months of 2021, down 2% year over year. The net loss narrowed to $605m from $2.9bn.
Total backlog was $2.1bn.
Shares trade on the Oslo Børs under the symbol "SDRL" and on the US over-the-counter markets under the symbol "SDRLF".
Read more: SHIB token reaches all-time high after 40% rally
The difference between stocks and CFDs:
The main difference between CFD trading and stock trading is that you don't own the underlying stock when you trade on an individual stock CFD.
With CFDs, you never actually buy or sell the underlying asset that you've chosen to trade. You can still benefit if the market moves in your favour, or make a loss if it moves against you. However, with traditional stock trading you enter a contract to exchange the legal ownership of the individual shares for money, and you own this equity.
CFDs are leveraged products, which means that you only need to deposit a percentage of the full value of the CFD trade in order to open a position. But with traditional stock trading, you buy the shares for the full amount. In the UK, there is no stamp duty on CFD trading, but there is when you buy stocks.
CFDs attract overnight costs to hold the trades, (unless you use 1-1 leverage) which makes them more suited to short-term trading opportunities. Stocks are more normally bought and held for longer. You might also pay a stockbroker commission or fees when buying and selling stocks.