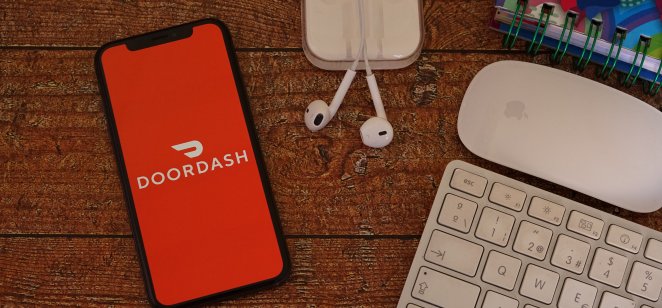 Content
The US IPO market has been a hot topic this year. Amid the ongoing Covid-19 pandemic and growing economic uncertainty, many famous companies such as Palantir (PLTR), Asana (ASAN), Snowflake (SNOW), Unity Software (U), McAfee (MCFE), ZoomInfo (ZI), GoodRx (GDRX) and Lemonade (LMND) have gone public in 2020, raising billions of dollars and providing investors with even more opportunities to make hefty profits.
In fact, by December 3, there have been more than 400 IPOs on the US stock market this year, according to the information provided by Stock Analysis. This figure is 84 per cent higher than in the same period in 2019, when only 222 firms became publicly traded.
And while this year is about to be over, there are still a few more exciting initial public offerings on which to look forward. One is the biggest US food delivery company – DoorDash – which is seeking to raise up to $2.8bn.
The event is highly anticipated on Wall Street. But does it mean that you should rush to add the firm's shares to your portfolio as soon as the DoorDash IPO happens?
To help you make an informed investment decision and decide whether this stock is worth your time and money, in this article we cover everything you need to know about the business and its listing details.
What is DoorDash and is it really that big of a deal in the market?
Launched in 2013, DoorDash is a San Francisco-based on-demand food delivery company and one of the largest tech-driven players on the market. Initially, its key service was restaurant food delivery. However, the business has also provided last-mile delivery for grocery retailers through its white-label Drive service, with retailers fielding, picking and packing the orders. Grocery retailers that have used the service include Walmart, Woodman's Market, Coborn's and ShopRite.
In August 2020, the company announced its expansion in the grocery delivery market through the launch of its new membership programme DashPass. Fuad Hannon, the head of new verticals at DoorDash, commented on the new service: "We have been partnering with folks like Walmart, Albertsons and Hy-Vee on the last-mile logistics product called DoorDash Drive, where consumers go to those stores' apps or websites to place orders and then we power the delivery. What we are now announcing is the ability for users to go to DoorDash.com or the DoorDash app and purchase their groceries on the DoorDash platform."
With this subscription service, customers pay a monthly fee of $9.99 for unlimited deliveries for orders of at least $12.
"What is particularly exciting about this is that, one, it will truly be an on-demand experience – no delivery time slots or windows and delivery in an hour."
The company's new end-to-end online grocery marketplace solution includes ordering, fulfilment and delivery. Grocery retailers that have already signed up for the service include Hy-Vee, Smart & Final, Fresh Thyme Market, Meijer and Gristedes/D'Agostino.
The business hopes that in the future, "this membership programme will become a wallet for the physical world, where a consumer can access not only restaurants, but all the local businesses in their community, and receive benefits while shopping in-store, at home, or anywhere in between".
As the Covid-19 pandemic has forced people to stay indoors this year, DoorDash has gained millions of customers who, instead of going to restaurants, order their food through the platform. Today, the company provides on-demand delivery and logistics services to local and national businesses in more than 4,000 cities across the US, Canada and Australia. With more than one million delivery personnel, also known as Dashers, it connects nearly 390,000 merchants with 18 million consumers.

Besides grocery, the business has recently entered the drugs and convenience store retail markets, establishing partnerships with Walgreens, CVS Pharmacy, 7-Eleven, Casey's, Circle K and WaWa.
Moreover, in October, the business made a deal to provide on-demand, same-day delivery of prescription drugs for Sam's Club. The service covers more than 500 Sam's Club pharmacies in 41 states.
Rapidly improving numbers: the company's financial health before the IPO
In 2020, DoorDash has ridden the wave of growing demand for home deliveries. In its S-1 filing, the business revealed not only a stellar hike in revenues, but also its first profitable quarter on track.
For the first nine months of this year, DoorDash posted $1.9bn in sales, an impressive 225 per cent rise from $587m during the same period in 2019. It had around 543m orders on its platform worth $16.48bn. Its net loss narrowed from last year's $533m to $149m. The business also reported a gross profit of $944m and a profit on an adjusted EBITDA basis of $95m.
However, the company's sales figures were rising even before the coronavirus outbreak: its revenue surged more than 200 per cent from $291m in 2018 to $885m in 2019.

| | |
| --- | --- |
| Long position overnight fee | -0.0138% |
| Short position overnight fee | 0.0041% |
| Overnight fee time | 21:00 (UTC) |
| Spread | 1.5 |
| | |
| --- | --- |
| Long position overnight fee | -0.0500% |
| Short position overnight fee | 0.0140% |
| Overnight fee time | 21:00 (UTC) |
| Spread | 60.00 |
| | |
| --- | --- |
| Long position overnight fee | -0.0157% |
| Short position overnight fee | 0.0056% |
| Overnight fee time | 21:00 (UTC) |
| Spread | 0.18 |
| | |
| --- | --- |
| Long position overnight fee | -0.0500% |
| Short position overnight fee | 0.0140% |
| Overnight fee time | 21:00 (UTC) |
| Spread | 0.00600 |
In the second quarter of 2020, at the peak of the stay-at-home orders in the US, DoorDash had a net income of $23m. In the third quarter, the figure fell back to a $43m loss. However, if revenues continue to grow at a faster pace than expenses, the business might soon become profitable.
In the meantime, it is worth noting that in its SEC filing, the company said: "In connection with the audit of our consolidated financial statements as of and for the years ended December 31, 2018 and 2019, we and our independent registered public accounting firm identified a material weakness in our internal control over financial reporting.
"The material weakness occurred because we had inadequate processes and controls to ensure an appropriate level of precision related to our revenue to cash reconciliation process, and we did not have sufficient resources with the adequate technical skills to meet the emerging needs of our financial reporting requirements."
To address this problem today, DoorDash is "hiring additional accounting, engineering and business intelligence personnel and are implementing process level and management review controls to identify and address emerging risks".
DoorDash stock IPO: everything you need to know

The company revealed its plans to go public in February 2020. On November 13, its S-1 application to the US SEC was published, with the Amendment No.1 added on November 30. In the latter document, the business stated it would sell 33 million shares of Class A common stock, with the share price expected to be between $75–$85, allowing the business to raise from $2.48bn to $2.81bn.
According to the filing, there will be nearly 317.7 million shares outstanding after the offering and, at the high end of the expected range, the DoorDash IPO valuation could go all the way up to $27bn. This figure soars to nearly $32bn if taking into account restricted stock units and employee stock options.
Such a high DoorDash IPO stock price estimate took many investors by surprise, as in June, the company's private valuation was only $16bn. However, it is important to note that the DoorDash IPO price range might still change.
Currently, the company's founder and CEO Tony Xu holds 41.6 per cent of Class B shares, while co-founders Fang and Tang hold approximately 39 per cent each. The business' biggest shareholders holding Class A shares include SoftBank Vision Fund, with 24.9 per cent of shares, and Sequoia Capital, with 20.4 per cent.
The company's shares will trade on the New York Stock Exchange under the ticker symbol "DASH". Goldman Sachs (GS), JP Morgan (JPM), Barclays (BARC), Deutsche Bank (DBK), RBC Capital Markets (RY) and UBS Group (UBS) will be among the IPO's underwriters.
The DoorDash IPO date is set for Tuesday, December 8, with its shares starting to trade on the exchange the following day.
What next for the business?
The DoorDash IPO news came right after California voters passed Proposition 22, a costly ballot measure that exempts on-demand delivery companies from reclassifying their drivers to employees. But regardless of this positive shift in the gig economy, DoorDash noted that it is still "subject to a variety of US laws and regulations, including those related to worker classification, Dasher pay, and pricing and commissions, many of which are unsettled and still developing".
Moreover, the company also acknowledged that the ongoing pandemic has helped to boost its revenues this year, adding that "the circumstances that have accelerated the growth of our business stemming from the effects of the Covid-19 pandemic may not continue in the future".
It added: "We expect the growth rates in revenue, Total Orders and Marketplace GOV to decline in future periods."
Nevertheless, while DoorDash has yet to debut on the market, Tom White, an analyst at D.A. Davidson, has already issued a Buy recommendation on the stock. On December 1, White set a share price target of $93.
The analyst wrote in a research note: "Our rating reflects [the company's] leading market position in US online food delivery, strong recent share gains, and better-than-expected recent profitability trends.
"These positives, along with attractive adjacent opportunities in grocery/retail delivery and logistics solutions, outweigh near-term risks around likely slowing growth post a Covid vaccine and increasing regulation."
Moreover, White expects DoorDash to generate revenue of $4.5bn in 2021 and $5.4bn in 2022.
According to the S-1 statement, the company's growth strategy going forward is mainly focused on broadening its network of merchants and increasing consumer adoption. The business is also looking forward to building "a reliable, high-quality and operationally efficient logistics network".

Read more: Airbnb IPO: read this before you invest in the stock