DoorDash files lawsuit challenging NY data sharing law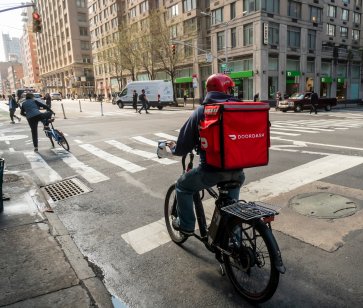 DoorDash has filed another lawsuit against New York City, this time over a law that requires the company to share more data with its customers.
Last week, the company joined Uber Eats and GrubHub in a lawsuit challenging the city's 15% delivery fee cap. Lawmakers voted to extend the cap into 2022 even as other cities have rescinded similar policies.
The company described the data sharing law in a press release as one that ultimately "threatens the safety and privacy of New York City consumers."
"We remain committed to fighting on their behalf to keep this harmful, first-of-its-kind legislation from taking effect," the statement continues.
The law is slated to go into effect in December.
Shares of DoorDash finished Wednesday's trading session up 3.17% at $209.85(£151.63) per share.
Delivery fees
Delivery fees and other charges levied by third-party delivery services such as DoorDash received renewed scrutiny during the pandemic as restaurants relied heavily on such companies to survive.
In response, several cities passed fee cap legislation that prevents these companies from charging more than a 15% commission for their services.
DoorDash argues that these policies prevent the company from providing flexible payment options for its customers and thereby restrict access to products that have "helped move countless restaurants online easily as they pivoted and re-pivoted their businesses to meet the changing demand and incredible challenges brought on by the pandemic," the press release says.
Data sharing
As for the data sharing legislation, DoorDash argues in its release that the bill would destroy the trust between the business and its customers by "forcing delivery platforms to disclose sensitive, personal customer data to restaurants without any protections for that data."
On top of that, the company says the law will require it to turn over sensitive company information and could impair the "thousands of contracts" the company has with New York restaurants.
However, New York City councilor Keith Powers, who wrote the legislation, told The Verge that the bill is really designed to "provide relief to eateries to have better access to customer data and provides strong privacy protections."
"Restaurants are the lifeblood of New York's economy and culture, and I'm proud that the City Council has stood by our local establishments and New York diners. I encourage DoorDash to drop this lawsuit immediately," Powers said.