Dollar down as Fed paves way for 0.5% gear change: Downshift won't be smooth
Subscribe to Weekly Highlights
The major market events for the week ahead right in your inbox.
Subscribe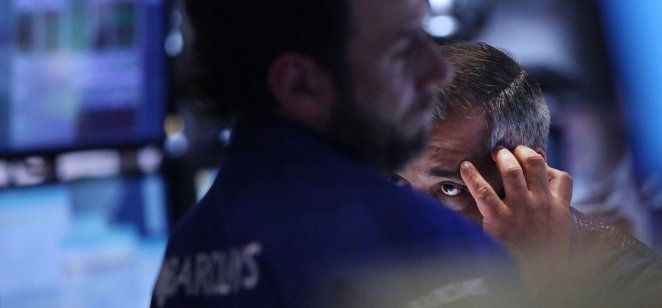 Content
Smaller rate rises are coming. The FOMC minutes, a key risk event for USD, yesterday signalled a possible 0.5% step-down December hike after four straight 0.75 point rises.
A "substantial majority" of Federal officials now support slowing the pace of rate rises soon.
The pound gains on dismal US PMIs to hit a three-month high
However, the terminal rate – the rate at which the Fed will stop rates rising – may land higher than markets thought. The rate tip-toeing means every rise drags the US economy closer to the brink of recession.
Dire US PMIs yesterday did not help: business activity contracted for a fifth straight month in November.
What is your sentiment on EUR/USD?
Vote to see Traders sentiment!
FX strategist and finance consultant at Keirstone, Francis Fabrizi
GBP/USD is seeing bullish momentum this morning, attempting to reach the 1.2280 resistance level says Fabrizi. "If price is able to break and hold above this level, 1.2500 is likely to be the next target."
"However if price fails to breach the resistance level, it is possible it will fall back towards 1.1900. Looking at the higher timeframes, price is still in a bearish trend overall."
"The bullish move we are seeing could be a deep pullback which is allowing sellers to position themselves for a bigger push to the downside."
"Similarly, EUR/USD is showing strength this morning and is pushing higher towards the 1.0500 resistance level. If price breaks and holds above this level, I believe 1.0600 will be the next target."
"If price gains bearish momentum from this level, it is likely 1.0325 will be the next downside target."
"The higher timeframes are showing EUR/USD is still bearish overall suggesting price will weaken again once it has finished its bullish pullback."
Killing inflation softly – or not enough?
The larger question is how far the Fed will go to meaningfully tame inflation, as well as what happens after December. In other words, how high and how long?
ING's Francesco Pesole says a switch to a much lower 25bp increase at the January meeting is "increasingly likely".
Yet the terminal rate could still go to 6% if inflation doesn't cool (though the market does not expect this currently). If the economy does cool – and is shown to be cooling in early 2023, think inflation, employment levels and housing pressures – then this rate could be capped at 4.75%.
| | |
| --- | --- |
| Long position overnight fee | -0.0050% |
| Short position overnight fee | 0.0004% |
| Overnight fee time | 22:00 (UTC) |
| Spread | 0.00050 |
| | |
| --- | --- |
| Long position overnight fee | -0.0085% |
| Short position overnight fee | 0.0024% |
| Overnight fee time | 22:00 (UTC) |
| Spread | 0.00140 |
| | |
| --- | --- |
| Long position overnight fee | 0.0046% |
| Short position overnight fee | -0.0126% |
| Overnight fee time | 22:00 (UTC) |
| Spread | 0.090 |
| | |
| --- | --- |
| Long position overnight fee | -0.0037% |
| Short position overnight fee | 0.0000% |
| Overnight fee time | 22:00 (UTC) |
| Spread | 0.00210 |
U-turns – never a good decision
Pesole says the greenback has already absorbed a lot of economic negativity when it comes to the Fed rate hiking narrative.
"In our view [DXY] can still benefit from the deteriorating outlook outside of the US, especially in Europe and China, in the coming months. "While we don't exclude the dollar contraction to take DXY below 105.00, we struggle to see sub-105 levels holding for very long."
The Fed's dilemma is the outcome of highly accommodative money supply and policy-making for many years. Result: real economic overshoot risk versus the possibility of a cost-intensive and chaotic reverse turn.
Heavy braking warning:
Some fear, data-wise, that the Fed has been fixated with the rear view mirror with not enough eyes on the road ahead. Higher risk if inflation is ebbing and the economy is cooling.
"A slower pace…would better allow the committee," said the FOMC minutes "to assess progress toward its goals of maximum employment and price stability".
The overnight borrowing rate is now set at 3.75%-4%, the highest for 14 years.
Currency expert at MUFG Bank, Derek Halpenny, says Covid infections hitting record high levels in China and recession risk in Europe means "there are limits to the scale of US dollar selling that should mean this long dollar squeeze does not have too much further to go".
A last thought from financial services expert George Ball. Killing inflation is not just about killing a snake he says. "First you have to kill the snake, then you have to cut the head off the snake and show it to everyone in the village – so that they knew [know] the snake was dead."
Around 12.30pm DXY was down 0.19% at 105.55 while EUR/USD was 0.09% higher at 1.0404. The GBP/USD was 0.57% up at 1.211; and USD/JPY was 0.87% down at 138.31.
Related reading