The South African rand (ZAR) strengthened against the US dollar (USD) over the past month as an interest rate hike and the positive economic outlook on the country boosted the currency.
The dollar against rand exchange rate was trading at 15.77 at the time of writing on 26 May, down 0.56% compared with a month ago but up 14% from the same time last year. The USD vs ZAR rate had a significant fall in the first quarter of the year, starting at 15.96 on 1 January and reaching a low of 14.49 on 31 March.
The USD/ZAR trend reversed in April, as the rand weakened against the dollar when South Africa's key industrial region, KwaZulu-Natal province was severely hit by unseasonably heavy rainfall and flooding. This was declared a national disaster and badly disrupted industrial operations in the province, leading to lower output for the month.
According to S&P Global Purchasing Managers' Index (PMI) published on 5 May, South Africa's PMI fell to a four-month low of 50.3 in April, down from 51.4 in March. A PMI index above 50 indicates rising output and new orders, while below 50 signals a decline in business activity and sales.
"Output levels decreased at a faster rate compared to the previous month. Alongside a fall in demand, activity was negatively impacted by load shedding and floods in the KwaZulu-Natal province. The downturn was the strongest seen in 2022 so far, albeit modest overall," said S&P.
David Owen, an economist at S&P Global, added:
"In addition to the local and overseas supply issues, "higher fuel prices were a particular concern for both businesses and households, while a depreciation of rand added to the total costs."
Following an interest rate hike by the South African Reserve Bank (SARB) on 19 May, the monetary tightening has provided support to the currency against the dollar.
Are you interested in learning more about the USD/ZAR outlook in the near-to-mid term? Read this analysis for the latest USD/ZAR news affecting market and analysts' dollar to rand prediction.
South Africa delivers fourth consecutive rate hike in May
On 19 May, the monetary policy committee of the South African Reserve Bank (SARB) voted to increase the repurchase rate to 4.75%, up by 50 basis points from 4.25% previously. This monetary widening was widely anticipated and was the fourth consecutive rate hike since South Africa started to implement policy normalisation to roll back the Covid-19 related measures.
Like many countries, South Africa is raising interest rates to counter the effect of inflation, which has pushed food and fuel prices higher since early this year. SARB's governor Lesetja Kganyago commented on the hikes:
"Higher than expected inflation has pushed major central banks to accelerate the normalisation of global policy rates, tightening global financial conditions. On balance, and with some exceptions, capital flow and market volatility is expected to remain for emerging market assets and currencies. Alongside currency depreciation, other risks to the inflation outlook, such as elevated food and fuel prices, have been realised."
The SARB expected inflation in South Africa to reach 5.1% in 2022 and 5% in 2023, up from the previous projections of 4.48% and 4.7% respectively.
"Economic and financial conditions are expected to remain more volatile for the foreseeable future. In this uncertain environment, policy decisions will continue to be data dependent and sensitive to the balance of risks to the outlook," said Kganyago.
Economic analysis and forecast data provider FocusEconomics predicted the SARB repo rate ending 2022 at 5.15% and 2023 at 5.56%.
Higher commodity prices support South African economy, but downside risk remained
Despite the economic uncertainty brought about by the ongoing war in Ukraine, several rating agencies have upgraded their ratings on South Africa's economic outlook because of higher commodity prices. South Africa is a major producer of platinum, palladium and gold, and rising prices this year have lifted revenue from mining operations.
In April, ratings agency Moody's upgraded South Africa's outlook to 'stable' from 'negative', citing that the country's fiscal outlook would help the government stabilise its debt burden over the medium term.
Following Moody's upgrade, S&P Global affirmed the country's 'BB-' rating and upgraded the outlook to positive.
Despite the improving economic outlook, analysts' expectations for South Africa are weighed down by the ongoing war in Ukraine, which has created uncertainty and limited global growth. On 28 March, S&P Global warned:
What is your sentiment on USD/ZAR?
Vote to see Traders sentiment!
"Rising commodity prices are benefiting some commodity exporters, such as Saudi Arabia (oil) and South Africa (iron ore, platinum, gold). However, the deceleration in global growth and hit to confidence will likely limit these gains."
FocusEconomics expected South Africa's gross domestic product (GDP) to "expand at a markedly softer pace this year, as downside risks pile up. Power cuts and extreme weather events – such as destructive floods – will weigh heavily on industry. Meanwhile, the astronomical unemployment rate and the controversial employment quotas may exacerbate social tensions. New Covid-19 strains amid a low vaccination rate further cloud the outlook." FocusEconomics forecast the economy expanding 1.9% in 2022 and 1.8% in 2023.
According to S&P Global forecast in March, it expected South Africa's real GDP at 2.4% in 2022, falling to 1.5% in 2023 and 2024.
USD/ZAR technical analysis
According to FX Street's technical analysis on the currency pair, USD/ZAR could reach the 17 level if it could break past the stubborn resistance at 16.35. The rising US real yields and the Chinese economic slowdown are weighing on emerging markets, said FX Street on 19 May.
Dollar to rand exchange rate forecast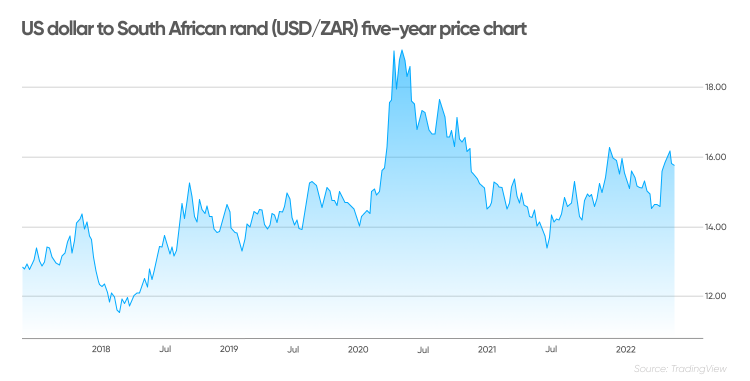 As of 26 May, AI-based forecaster Trading Economics expected the South African rand to depreciate further and trade at 16.08 against the US dollar by the end of the second quarter of 2022. Trading Economics' USD/ZAR prediction was at 16.69 in 12 months' time.
Wallet Investor's USD/ZAR projections were also bearish, predicting ZAR could weaken against the dollar to 15.881 in the next 12 months, rising to 16.31 in five years' time.
The Economy Forecast Agency expected the ZAR value to fluctuate against the dollar in the second half of the year. It projected the exchange rate to rise to a high of 16.383 in July 2022 before easing to 14.659 to 15.64 in the fourth quarter, staying mostly above 15.00 in 2023 and falling to below 15.00 in 2024. In 2025, the exchange rate is expected at 14.01-15.69.
Due to the economic uncertainty, analysts have refrained from making long-term forecast to 2030.
Note that analyst forecasts can be wrong. Forecasts shouldn't be used as a substitute for your own research. Always conduct your own due diligence before investing. And never invest or trade money you cannot afford to lose.
FAQs
Will USD/ZAR go up or drop?

As of 26 May, analysts at Trading Economics expected USD/ZAR could rise to 16.08 by the end of Q2 202, while Wallet Investor forecast the exchange rate to rise to 15.881 in the next 12 months.

However, analysts' forecasts can be wrong and have been inaccurate in the past. You must conduct your own USD/ZAR analysis and research. And never invest more money than you can afford to lose.
Why has the USD/ZAR rate been dropping?

The USD/ZAR exchange rate has been falling over the past month because rating agencies such as Moody's and S&P Global upgraded its economic outlook on South Africa, which boosted investors' sentiment for the country's currency. In addition, the interest rate hike by South Africa Reserve Bank has also supported the rand.
What affects USD/ZAR value?

Macroeconomic factors such as the GDP, PMI and employment levels affect the value of the South African rand, and monetary policy by the country's central bank will also impact the exchange rate.
What is the best time to trade USD/ZAR?

The best time to trade USD/ZAR is from 1300 to 1700 GMT. This is the time when both the London market and New York market are open and trading transactions from both markets means activity and liquidity are at their highest level.