Dollar strength underpinned by rising inflation expectations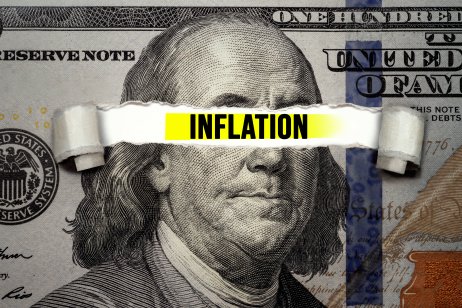 The dollar was higher on Wednesday against its main rivals, supported by fading risk appetite and a heady mix of evidence that higher inflation expectations are becoming more embedded.
The US Dollar Index, a measure of the nation's currency strength relative to a basket of its main rivals, was 0.2% higher at 94.17 in early London trade as investors sought safety from an opening fall on European equity markets.
Just minutes after the start of trade for Europe's stock indices, the pan-European STOXX 50 was down 1.3%, while the FTSE 100 in London fell 1% and both the CAC 40 in Paris and the DAX 30 in Frankfurt were 1.3% lower.
Inflation concerns mount
While risk-off sentiment appeared to be building on Wednesday, the dollar has found support in recent weeks from rising concerns that US inflation is stickier than the Fed's initial assessment of "transitory" price pressures.
The Consumer Price Index stood at 5.3% in September – down slightly from August's 13-year high of 5.4% – but with energy prices moving swiftly higher, added to supply chain issues that are forcing up industrial input prices, upward inflation expectations are starting to become embedded.
"Surging energy prices and what central bankers plan to do about them dominate FX markets right now," said Francesco Pesole, FX strategist at ING.
Pesole added that moves in the forward inflation swaps market and the Treasury inflation-protected securities (TIPS) market suggested higher US interest rate expectations.
"The Fed frequently tells us that despite welcome growth and employment trends, inflation expectations remain well-anchored. But, looking at market-based evidence, inflation expectations have broken decisively to the upside over recent days," he said.
US employment data
Investors were taking bullish positions on the dollar ahead of this week's employment data – the main event being Friday's non-farm payrolls data with consensus estimates predicting around 490,000 new jobs being added to the US economy in September.
The preamble to this, however, is the ADP jobs report later on Wednesday – with expectations of around 430,000 new jobs being created in September.
"Any good news on US jobs this week should see short-term US rates and the dollar strengthen," said Pesole.
Against the pound, the dollar climbed 0.4% to $1.3577 and was 0.2% higher versus the euro at $1.1571. The yen was 0.2% lower against the dollar at JPY111.59.
Read more: US services sector activity up in September