Dollar firm ahead of US CPI, NZD slips and TRY hits new lows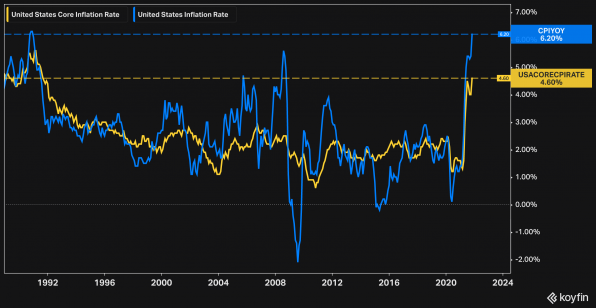 The US dollar holds firm in European morning trading, as investors await key US Consumer Price Index (CPI) inflation data at 1.30 pm GMT on Friday.
A higher than expected CPI print might further bolster US dollar's strength, as the Fed would accelerate its tapering and markets would price in a quicker pace of rate hikes next year.
Yesterday, the session was marked by a risk-off tone, with euro losing 0.4% against the dollar, and the Japanese yen gaining 0.2% against the greenback.
US Dollar index (DXY) was last seen at 96.33, up 0.1% on the day. The US dollar edged up against its major peers, including the Japanese yen (JPY) and the Swiss franc (CHF) the euro (EUR) and British pound (GBP).
Risk-sensitive New Zealand (NZD) and Australian dollar (AUD) were weighed down by a deterioration in the investors' risk appetite yesterday, falling by 0.3% vis-à-vis the US dollar. Today, the NZD is down 0.3% further, while the AUD is almost unchanged.
Oil-related Norwegian krone (NOK) was the outperformer across G-10 currencies, while and Canadian dollar (CAD) remained stable, thanks to rising crude prices overnight.
Elsewhere, emerging market currencies extended their losses, with the South African rand (ZAR) dropping 0.5%, after plunging as much as 1.5% yesterday, the Mexican peso (MXN) falling 0.3% and the Russian ruble (RUB) losing by 0.2%. Meanwhile, the Turkish lira plummeted to new all-time lows against the dollar, with the USD/TRY pair reaching 13.92, as inflation expectations continue to climb.
What is your sentiment on NZD/USD?
Vote to see Traders sentiment!
Forex Daily Matrix – 10 December 2021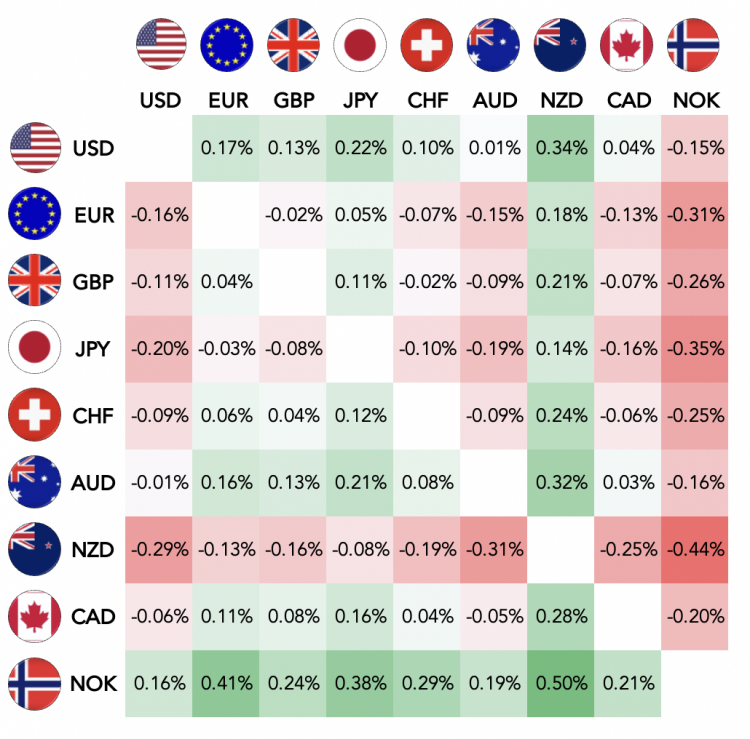 Forex Daily Matrix as of 10 December 2021, 10:30 a.m. GMT
US Dollar
As of writing, the US Dollar Index (DXY) was at 96.33 levels, up 0.13% on the day.
Market focus is on inflation numbers to be released today. Consensus among economists expects US CPI to hit 6.8% year-on-year (y/y) in November, up from 6.2% y/y in October. Core CPI – which excludes the inflation in food and energy items – is projected to jump to 4.9% y/y from 4.6% y/y in October.
A stronger than expected inflation reading may support further dollar gains, as Fed policymakers might accelerate the pace of tapering and the market would begin pricing in quicker interest-rate hikes next year.
US money markets now attribute a 62% probability to a rate hike as soon as May 2022, and a 66% chance to cumulative three hikes by the end of 2022, according to CME's latest FedWatch Tool.
Yesterday, US initial jobless claims for the first week of December fell by 43k to 184k, the lowest level since 1969 and well below a forecasted 220k. Falling initial claims to record lows signal a continuous improvement in the US labour market conditions.
Meanwhile, Treasury yields revamped overnight, with the 2-year Note and 10-year Note now yielding 0.72% (up by 3 basis points) and 1.52% (+2bps) respectively.
Next week the Federal Open Market Committee (FOMC) will convene on December 15.
US dollar (DXY) technical levels:
52-week high: 96.82
52-week low: 89.22
50-day moving average (1-day chart): 94.86
200-day moving average (1-day chart): 92.65
14-day Relative Strength Index (RSI) (1-day chart): 61.86
Chart of the day: will US CPI jump above 30-year highs today?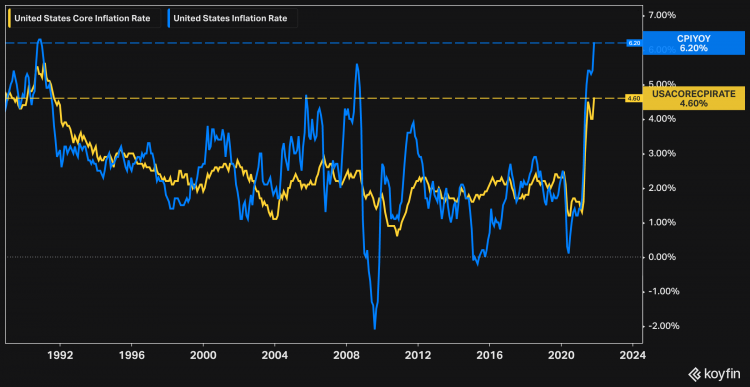 US CPI and Core CPI inflation rate since 1990 – Credit: Koyfin
Euro
EUR/USD was last at 1.1273, down 0.2% on the day.
Yesterday, the euro fell to an intraday low of 1.1280 on speculations that ECB officials may contemplate a temporary boost in the Asset Purchase Program (APP) at their meeting next week.
Today's economic calendar in Europe is devoid of significant events and EUR/USD traders will focus their attention on the release of the US inflation data.
EUR/USD technical levels:
52-week high: 1.2349
52-week low: 1.1184
50-day moving average (1-day chart): 1.1472
200-day moving average (1-day chart): 1.1801
14-day Relative Strength Index (RSI) (1-day chart): 40.55
British pound
The cable (GBP/USD) was trading at 1.3202, down 0.13% on the day, while EUR/GBP was roughly unchanged at 0.8536, by 10:30 GMT.
Today's UK data came in below expectations, with the Gross Domestic Product (GDP) growth at 0.1% month-on-month (m/m) in October (vs. 0.4% expected), industrial production contracting 0.6% m/m (vs. +0.1% expected) and construction output expanding at 3.2% y/y (vs. +5% expected).
Meanwhile, the spread of the Omicron variant continues raise warnings in the UK, with experts saying that cases might surge to 60,000 a day by Christmas.
On the Brexit front, tensions between France and the UK erupted over the fishing dispute, with French President Emmanuel Macron accusing London of failing to keep its promise, while France's EU Minister Clément Beaune says he will ask the EU Commission to initiate legal proceedings if the issue is not resolved by Friday night.
GBP/USD technical levels:
52-week high: 1.4248
52-week low: 1.3133
50-day moving average (1-day chart): 1.3523
200-day moving average (1-day chart): 1.3786
14-day Relative Strength Index (RSI) (1-day chart): 30.93
Forex Performance Heatmap – 10 December 2021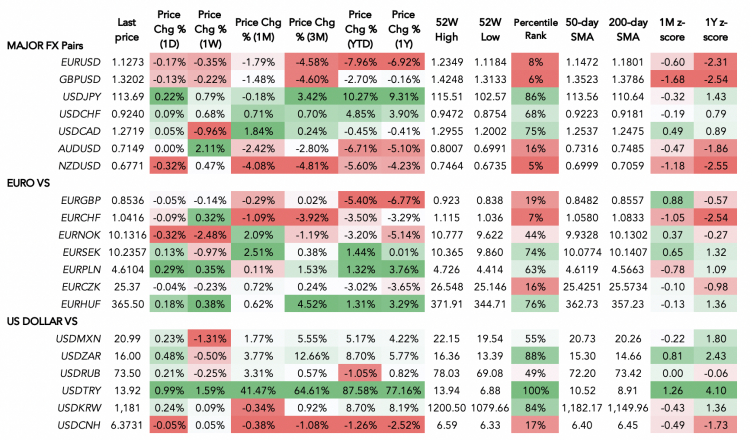 Forex Performance Heatmap as of 10 December 2021, 10:30 a.m. GMT
Other currency pairs (% change from previous close):
Read more: USD firm post Powell's remarks, commodity currencies rebound