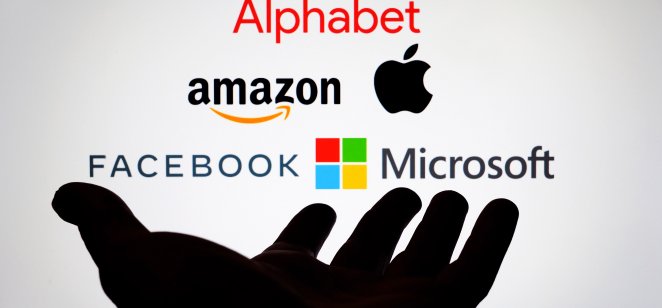 Content
Despite US Federal Reserve interest-rate hikes and a possible war in the Ukraine, the rest of 2022 should be a buying season for big-name tech stocks, according to Wedbush analyst Daniel Ives and others.
But lesser-known tech companies could suffer.
"Our view is: While the macro and Fed talk will rule the day, the underlying growth factors for tech remain very healthy for 2022 and have thus created unique opportunities to own subsectors and tech names way oversold at current levels, in our opinion," wrote Ives in a client note that he provided to Capital.com.
According to MarketWatch, analysts polled by FactSet are projecting large stock gains, ranging from 13% to 67%, for 10 big-name companies over the next year. Corning is at the low end of the range, while PayPal is at the top.
Fiserv, Analog Devices, and Alphabet are other companies that are expected to see gains of more than 30%.
Companies showing strength
Expanding on polling data collected by FactSet, MarketWatch recently determined that 83 tech companies had an average price-to-earnings ratio of 28 to 1, and an average forward free cash flow (FCF) yield of 4.54%. Free cash flow refers to money that a company has left after capital expenditure. An FCF yield is a company's FCF per-share estimate for the next 12 months divided by the current share price.
Some large tech firms, like Netflix and Facebook parent Meta have seen "black-eye" earnings results in recent weeks, Ives noted. But giants Microsoft, Apple, Google parent Alphabet, Advanced Micro Devices (AMD), and Amazon have flourished along with other software, cloud-computing, cybersecurity, and microchip firms, and the tech earning season, which he considers crucial to offsetting stock-price decimation, has been "a robust one overall."
"We believe, on the large-cap front, tech stalwarts such as Microsoft and Apple represent compelling risk/rewards at current levels," Ives wrote.
He views current large-enterprise digital transformation spending as unprecedented and anticipates $1trn of spending on the cloud in coming years as investors focus on big-data analytics, cybersecurity, artificial intelligence (AI) and 5G networks.
"In a nutshell, multiples will compress but the underlying growth for the tech space is still being underestimated by the Street and will thus neutralise some of these Fed tightening headwinds for 2022," Ives wrote.
What is your sentiment on META?
Vote to see Traders sentiment!
Market depressed by "Fed talk"
Ives said the market remains "handcuffed" by "Fed talk," and uncertainty surrounding the number of upcoming interest-rate hikes, and "valuation sensitivity to with risk-off mentality a clear overhang for tech stocks to go higher."
The unfolding near-term cycle, fears over a Russia-Ukraine war, and "a maniacal focus" on the "magnetic relationship" between 10-year US Treasury bond yields "have created an opportunity for investors to get many high-quality tech stocks on sale during this market-panic period."
| | |
| --- | --- |
| Long position overnight fee | -0.0064% |
| Short position overnight fee | -0.0059% |
| Overnight fee time | 21:00 (UTC) |
| Spread | 0.11 |
| | |
| --- | --- |
| Long position overnight fee | -0.0308% |
| Short position overnight fee | -0.0137% |
| Overnight fee time | 21:00 (UTC) |
| Spread | 0.22 |
| | |
| --- | --- |
| Long position overnight fee | -0.0064% |
| Short position overnight fee | -0.0059% |
| Overnight fee time | 21:00 (UTC) |
| Spread | 0.14 |
| | |
| --- | --- |
| Long position overnight fee | -0.0064% |
| Short position overnight fee | -0.0059% |
| Overnight fee time | 21:00 (UTC) |
| Spread | 0.05 |
Tech stocks have been pounded since the beginning of the year. But, despite the sell-off, the Russell 2000 tech index remains elevated and last week was priced nearly 50% above its average over the past 10 years, Bloomberg reported while citing its own data.
And Apple and Alphabet have been recovering lately.
Investors not impressed by hype
"The tech sector's flight to quality is creating an increasingly narrow group of winners, Steve Sosnick, chief strategist at Interactive Brokers, told Bloomberg.
"Investors are becoming more discerning in terms of wanting actual earnings and cash flow, they're less willing to invest in hype alone," he told Bloomberg. "This is why you're seeing people clamour into Apple, Alphabet and Amazon. You can actually point to big numbers on their income statements."
But some investors question whether tech startups can withstand the Fed and Russia-Ukraine geopolitical pressures.
"Some of these newer companies that don't have much profits, we don't know if they're going to make it through the storm," Daniel Morgan, a senior portfolio manager with Synovus Trust, told Bloomberg. "I'm putting money on companies that have proven results."
But Cathie Wood, head of ARK Investment, has doubled down on largely unprofitable companies like Roblox, Block, and Robinhood Markets. Wood's ARK Innovation fund has purchased more than $400m in high-growth stocks in recent weeks, The Wall Street Journal noted.
Chip industry faces headwinds
One tech sector that faces downward pressure is the microchip industry. Investors are concerned about the Fed's plans to boost interest rates this year as it ends a fiscal spending programme that was designed to ease economic pressures induced by the Covid-19 pandemic. Russia's potential invasion of Ukraine is causing further angst as investors fear that it could exacerbate the global microchip shortage.
The US chip industry relies on neon and palladium produced in two Baltic countries, Reuters reported while citing Techcet data. Last week, US President Joe Biden's administration warned the country's chip sector to diversify its supply chain in case Russia retaliates against US export restrictions.
Chip company stock values plummeted on Friday.
Read more