DELL posts record revenue in Q3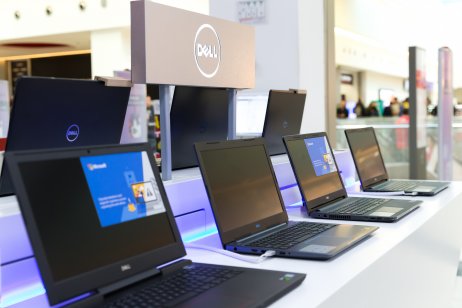 Dell's stock price gained moderately in extended trading Tuesday after the US tech giant posted record third-quarter revenue.
The stock fell more than 1% after trading ended in New York, but recovered. The fluctuation resulted after the stock closed down marginally (0.83%, or 46 cents) in New York at $54.67.
Round Rock, Texas-based Dell boosted its revenue 21% year-over-year to $28.4m (£21.23) the company said in its earnings report. Dell adjusted earnings per share (EPS) of $2.37 were up 17% from $2.03 a year earlier.
Analysts polled by Dow Jones had expected adjusted EPS of $2.30.
Net income rose more than threefold to $3.9bn from $881m a year earlier, when the coronavirus pandemic was wreaking havoc on the company's business.
Firm benefits from digital transformation
Dell executives said the company is well-positioned to capitalise on the global digital transformation and increasing demand for data.
"We continue to deliver strong results, with more than $13bn in cash flow from operations on a trailing-12-month basis," said CFO Tom Sweet in a news release accompanying the earnings report. "The digital trends are tailwinds for our business, and along with our strategy and financial flexibility, lead us to be optimistic about our long-term growth prospects."
Record shipments
Vice chairman and co-chief operating officer (COO) Jeff Clarke said Dell shipped a record number of products in the period, which served as the company's third quarter of fiscal-year 2022. That contrasts with many tech companies that have battled chip shortages and supply-chain constraints.
"We believe the introduction of Windows 11 (in Dell computers) will continue to drive demand in PCs," Clarke told analysts on a conference call.
Personal-computer shipments jumped 26.6%, and the company's third-quarter global PC market-share gain of three basis points to 17.4% was a record for a calendar-year third quarter in the company's history, Dell said.
Product revenue increased 24% year-over-year to $21.5bn from $17.4bn, while services generated $6.9bn – up 12% from $6.1bn a year earlier.
"We're three quarters into what will prove to be a historic year for Dell, and we are just beginning to write the next chapter of the Dell Technologies story," said co-COO, Chuck Whitten.
VMware segment revenue climbs 10%
Revenue from Dell's cloud-computing VMware segment rose 10% year-over-year to $3.2bn from $2.9bn. Vmware is slated to be spun off into a separate company.
Dell's infrastructure solutions group (ISG) segment, which includes servers and networking and data storage, saw revenue jump 5% to $8.4bn from $8.0bn.
Whitten said told analysts that the company expects to see strong demand for infrastructure products following the VMware spin-off as the recovery from the pandemic sparks greater demand and digital transformation drives investment in information technology.
Read More: ProPetro shares up 6.23% after SEC violations settlement