Will there be any festive cheer in Currys first-half results?
Subscribe to Weekly Highlights
The major market events for the week ahead right in your inbox.
Subscribe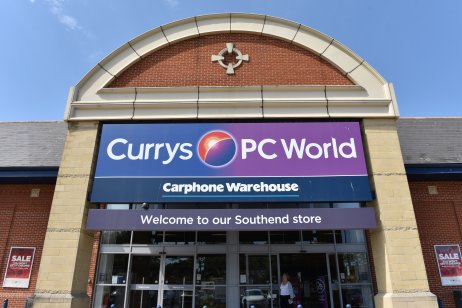 Content
Many UK retailers are struggling right now. And electrical and white goods chain store Currys (CURY.L), which releases its first-half results on Thursday next week, certainly fits into this category.
The impact of surging inflation, the cost-of-living crisis and fears of a recession, have hit Currys hard. Shares in the retailer have fallen by some 40% this year– and that is despite a big rally since the autumn lows.
The stock is down over 8% this week – currently around the 69.95p level.
Russ Mould, investment director at AJ Bell points out that while Currys is generally associated with its presence on UK high streets and in its retail parks, UK and Ireland represent just 54% of group sales. In fact, 41% of sales comes from the Nordic region and 5% from Greece.
So, when it comes to these interim results, the first thing that analysts will look for is the trend in like-for-like sales. In the year to April 2022: Greece was up 4%; while the Nordics were down 2% while the UK and Ireland were down 4%.
Mould says that analysts will then look at profitability by region.
"In the full-year to April 2022, the Nordic countries were the biggest earner, followed by the UK and then Greece, in terms of adjusted operating profit – though note that the overall operating margin was a skinny 3.5% to show what a cut-throat and competitive business selling electricals, white goods and mobile phones really is".
Last year in the first half, Currys generated £4.8bn in sales and turned that into a stated operating profit of £95million and adjusted one of £91m.
Attention, Mould insists, will then switch to the balance sheet. "At the end of April, Currys had £126m in cash, £82m in borrowings, a £257m pension deficit and £1.2bn in lease liabilities on its stores, for a total net debt position of £1.5bn".
He adds: "That's all with a skinny operating margin that is not entirely comfortable, although interest cover was 2.3 times last year and net debt was more than £2.5bn three years ago.
Study of the balance sheet – and cash flow – then leads to a look at the interim dividend. This was 1p a year ago and Currys also launched a £75m share buyback at this time a year ago, on its way to a total dividend payment of 3.15p a share. Consensus seems to be looking for an unchanged pay-out in fiscal 2023 but one analyst is looking for a cut to zero.
Analysts and shareholders, Mould says, will look to chief executive Alex Baldock for an update on the guidance he gave for this year alongside the results for last year back in July, since when, the company has said precisely nothing, even though some of its Nordic peers have announced some pretty poor numbers.
What is your sentiment on CURY.L?
Vote to see Traders sentiment!
Dividend pressures
The key points of that guidance for the full year to April 2023 were: Adjusted pre-tax profit of £130 to £150 million (against £186 million a year ago); capital investment of £140m to £160mn (against £133m a year ago); and positive free cash flow.
Mould concludes: "While Baldock and the board have an aspiration to increase the dividend and return any further surplus cash to investors via share buybacks, once investment has been made in the business and its competitive position, the buyback is now on hold".
Marketbeat currently has a 'hold' rating on Currys shares – of four analysts, three rate the stock a 'hold' and one a 'buy'. The consensus price target is 111.25p.
Related reading