Crypto industry hails US stablecoin regulation moves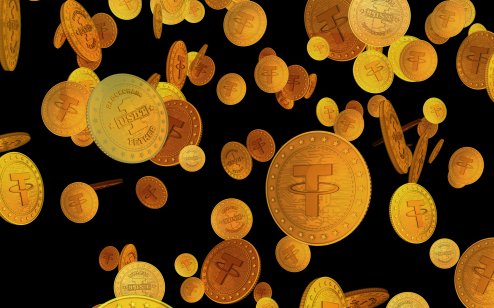 The cryptocurrency industry is praising a bill introduced this week clarifying what stablecoin is and how to regulate them, but the legislation's future is unclear as the US Congress has failed to act on any digital currency rule making.
The bill's sponsor, Josh Gotthiemer (Democrat-New Jersey), said the Stablecoin Innovation and Protection Act defines what qualifies as stablecoins, puts protections in place for consumers and investors and supports ongoing fintech innovation in the US.
Kristin Smith, executive director of the Blockchain Association, said the bill is the most "comprehensive and well-thought-out stablecoin legislation we've seen to date."
"We are pleased that Congress is taking a proactive approach by engaging with stakeholders in industry and government as they consider the best path for stablecoin regulation," she said in a statement.
Circle's chief strategy officer and head of Global Policy, Dante Disparte, said the legislation takes a thoughtful, risk-based approach to stablecoin innovations and how to them fit inside American Federal regulatory frameworks.
"Supporting bank and non-bank innovations in the payment system is key to long-range competitiveness and broad optionality for how dollars move in the 21st century," he said in a statement.
Tucked inside
The bill would designate certain stablecoins as "qualified", making them redeemable on a one-to-one basis for US dollars.
If enacted, both bank and non-bank financial institutions could issue them subject to the coins meeting certain conditions on reserve requirements with cash collateral held in a segregated Federal Deposit Insurance Corporation (FDIC)-insured account.
Stablecoin issuers would be regulated by the Office of the Comptroller of the Currency (OCC). Additionally, the OCC would release leverage ratios, auditing requirements, anti-money laundering/know-your-customer compliance regulations.
Additionally, in an effort to protect consumers, the Federal Deposit Insurance Corporation (FDIC) will be required to develop a Qualified Stablecoin Insurance Fund to manage the insurance of redemption payments of non-bank issuers.
These provisions, the Congressman said, protect against systemic risk, fraud, and illicit financing, the cornerstone of the Biden Administration's plan to deal with the uncharted digital asset market.
Pigeonholed bills
Gottheimer said he is still seeking input from Capitol Hill and the cryptocurrency industry and this will likely be the first of many attempts to hammer out regulations acceptable to both.
During the most recent session of Congress, a number of digital asset bills were introduced, but as of Wednesday afternoon, have not made it out of committee.