Crude prices jump after massive fire at ExxonMobil plant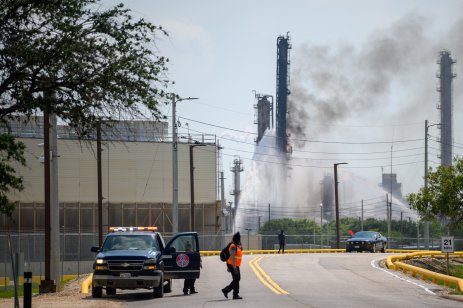 Oil prices jumped Thursday morning after an explosion at ExxonMobil's Baytown, Texas, refinery, one of the nation's largest petroleum operations, sent four people to the hospital.
The overnight blaze started in a hydrotreater and was extinguished about five hours later, according to various news reports.
By 09:30 EST (UTC-5) the price of West Texas Intermediate crude climbed to $72.83 a barrel. Meanwhile, ExxonMobil stocks were up 1% to $61.62.
Explosion details
The plant reportedly has a production capacity of 560,500 barrels daily.
The fire is believed to have started in a hydrotreater, which is used primarily to remove sulphur and other contaminants from intermediate streams before the blending process. The equipment was shut down Wednesday due to a bypass line leak, according to reports.
Three of the injured were taken to Houston area hospitals by helicopter, while the fourth was taken by ambulance, Harris County Sheriff Ed Gonzalez said during a press conference.
The cause of the fire is not yet known, and ExxonMobil said air-quality monitoring has not revealed any issues. No evacuations or shelter-in-place orders have been issued.
A call to ExxonMobil's media line went unanswered Thursday morning.
Read more: ExxonMobil (XOM) stock forecast: Where next for the oil major?