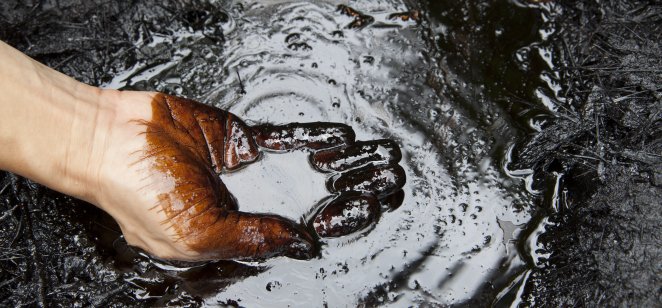 The crude oil market is at the verge of extraordinary changes, with new players entering the industry and certainties of past several years fading away. According to the OPEC's annual world oil outlook, the last 12 months were challenging for the crude oil market. OPEC has decreased their prediction for global oil demand growth to 104.8 million barrels per day by 2024.
The world's leading crude oil producing group OPEC claimed in the report, "At the global level, growth is forecast to slow from a level of 1.4 million b/d in 2018 to around 0.5 b/d towards the end of the next decade".
Crude oil market outlook
OPEC is expected to restrain oil production in 2020. The 14-member producer group lowered their numbers, because of "signs of stress in the global economy". OPEC has revised their own crude oil production and expects a decline for the next five years from 35 million b/d in 2019 to 32.8 million b/d in 2024.
OPEC's report came amid increasing concerns of many crude oil market participants about a repeat of rising supply and falling demand – the same as happened in mid-2014 when crude oil price experienced a huge fall.
Analysing the crude oil price trend for the nearest future, OPEC forecasts oil demand to continue at "healthy rates" over the next five years, expecting a rise of 6.1 million b/d compared to the level of 2018.
According to the International Energy Agency's executive director Dr Fatih Birol, "The second wave of the US shale revolution is coming. It will see the United States account for 70 per cent of the rise in global oil production and some 75 per cent of the expansion in LNG trade over the next five years. This will shake up international oil and gas trade flows, with profound implications for the geopolitics of energy".
On Tuesday, December 3, 2019 Brent crude traded at $60.78, while US WTI stood at $56.06.
The United States will drive the global crude oil supply growth
A remarkable strength in the shale industry will trigger a rapid transformation of global oil markets, according to the EIA's annual crude oil price outlook. They expect US crude oil exports overtake Russia and get closer to Saudi Arabia, contributing to greater diversity of crude oil supply.
The US Shale is altering the future of oil refiners. Barrels of shale oil are generally lighter than the average crude slate. It means they require a less complicated refining process.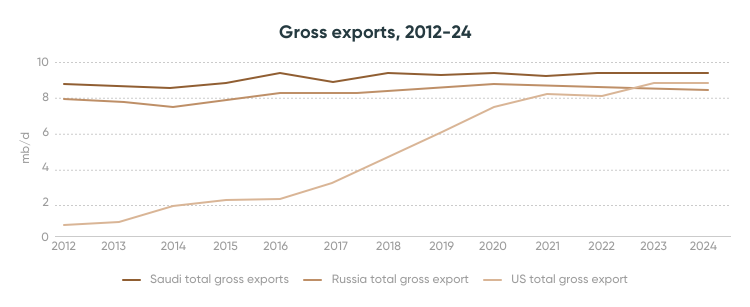 Meanwhile, Iraq reinforces its position as one of the top global crude oil producers, driving growth within OPEC. The increase aims to compensate losses from Venezuela and Iran.
Several other countries contribute to the crude oil supply growth. The US is supported by Norway, Brazil, the UAE and Guyana.
Ease of oil demand growth
Although the world's demand for oil remains strong, the pace of growth is slowing. China's economic growth is suppressed, while the crude oil demand from India remains robust.
Demand from the rest of the world is mainly driven by petrochemical projects, which benefits from cheaper feedstock as a result of the US shale revolution.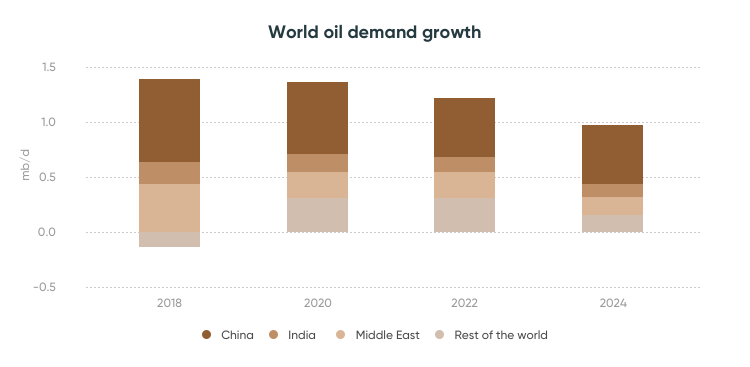 Crude oil price forecast 2020-2022
According to the McKinsey & Company's Global Supply and Demand Outlook, if OPEC+ keeps control over production levels and crude oil demand growth stays healthy, we can expect crude oil prices to hover in the range of $60-$70 in 2020.
According to the EIA's latest crude oil price forecast, Brent crude oil prices are expected to average at $60/b in 2020, which is down from the average of $64/b in 2019. Giving its prediction for WTI crude oil prices in 2020, EIA forecasts WTI prices to average $5.50/b less than Brent prices in 2020. The EIA expects crude oil prices to be lower in 2020 than in 2019, due to the rising global oil inventories.
Meanwhile, on Tuesday, December 3, 2019, prices were rising on the optimistic crude oil price news that OPEC and allies will finally conclude a deal on further oil production cuts to support a fragile oil market and prevent an oversupply next year amid the ongoing trade war and increased oil production in the US.
The World Bank also builds a very positive crude oil price forecast graph, anticipating that all three major benchmarks, including WTI, Brent, and Dubai Crude continue to move up after 2020 to reach over $100 per barrel on average by 2025.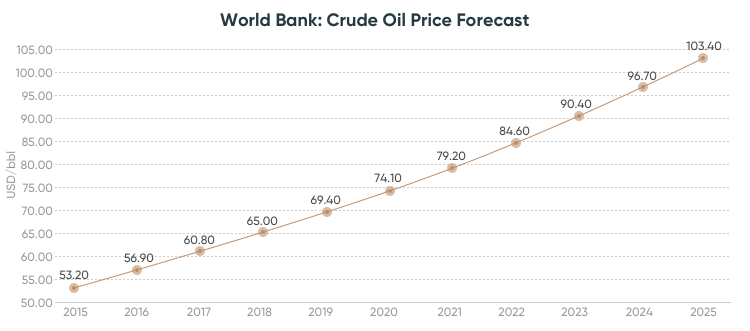 Providing a long-term crude oil price prediction, Walletinvestor expects the WTI crude oil price to grow around +46.01 per cent up to $81.603 in a five-year period.
What needs to happen for the price to reach $100 per barrel again? Watch a short video by Capital.com Chief Market Strategist David Jones, who makes a detailed crude oil price and forecast analysis, to better understand whether crude oil has a chance to reach the $100 milestone ever again.
Crude oil price forecast: three oil price scenarios for the next 3 to 5 years
Let us explore the three possible oil price scenarios (defined in the most recent McKinsey & Co report) that could play out in the next couple of years.
Scenario 1. Supply disruptions
Crude oil prices climb up to $80-$90 in the case of a continued supply disruption scenario. This may come true, if the International Maritime Organisation finds the shipping industry unprepared to the new regulations, and OPEC lacks capacity to mitigate the worsening production in Libya and Venezuela, as well as Iran sanctions.
Scenario 2. OPEC control
Healthy demand growth in 2019-2020 leads to crude oil price recovery, despite the increased supply from the US shale. Experts forecast the average crude oil prices in the $60-$70 range in 2020. OPEC concludes a cut deal in 2020 and continues growing slowly, offsetting disruptions from Iran, Venezuela and Libya.
Scenario 3. Oversupply and stagnation
In the scenario where the global economy stagnates and further slows down, crude oil prices fall to the $50-$55 range. A decreasing demand growth during the trade war and the period of increased economic nationalism could end up the economic expansion. OPEC may stop supporting oil prices and defend their market share.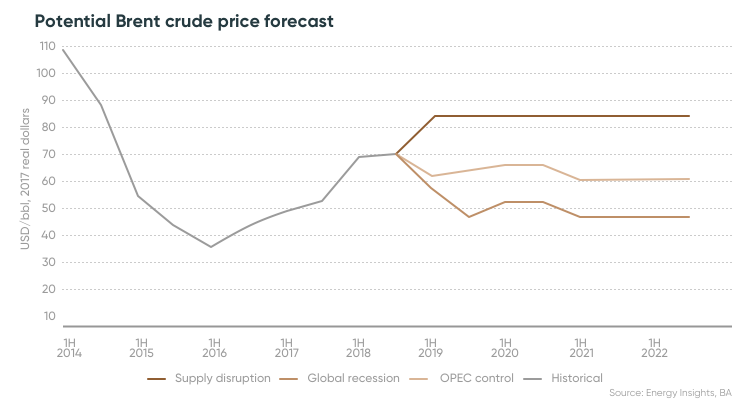 IMO 2020: the biggest trigger of a massive crude oil market shake-up
Oil products markets are coming towards one of the biggest market shake ups in history, driven by the International Maritime Organisation's new regulations. The new rules will govern bunker fuel quality in 2020.
The IMO 2020 regulation prohibits high sulphur fuel oil (HSFO) from the bunker pool. HSFO has been the main vessel fuel since the 1960s, so the transformation will be challenging.
In this case, many shipping companies will prefer to use marine gasoil (MGO) instead of a new very low sulphur fuel oil (VLSFO), until they feel confident in VLSFO availability, stability and compatibility with similar grades. Although refining and shipping industries have been warned about this beforehand, there remain fears of shortfalls after the new rules come into force.