Crude oil continues to dominate energy markets in 2022: BofA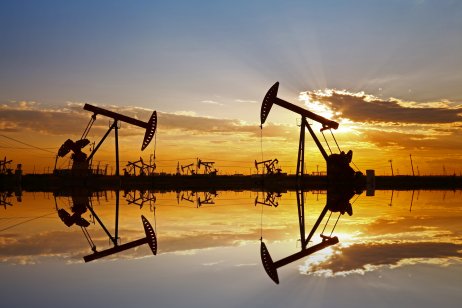 Even with the Brent crude benchmark projected to top $120 a barrel by June 2022, oil will continue to dominate the energy markets, a Bank of America roundtable discussion predicted Wednesday.
At noon Thursday, Brent was at 1% to $69.62, while the US's benchmark WTI was up 1.3% to $66.45.
The current global energy crisis caused crude oil, coal and natural gas prices to reach historic levels as demand outpaces supply, according to Francisco Blanch, head of the global commodities and derivatives research teams, for the bank, adding decreased inventories will continue to push oil prices up.
"Despite crude lagging other commodities, stocks are low, spare capacity is limited, supply growth is constrained, and the global air travel recovery is underway," he said during the conference call.
Price spike
As inventories draw further in the first half of 2022, a potential Brent crude oil price spike to $120 per barrel could emerge before prices retract in the second half of the year, he said.
Blanch said there is no easy solution, domestically or globally.
The Biden White House could release more oil from the Strategic Petroleum Reserve (SPR) in a coordinated effort with China and other nations, temporarily pushing oil prices lower, he said.
The US could even offer Iran broad sanctions relief, tilting the global oil market into a surplus, he said. But that is unlikely to happen as foreign policy hawks in Congress oppose any cooperation with the Middle East nation, which they view as a theocracy and friendly toward terrorist groups.
What is your sentiment on Oil - Brent?
Vote to see Traders sentiment!
Downside risks
The "downside risks to prices could emerge from a slowing Chinese real estate sector in 2022, as well as from increased output from Libya. And Covid-19 could make a comeback, impacting the mobility recovery again," he said the day the first case of Omicron was reported in the US.
He suggested to offset these risks, OPEC+ should stick to its supply deal as underproduction from the likes of Angola and Nigeria continues, and US exploration and production companies should stay fiscally disciplined.
"We are constructively refining margins but declining processing costs present a headwind for most cracks beyond the first quarter of 2022. We are bullish versus the curve on ULSD-Brent cracks in the first half of 2022 and forecast cracks to average $21.5 per barrel on still elevated processing costs and recovering industrial activity and air travel, which support middle distillate demand," he said.
Ultra-low sulphur diesel
ULSD is an ultra-low sulphur diesel, a cleaner-burning diesel fuel. In combination with cleaner-burning diesel engines and vehicles, ULSD fuel can help to improve air quality by significantly reducing emissions, according to the American Petroleum Institute.
The ULSD-Brent crack spread – the difference between the price of ULSD and the price of Brent crude oil – decreased one cent per gallon during the same period and settled at 49 cents per gallon on 4 November. The ULSD–Brent crack spread averaged 52 cents per gallon in October, according to the US Energy Information Administration
In the first half of 2022 and 2023, the BofA forecasts diesel cracks to fall to $19 per barrel on average due to new hydrocracking capacity and lower processing costs.
Diesel should outperform gasoline as rising jet fuel demand tightens diesel balances. The bank does see a downside for HSFO-Brent cracks on rising medium and heavy sour supply and higher refinery runs and upside for VLSFO-Brent cracks versus the curve on stronger light and middle distillate demand in 2022, creating competition for yield.
Natural gas
Blanch predicted Henry Hub gas prices to average $3.45 million British Thermal Units in 2022, about $0.75 below current forwards. While liquified natural gas (LNG) exports should jump 1.3 billion cubic feet per day higher next year, he expects the 2022 supply to meet the call, increasing by around 3.5 billion cubic feet per year over year.
"Against this subdued outlook for US nat gas, we believe that global gas prices (will) hold firm next year on continued supply tightness," he said.
Read more: OPEC+ hinting at not releasing additional oil supplies
Read more: Brent climbs near as Omicron worries ease, eyes on OPEC