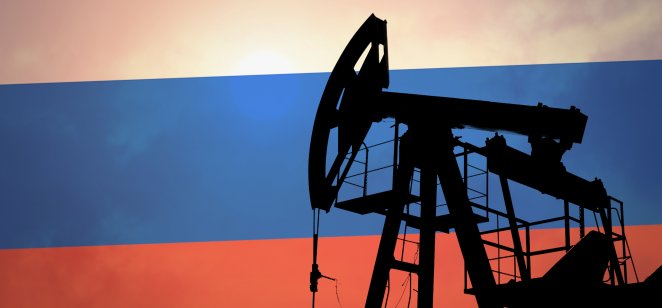 An outright ban on Russian oil could propel crude prices beyond $200 a barrel and slash the US gross domestic product by two percentage points, causing havoc on the markets and the global economy, according to Bank of America and analysts.
American politicians are advocating for such a ban and the Biden administration is considering sanctioning Russian oil and gas while hinting at resuming imports from two pariah nations – Venezuela and Iran – in a stopgap effort.
The Bank of America (BofA) scenario came on a day when crude futures hit a 14-year high as the war in Ukraine entered its second week.
West Texas crude skyrocketed to $130.50 a barrel in overnight trading Monday, and by 2 pm EDT (UTC-5), April 2022 contracts were at $121.18 on the New York Mercantile Exchange.
Prices doubling
If NATO member nations cut off oil exports from Russia, this action would send a jolt through global markets and send crude prices up $20 for every one million barrels per day (mnb/d) not available on the market. With Russia exporting roughly five mnb/d, a ban would double the price of crude, even with releases from strategic petroleum reserves and OPEC increasing its exports.
That means oil prices could double from $100 (barrel) to $200 (barrel), the BofA said in a research paper obtained by Capital.com, using easy to understand round numbers.
For moderate movements in oil prices, BofA's rule of thumb suggests a sustained $100 a barrel and higher prices would lower GDP growth in the year ahead by approximately 1%.
"However, history shows that big shocks can have non-linear effects. This is particularly the case if there is sticker shock from record-high gasoline prices. We could see a hit to growth closer to 2%," the bank's scenario detailed.
Ban gaining strength
Oil prices remaining above $100 throughout the summer will become a bigger drag on the economy than the market is expecting, and elected officials are exploring ways to reduce the cost.
Over the weekend, a growing number of US Congressional members called for an outright ban on Russian oil and gas imports, believing this will put pressure on Moscow to withdraw from Ukraine, despite it resulting in higher gas prices for American consumers.
US Secretary of State Tony Blinken said on CNN the US is speaking with allies about "the prospect of banning the import of Russian oil while making sure that there's still an appropriate supply of oil on world markets."
That something of a policy switch from Thursday, when the American White House downplayed the possibility of banning Russian oil imports. That was before oil futures rose to stratospheric high of $125 a barrel, causing fear among traders.
"Our objective and the president's objective have been to maximise impact on President Putin and Russia while minimising impact to us and our allies and partners," White House press secretary Jen Psaki told reporters Thursday. "We don't have a strategic interest in reducing the global supply of energy."
Last week, Senators Joe Manchin (Democrat, West Virginia) and Lisa Murkowski (Republican, Alaska) introduced a bill that would block the importing of Russian oil and gas. "The people in my state of West Virginia believe it's basically foolish for us to keep buying products, giving profit, and giving money to Putin to be able to use against the Ukrainian people," Manchin said on NBC's "Meet the Press."
Russian oil use in America
Overall, Russia is the third-largest exporter of oil globally.
The USA imported 8.54 million barrels per day of crude oil and refined products of which 703,000 barrels per day – approximately 8% – comes from Russia. The USA imported 6.14 million barrels per day of crude oil, of which 211,000 barrels per day – or 3% – came from Russia, according to the US Energy Information Administration (EIA).
Most of this is going to the west coast in the US. West coast refineries imported 1.18 million barrels per day of crude oil, of which 99,000 barrels per day came from Russia. The US imported 48,000 barrels per day into the east coast.
"Bottom line is that the USA would feel some impact from the loss of supplies from Russia, but we are in a far better position than Europe," Andrew Lipow, president of Lipow Oil Associates, told Capital.com.
Pain at the pump
US gasoline prices and products are also soaring, squeezing the low-income and middle class. The American Automobile Association reported on Monday, that the national average jumped to $4.07 a gallon. This is up substantially from the day before when the average price was $4 a gallon for regular unleaded, and about 50% higher than last year at the same time.
Diesel fuel hit $4.61 a gallon, putting additional pressures on businesses and truckers struggling to return from the shutdowns during the pandemic.
But the pain is far from over, one economist confirmed to Capital.com.
"Forget the $4 per gallon mark, the nation will soon set new all-time record highs and we could push closer to a national average of $4.50," said GasBuddy analyst Patrick De Haan. "We've never been in this situation before, with this level of uncertainty ... Americans will be feeling the pain of the rise in prices for quite some time."
Globe trotting
The Biden administration could open talks with two long-sanctioned countries – Venezuela and Iran – in hopes of bringing some much-needed oil supply to a tight market.
While there wasn't a breakthrough in the closely watched Iran nuclear talks, last week US Transportation secretary Pete Buttigieg said "all options are open" to reaching an agreement and tapping into some of Iran's oil reserves.
Over the weekend Biden officials met with officials of Venezuela's President Nicholas Maduro.
"The sanctions on Venezuelan oil forced US refiners to import record amounts of Russian oil. So now the US may decide to lift sanctions on the Maduro regime to try to keep US refiners going," Phil Flynn, head commodities analyst with Price Future Group, explained to Capital.com.
It's unclear if either Iran or Venezuela can plug the hole Russian exports would leave. Venezuela doesn't have the infrastructure and Iran may not have as much oil as it is leading the West to believe, said several analysts.
Additionally, the Biden White House will send a team to Saudi Arabia this spring to convince the government there to crank up production, a Congressional source confirmed to Capital.com on Monday.
Tighter markets coming up
In a note to clients, Warren Patterson, head of commodities strategies for ING, said the supply market is already tight since some American oil companies are not purchasing from Russia and logistical issues around the Black Sea, including a lack of ships, insurance issues and bombing. In the last 11 days, at least 4 oil tanker ships have been bombed by the Russian navy.
"Any official restrictions on Russian crude could make it further challenging to balance the oil market given that Russia is one of the major crude oil suppliers to Europe and Asia," reads the note, which was obtained by Capital.com.
"US imports of Russian crude oil are relatively small at an average of around 198,000 (barrels a day) in 2021 (contributing only around 3% of total US imports) and restrictions on only US imports may not be detrimental to global crude oil supplies in the immediate term, although this could continue to support sentiment," he wrote.
Read more: