Crown Resorts holds on to licence and gets time to fix issues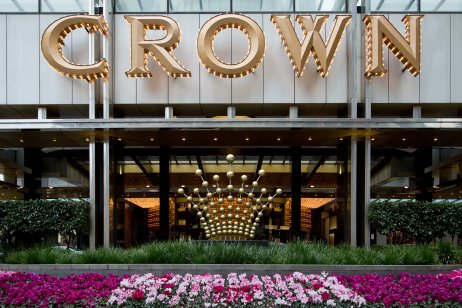 Australian casino operator Crown Resorts has been declared "unsuitable" to hold a casino licence in Victoria by the Royal Commission, however, the company was allowed to continue its Melbourne operations under a two-year supervision period.
The Royal Commission said in its report published on Tuesday that Crown Resorts conducted itself in an "illegal, dishonest, unethical and exploitative" manner on findings that Crown Melbourne had facilitated money laundering and misled regulators by providing false information.
Crown's board "fell asleep on the wheel" with many senior executives involved in the misconduct, said the inquiry report.
Two years to fix problems
A special manager will be appointed to oversee and exercise control over Crown Melbourne for a period of two years. Regulators will determine whether Crown Melbourne has become suitable to hold its casino licence at the end of the two-year period.
Shares of Crown Resorts jumped over 7% by Tuesday afternoon on the news to AUD10.34.
"What tipped the balance against the cancellation of its licence was that Crown Melbourne has, at a great financial cost, embarked on a significant reform program led by people of good will and skill. The program is likely to succeed. If it does, that will be to the benefit of Victoria," The Royal Commission report said.
Packer, CPH ordered to reduce stake
The Royal Commission added that the cancellation of Crown Melbourne's licence would cause considerable harm to the Victorian economy and innocent third parties.
Billionaire James Packer and his company CPH Group will be required to reduce their shareholding in Crown Resorts from its current 37% to less than 5%, the Royal Commission added.
"This was dealt with in great detail by the Hon. Patricia Bergin, AO, SC who found that their influence (Packer and CPH Group) encouraged Crown to put profit ahead of other motives for action," said the Royal Commission report.
Star Entertainment Group shares up
On Tuesday, shares of casino peer Star Entertainment Group was up nearly 5% following the conclusion of the Royal Commission inquiry into Crown Resorts
Earlier in July, Star Entertainment had withdrawn its $6.6bn bid to acquire Crown Resorts over uncertainty surrounding the investigation into Crown Resorts.
Read more : Star Entertainment pulls Abn buyout proposal for Crown Resorts
The difference between stocks and CFDs
The main difference between CFD trading and stock trading is that you don't own the underlying stock when you trade on an individual stock CFD.
With CFDs, you never actually buy or sell the underlying asset that you've chosen to trade. You can still benefit if the market moves in your favour, or make a loss if it moves against you. However, with traditional stock trading you enter a contract to exchange the legal ownership of the individual shares for money, and you own this equity.
CFDs are leveraged products, which means that you only need to deposit a percentage of the full value of the CFD trade in order to open a position. But with traditional stock trading, you buy the shares for the full amount. In the UK, there is no stamp duty on CFD trading, but there is when you buy stocks.
CFDs attract overnight costs to hold the trades, (unless you use 1-1 leverage) which makes them more suited to short-term trading opportunities. Stocks are more normally bought and held for longer. You might also pay a stockbroker commission or fees when buying and selling stocks.