Could Musk Twitter pull-out reaction create a buy opportunity?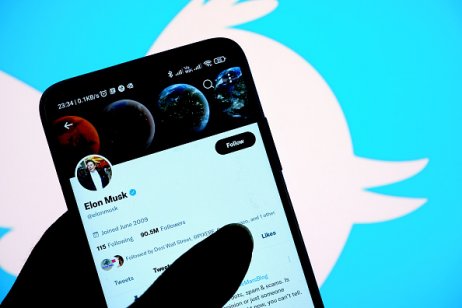 Twitter (TWTR) stock tumbled in early trading Monday, after Elon Musk officially terminated his bid to buy the social media platform. Since speculation first leaked late last week that the $44bn (£$37.04bn) Musk-Twitter bid was in danger, Twitter shares have fallen over $12.6% to as low as $33.87 per share on heavy trading volume.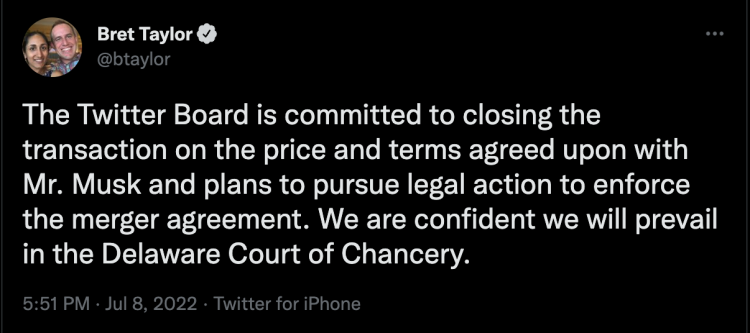 Twitter vows to challenge merger termination in court - Photo: Twitter
But amid the volatility, this could be a short-term buy opportunity as investors may over-react to the initial news. "Arguably it's a trading buy down here on the view that the market has overreacted and we could see a bit of a recovery into the $40s," said Capital.com analyst David Jones.
Twitter, for its part, plans to take the issue to court with Board Chairman Bret Taylor tweeting: "[t]he Twitter Board is committed to closing the transaction on the price and terms agreed upon with Mr. Musk and plans to pursue legal action to enforce the merger agreement. We are confident we will prevail in the Delaware Court of Chancery.
Twitter Inc. (TWTR) price chart
What is your sentiment on TSLA?
Vote to see Traders sentiment!
Long court battle ahead?
It should be noted the same jurisdiction upheld an acquisition agreement between Tyson Foods and IBP in 2001 for an albeit lesser $3.20bn. But most analysts predict a drawn-out court battle with the richest person in the world will add volatility to Twitter stock at a time when macroeconomic headwinds face the internet advertising industry.
"This case is about to make the Johnny Depp-Amber Heard courtroom drama look like an episode of The People's Court," noted daily newsletter The Water Coolest.
Twitter Inc. 5-day stock performance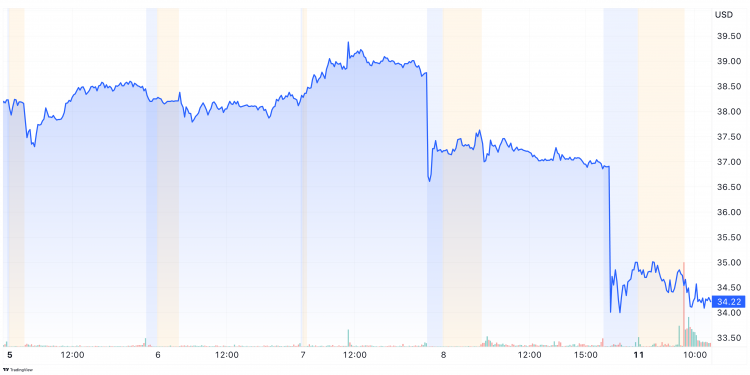 Twitter Inc. 5-day stock performance - Photo: TradingView
What comes next?
"Now the Twitter Board will continue to go down the fiduciary path and try to hold Musk to this $44 billion deal in the Delaware courts in a battle that could take years," said Wedbush Securities analyst Dan Ives in a note to clients over the weekend. "For Twitter, being in a Game of Thrones court battle with the richest person in the world is far from the vision the company (and its Board) saw in April when this deal kicked off with the Musk $54.20 bid."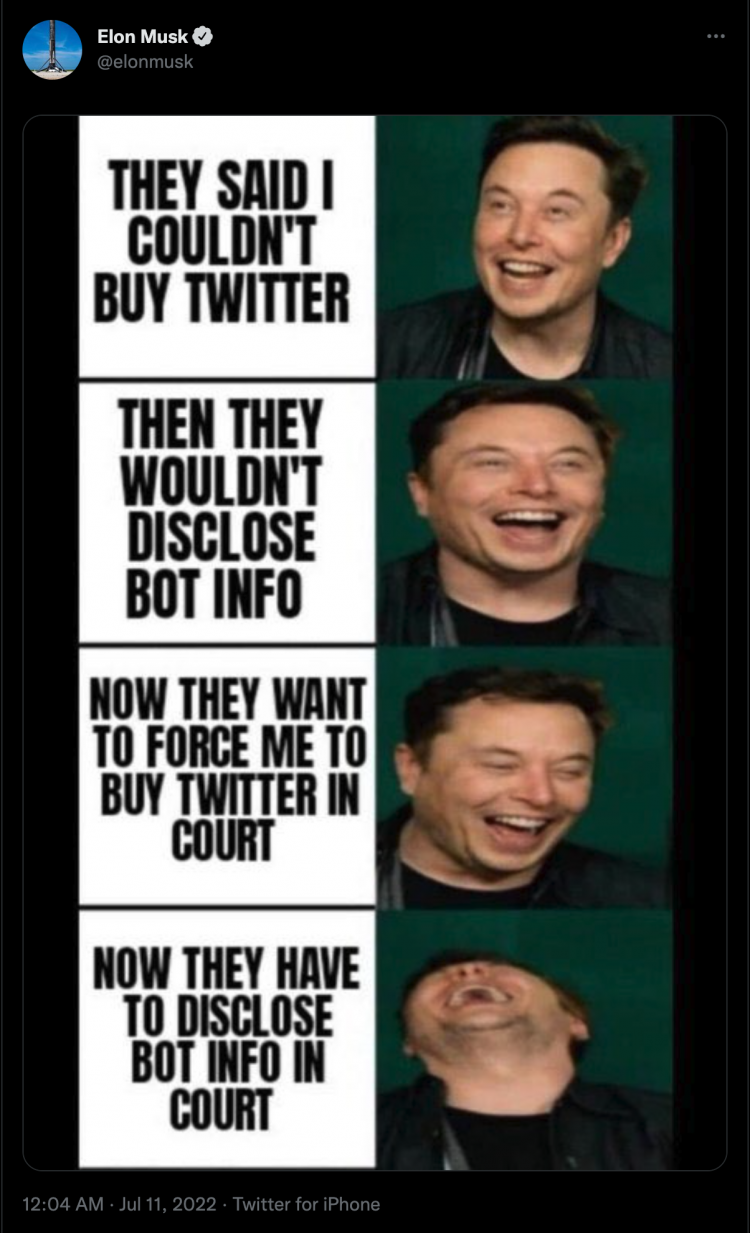 Musk responds to Twitter litigation threat - Photo: Twitter
Wedbush lowered its price target on Twitter stock to $30 per share, while maintaining its Neutral rating, based on a standalone valuation basis and peer-group analysis. Wedbush added that a bear market case price target could be as low as $25 per share.
A protracted court battle is expected to take years to resolve, with few positive outcomes for Twitter. Any legal challenge will center on the number of fake accounts are on Twitter's platform and the accuracy of its estimates. "[Daily average user] metrics (with fake account/bot issue looming front and center) that the Street will be skeptical of after this fiasco," added Wedbush's Ives.
"Speculation [is] that Twitter will try and force him to go ahead with the deal," added Capital.com's Jones. "Can't see that happening but could cause some volatility in the short to medium term."
More drama to come
Musk himself indicated, ironically over Twitter, the discovery phase of a legal challenge would force transparency on the issue, and Twitter would have to detail how it calculates user data.
"Now they have to disclose bot info in court," Musk tweeted overnight.
Of course there are other knock-on effects a legal battle could create, with potential impacts on employee morale, branding and strategy.
"Now the worries are on multiple fronts for Twitter," Ives added.
What about Tesla?
Given Musk's day job as CEO of Tesla (TSLA), his bid to acquire Twitter, financed in part by his Tesla stock holdings, has also weighed on Tesla stock. Musk has sold roughly $8.50bn of his Tesla holdings as part of the overall funding package.
Tesla stock traded lower Monday, losing 5.79% to $7.08.56 per share, from Friday's $752.07 closing share price. Tesla stock trades on the Nasdaq exchange under the ticker TSLA.
"For Tesla's stock this will be some relief rally as this situation was an overhang on the stock, but the Street is wary of the looming court battle ahead between Musk/Twitter Board," said Wedbush's Ives.
"Very little impact on TSLA but overall investors in that one are likely to be happy that Musk is walking away from Twitter," added Capital.com's Jones.