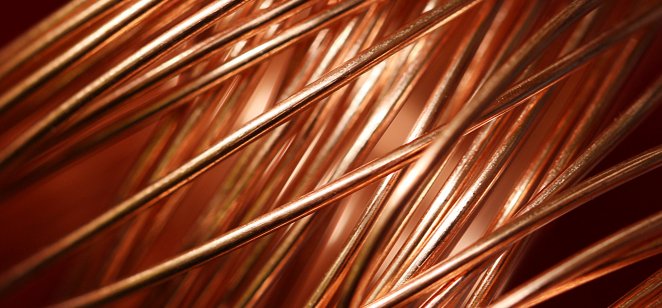 In a long-ago episode of The Simpsons, a class of children was asked by the teacher to imagine a world without zinc. Assorted objects from bathtubs to batteries simply disappeared.
Imagining a world without copper is harder still. No Bronze Age, for a start, with bronze being an alloy of copper and tin. No telegraph or telephone lines. No birth-control "coil". No modern electrics in cars and vans.
Oh, and no Statue of Liberty in New York, or at least not as we know it today. The structure is coated in copper, which explains its green tinge – copper oxidises when exposed to air and water.
Trading scandal
The red metal has been used by humans for thousands of years, who have prized its malleability and its efficiency as a conductor of electricity. Furthermore, it can be easily shaped into wires and piping.
But some traders shy away from taking a copper trading perspective, perhaps fearing that the supply and demand picture is too complicated and that there are simply too many factors to take into account when making a copper forecast.
Gold, by contrast, can be traded as a straightforward alternative to the dollar, with one rising as the other declines, and vice versa.
Furthermore, those with long memories may recall the great copper scandal of 1996, when Sumitomo, one of Japan's largest trading companies, announced losses of $2.6 billion on unauthorised trading on the London Metal Exchange.
The company's chief copper trader Yasuo Hamanaka had built up an enormous position in the red metal, at one point controlling 5% of the world's total supply. He was sentenced to eight years in prison.
In light of such excitements, is the copper market best left to specialists?
Not necessarily. The first key fact about the copper price is that it is intimately bound up with world economic activity. Copper is an industrial metal – copper jewellery was popular in parts of the ancient world, but has very largely gone out of fashion – and is the third most used metal in the world, after iron and aluminium.
That means copper analysis mirrors that for world economic growth, or the lack of it. Perhaps it would be more accurate to say that they mirror anticipated growth, as traders try to get in ahead of changes to the economic cycle.
Roots on Cyprus
For copper 2019, the spot price is about $2.90 a pound (lb). On the eve of the 2008 crash, the price stood at nearly $4/lb, but plunged to below $1.5/lb in the winter of 2008/2009 as the world headed into the Great Recession.
By the middle of the current decade, however, it had more than recovered, to about $4.5/lb.
A $3 swing-round in ten years, equivalent to about 100% of the current price, may leave novice traders with the impression that copper is a volatile asset best avoided. What are the facts?
First, copper is mined in generally-stable countries. Chile is the world's leading copper producer, and other important sources include China, Peru and the United States.
Australia, Zambia, Russia and Mexico are also significant producers. In Roman times, it was mined on the island of Cyprus, which explains where the word "copper" originated.
The largest single source of demand for copper comes from the electrical and electronics industries. For many years, it was the principal component of low-value coins, and to this day "copper" is British slang for pennies and two-penny pieces (although in the US zinc has become more widely used for this purpose).
More broadly, copper is used extensively in the building industry, in scientific research and in medical establishments, where its antibacterial properties are highly prized. On top of which, it is found in human food, such as beans and potatoes – not many realise it is necessary for the formation of red blood cells!
Because of the metal's pivotal industrial role, the copper price is extraordinarily sensitive to factors likely to stimulate or depress growth. Recently, for example, the price has rallied on optimism about two linked issues: trade tensions between Washington and Beijing, and the prospects for the Chinese economy.
Trading the mining houses
On 24 April, Reuters reported: "Copper and other base metals recovered on Wednesday from the previous day's losses, buoyed by hopes for a US-China trade deal and stronger economic growth in top metals consumer China. The White House said…US officials will travel to Beijing for trade talks next week, with one leading official expressing optimism about striking a deal."
The other side of the coin, of course, is that disappointing news on trade or the Chinese economy could send the price downwards. This is true of the world economy generally, with special reference to the US and Germany.
In a sense, then, the apparent volatility of copper value is merely an expression of traders' susceptibility to any piece of news that can be seen as pointing to the likely future direction of the world economy. For example, a recent disappointing purchasing managers' index for the eurozone may well have seen traders trimming their copper positions.
As with almost all commodities, copper is priced in dollars, meaning non-US traders need to watch movements in the American currency and work out what effect they are having on the international copper price.
For anyone still nervous about trading spot copper, an alternative may be to trade the big mining houses that produce copper alongside other minerals, thus giving the trader some diversification. These include Rio Tinto, Antofagasta, Glencore, Anglo American and BHP Billiton.
To end where we began, in a world without zinc. Such a world would also be a world without many of our favourite musical instruments, given that brass is an alloy of zinc – and copper.